Highlights

Sanford was hit by the COVID-19 impact quite early.
The Group is facing substantial impact from higher supply chain costs and freight reliability.
SAN is experiencing a recovery in its business segments at different speeds.
Sanford Limited (NZX:SAN) is an Auckland-based seafood company involved in farming, harvesting, managing and marketing seafood. It owns and handles fisheries across NZ waters.
The seafood Company, being a heavily export-focused business, was struck by COVID-19 early due to its impact on global food service and supply chains.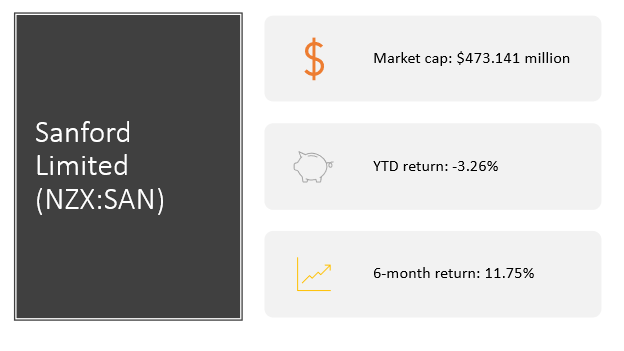 Image source: © 2021 Kalkine Media New Zealand Ltd, Data source- Refinitiv
The Company updated on 31 August in its trading update that market conditions remained challenging, and the business was witnessing substantial impact of higher supply chain costs and freight dependability.
However, the Group stated that different parts of the business were showing recovery at differing speeds.
COVID-19 impact on different segments
The largest piece of the Company's business is Wildcatch, which provides nearly 57% of YTD revenue. Catch volumes for the same stayed generally consistent with pcp but revenue for the 10 months ended July 2021, though 2% above of pcp, stayed below pre-COVID-19 levels.
GOOD READ: How are NZX dairy stocks coping with Delta outbreak?
Mussels is another business segment that provides about 19% of revenue. Revenue numbers for the same were down 21% on pcp for 10 months ended July 2021 due to weaker pricing.
Salmon is another smaller part of the business that provides about 14% of YTD revenue. The segment showed a rise in revenue. However, the segment's margin was in line with pcp because of the requirement to clear inventory, which was frozen because of demand impacts due to COVID-19 in 2020.
RELATED ARTICLE: Are these 5 NZX dividend stocks apt for retirement?
Although there have been some gains in major foreign markets, particularly in the growing demand for wild-caught seafood and salmon, it has not been sufficient to compensate for weakness in mussels. With COVID-19 affecting worldwide demand, mussel pricing remains a major issue.
Supply chain and Inventory impact
Wider problems in global supply chains have resulted in increased costs and interruptions in shipping frozen seafood products to key markets. Supply chain costs have witnessed a rise of $5 million on pcp, which represents a 17% rise on a cost per tonne basis. The Group has plans to recover these costs by increasing prices.
DO READ: What lies ahead for NZ travel and tourism sector in 2021?
Frozen inventory has stayed higher than the levels before COVID-19, as per Sanford CEO Peter Reidie. However, he added that inventories were being cut over time as a 19% drop has been seen in their value since the peak in December last year.
On 16 September, at the time of writing, SAN was trading flat at $5.07.
Outlook
Sanford had expected that the Company would see a seasonal rise in the second half of the year. However, the Company has now moderated its expectation of the extent of this boost.
The Group plans to measure the impact of the current lockdown in NZ in its full-year results to be released in November.
(NOTE: Currency is reported in NZ Dollar unless stated otherwise)