As the market participants are aware, the NZ equity market was negatively impacted by the outbreak of the COVID-19 pandemic. The lockdowns which were imposed impacted the operations of numerous companies and the impact was also visible in the stock prices. However, now some companies could be able to deliver decent performance. This company belongs to the cannabis space and it has a decent outlook. This company has recently entered into an agreement to acquire 100% of one NZ-based medicinal cannabis company. The stock price of this company rose ~21.7% in 1 month.
Rua Bioscience Limited
Summary
The bagging of approval to market its first medicine in New Zealand has placed the company well in deriving sustainable revenue.
The agreement to acquire 100% stake of Zalm Therapeutics Limited is expected to diversify the company's revenue, as well as accelerate market access and expand the patient choice
The acquisition will also enable the company to invest more than $7.5 million in sales and marketing over the next four years to substantially accelerate the New Zealand and key export market entry as well as penetration.
RUA Details
Based in New Zealand, Rua Bioscience Limited (NZX: RUA) is engaged in the pharmaceutical business and is targeting to be a leading producer of cannabinoid-derived medicines for both domestic and export markets.
FY21 Result Performance (For the Year Ended 30 June 2021)
The company has reported an increase in its operating loss before net financing income to $6.64 million during the period from $4.34 million in the prior year.
The total other income received in FY21 reduced to $0.45 million from $0.73 million in FY20. Resultantly, loss after tax rose to $4.42 million from $2.81 million in FY20.
Besides, cash and investments increased significantly to $16.4 million from $3.94 million in FY20 and total investment in property, plant and equipment rose to $6.17 million from $5.66 million in FY20.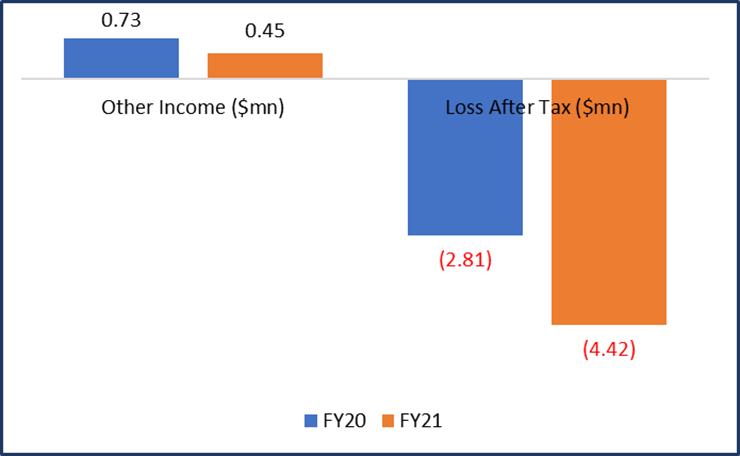 Source: Company Reports, Analysis by Kalkine Group
Also Read: Rua (NZX:RUA) obtains approval to distribute its first product across NZ
Received Approval to Market Its First Product
RUA, on 17 December 2021, mentioned that the company has got approval to market its first medicine in New Zealand as its first medicinal cannabis product meets the NZ Medicinal Cannabis Agency's (Medsafe's) quality standards. The company aims to market the product that will be obtainable as a prescription-only medicine through GPs and specialists.
Please Read: Which are 4 NZX penny stocks to explore ahead of 2022?
Bagged Funding
The company, on 23 November 2021, was awarded milestone funding from Callaghan Innovation. The funding was received to assist a transformative research project. The $376,000 grant would be strengthening the company's projected $1.25 Mn investment into plant science as well as product development. Further, the grant will finance projects, which is essential to its mission to form better and unique medicinal cannabis products which are unique to the market.
Agreed to Acquire 100% Stake of Zalm Therapeutics Limited
On 30 November 2021, the company has agreed to acquire 100% stake of Zalm Therapeutics Limited (Zalm), a New Zealand-based medicinal cannabis company for a consideration of $10 million equity value. This will be done by way of issuance of new shares of the company at around $0.41 per share. This acquisition is expected to deliver various benefits to the company that comprises providing faster access to GMP, export-quality oil products at scale by mid-2022 along with access to preferential pricing via long-term supply agreement, among others.
Stock Recommendation
RUA remains focused on the development of its product portfolio and the associated systems and processes across its cultivation and manufacturing operations. The company utilised the proceeds received from the IPO across strategic priority areas that reinforce achieving initial sales and revenue.
As per the management, the acquisition of Zalm will provide a blend of faster speed to market, along with long-term preferential access to significant volume of competitively priced product. This will aid RUA to develop a significant market presence at a quick pace and will also provide higher economy of scale compared to its present capacity. Resultantly, this will help in substantially lower pressure on revenue.
The company stated that the approval to distribute its first medicine in New Zealand places the company well. RUA entered the new chapter of sharpened focus in bringing product to market as well as achieving sustainable revenue.
The stock of the company ended the session at NZ$0.475 per share, up by 1.06% on 14th January 2022.
Do Read: Rua Bioscience (NZX:RUA) : Why did it receive Callaghan Innovation funding?