Summary

New Zealand has an accessible healthcare system and is amongst the best in the world.
Public healthcare is subsidised for free and is funded through general tax while private sector provides faster treatment but is more expensive.
Private medical insurance can help in avoiding long waiting hours and queues as waiting time is much higher for non-emergency procedures in the public healthcare system.
Mental health, cancer, and stroke are some of the major health concerns of the country.
Healthcare is any attempt made by trained and licensed professionals to maintain or restore physical, mental, or emotional well-being.
Businesses that offer medical services, produce medical equipment or pharmaceuticals, provide medical insurance, or otherwise support the provision of healthcare to patients, make up the healthcare industry.
Here's a look at how New Zealand's health system works.
How does the healthcare system work in NZ?
The New Zealand government runs universal health coverage through a mostly publicly funded and regionally managed delivery system. The universal system covers all NZ residents, some work visa holders, as well as Australians and Brits who are visiting.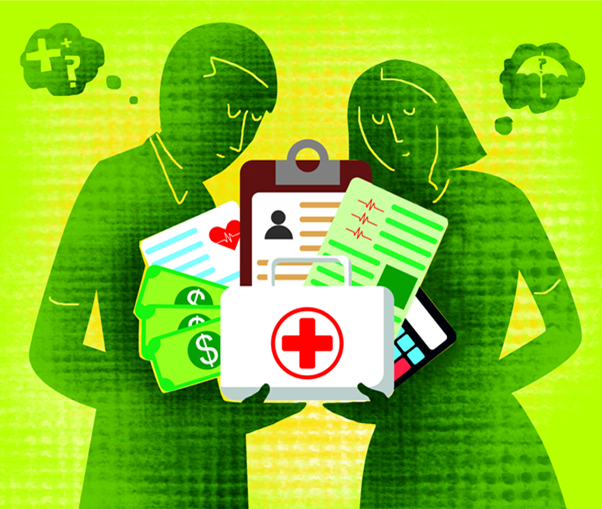 Image Source: Copyright © 2021 Kalkine Media
Healthcare services are majorly funded by different taxes. These funds are distributed by the government to 20 district health boards (DHBs) situated around the country, each of which is responsible for delivering health services to the residents of their respective areas.
Each DHB is governed by up to 11 persons who are responsible for developing a plan and monitoring the district's progress. However, in April 2021, the NZ government announced that the district boards would be substituted by a single new body called Health New Zealand over next 3 years.
ALSO READ: Does New Zealand have a good healthcare system? What are the best NZX healthcare stocks for investment?
New Zealand government has also set up PHARMAC, which makes subsidised medications available and sells at low drug prices.
Is New Zealand healthcare public or private?
Healthcare in New Zealand is a mix of both public and private.
Under the public healthcare system, permanent residents of New Zealand have accessibility to hospital care and emergency treatment, which is either free or substantially subsidised. Standard medical testing, childhood immunisations, and prescription medicine for the children under the age of six are among other free treatments available.
Image Source: Copyright © 2021 Kalkine Media
If a Kiwi wants extra benefits or to pay for non-essential treatments like cosmetic surgery, they must pay for these on their own. In case of any accidents, he/she will be covered by the Accident Compensation Corporation (ACC).
Many Kiwis opt for private healthcare to jump the long waiting queues for non-emergency procedures.
Which are the top healthcare companies in NZ?
Let's have a look at top 5 healthcare companies listed on NZX.
Ryman Healthcare Limited (NZX:RYM)
Pacific Edge Limited (NZX:PEB)
Comvita Limited (NZX:CVT)
DO READ: How to look for the best healthcare stocks?
Is it good to have a medical insurance in NZ?
Only serious illnesses are treated immediately in New Zealand's public health system. A Kiwi might have to wait for months or even years if he/she has an illness that does not require immediate care, even if it is serious.
ALSO READ: One Stock in Healthcare Space For Long-term Growth
The private health system in New Zealand can be sued if one has a health insurance. There is a huge network of private hospitals, clinics, and medical experts that allows an individual to receive rapid care for a variety of diseases that may not qualify for treatment in the public system.
Health insurance helps in paying 100% of costs of private medical treatment after subtracting an excess.
If you have a private insurance in New Zealand, you can
Avoid wasting time on waiting lists
Have a higher possibility of getting a private room and less overburdened workers
Get the insurance at reasonable price
Have more options when it comes to where a therapy is done
What are the major health concerns within the country?
In 2020, everyone had faced great difficulties with some countries still facing in trying to tackle novel coronavirus. Though worldwide vaccinations are being taken up, no certain cure has been developed for the same. New Zealand handled the COVID-19 pandemic in one of the best ways possible.
Source: Copyright © 2021 Kalkine Media Pty Ltd
Cancer, cardiovascular diseases, stroke and mental health are some of the major health concerns in NZ.
Natural disasters like earthquakes, tsunamis and volcanic activity are rampant as the country is located along the Pacific Ring of fire, which is seismically active.
ALSO READ: Look at these hot healthcare stocks that are also dividend payers
Despite the fact that NZ healthcare system is generally effective, native Maori do not have the same access to the health system as the rest of the population and have been bothered with chronic inequities for long. This disparity frequently hinders Maori from obtaining the same level of care and treatment as other people.
To tackle this problem, Government has decided to set up new independent Maori Health Authority with joint decision-making rights, as well as spending control to authorise its own services where needed.