Summary

Demand for respiratory devices rocketed with the rapid increase of coronavirus cases across the globe.
With the designation of an essential service, Fischer & Paykel was able to continue with its operations and had limited impact from the pandemic-induced lockdowns.
In FY20, the Company recorded an NPAT of nearly NZ$287.3 million, up 37% on pcp; Revenue from hospital care group up 25%.
Fisher & Paykel's share price increased by over 140% in the last year and is up by ~68% on a YTD basis.
The COVID-19 pandemic continues to be a thorn in the flesh worldwide. While some countries have controlled the situation after initial challenges, most are witnessing a surge in cases daily. According to the WHO, the infectious disease had affected more than 13 million people with 572,539 reported deaths as on 15 July 2020 (at 8:07 AM CEST).
The healthcare players, part of a defensive sector, are coming up with new technologies and focussing on R&D to come with a solution to tackle the pandemic. At this time, there are numerous opportunities in the health care industry, and the companies are reaping benefits from this.
Moreover, with the increasing cases of the disease that causes severe damage to the lungs, respiratory devices are being used more than ever. Therefore, the respiratory market is reaching a high amid the pandemic.
Due to the growing requirement of enhanced portable and efficient respiratory care devices, the health care players in this domain are focusing on increasing their geographical reach.
Meanwhile, the rapid growth in the global elderly population, increasing incidence of chronic diseases (such as asthma and COPD) have also resulted in the increased demand of the respiratory devices. Additionally, the home healthcare market is also growing faster due to the cost benefits of home care services and devices as compared to hospital visits.
With this backdrop, we will discuss one respiratory device manufacturer whose share price increased by ~140% in the last year. Let us zoom lens on Fisher & Paykel Healthcare:
About Fisher & Paykel Healthcare
Dual-listed manufacturer of breathing equipment, Fisher & Paykel Healthcare Corporation Limited (NZX:FPH) provides respiratory care products and is a leader in designing and marketing of these systems and products.
F&P mainly operates into Hospital and Homecare product groups. The Hospital product group of F&P comprises humidification products that are used in acute, respiratory (both adult as well as an infant), and surgical care. The Homecare product group of F&P includes products that offer respiratory support as well as in the treatment of obstructive sleep apnea in the home.
With its presence in nearly 39 countries, Fisher & Paykel demonstrated substantial organic long-term growth opportunities in respiratory care, COPD, OSA, and surgery.
ALSO READ: Game-Changing Strategies in Healthcare; FPH's Share Price boom of ~100%
Share Price of FPH boom by ~140%
As on 15 July 2020, Fisher & Paykel experienced a 140.62% share price surge in the last 12 months, supported by resilient demand for its hospital group products.
FPH stock ended the day's trade at NZ$37.200, up by 2.76% from its previous close. The market capitalisation of FPH stock stood at NZ$21.38 billion. FPH has delivered impressive returns of 67.57% year-to-date and 30.39% in the last three months, respectively.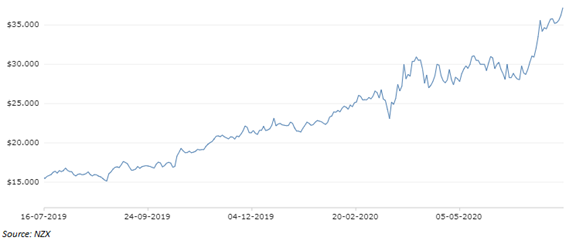 NPAT Climbed by 37% in FY20
On 29 June 2020, Fisher & Paykel disclosed its results for the fiscal year 2020 ended 31 March 2020. In FY20, Fisher & Paykel's products were used by nearly 16 million patients, including several COVID-19 patients.
The highlights from FY20 results include:
Fisher & Paykel recorded NPAT of nearly NZ$287.3 million, up by 37% as compared to the fiscal year 2019.
An 18% growth in operating revenue (compared to pcp) to reach NZ$1.26 billion.
The Company reported a 25% growth in hospital operating revenue.
The operating revenue from homecare product rose by 9%, 4% growth in cc.
In OSA masks, FPH witnessed a 4% growth in constant currency revenue.
R&D investments were nearly NZ$118.5 million, or 9% of revenue.
The final dividend rose to 15.5 cps from 13.5 cps, up 15% on pcp.
The growth in revenue was led by increased use of OptiflowTM nasal high flow therapy, heightened demand for products for the treatment of COVID-19 patients, as well as strong hospital hardware sales throughout the year. The Company notified that nearly 4 million estimated patients were treated with Optiflow nasal high flow therapy in the previous year.
Homecare and Hospital product group Revenue-
Homecare Product Group Revenue: In FY20, from homecare product group, the contribution in revenue was approximately NZ$457.3 million up by 9% on the previous corresponding period. The composition homecare revenue was 84% from consumables and the remaining 16% from hardware.
In 2H FY20, hospital revenue was reported at nearly NZ$242.6 million supported by strong growth in OSA masks, and the launch of F&P Vitera OSA masks in the US in October 2019.
Hospital Product Group Revenue: Operating revenue from hospital product was reported at nearly NZ$801.3, up by 25% on pcp.
FPH stated that 14% of revenue in the hospital product group, generated from hardware like F&P 850 system, F&P 950 system, F&P HumiGard and F&P AIRVO. Remaining 86% generated from consumables like OptiflowTM nasal high flow, invasive & non-invasive ventilation and surgical.
In 2H FY20, operating revenue from the hospital stood at ~NZ$447.7 million, backed by robust customer requirement for Optiflow and AIRVO systems, driven by clinical trial results as well as due to COVID-19.
FY21 Outlook
Based on some assumptions, Fisher & Paykel foresees the operating revenue to be approximately NZ$1.48 billion and NPAT in between NZ$325-NZ$340 million for the fiscal year 2021. The capital expenditure is anticipated to be almost NZ$160 million in FY21.
The assumptions are:
In the first quarter of FY21 respiratory hospitalisations remained peak due to COVID-19 and return to normal by the beginning of the second half.
OSA diagnosis rates dropped in the first half and then coming back to normal in the second.
Freight costs continued at higher levels through the end of 2020.
Assumed exchange rates - NZD:EUR 0.57, NZD:USD 0.64.
Fisher & Paykel Healthcare is in a strong position and is well-placed to respond to the ongoing turmoil and adapt to this 'new normal' situation. Furthermore, the Company is confident that its innovative products and therapies would continue to shape the future of the home care and hospital products group.
---
Disclaimer
The website has been prepared for informational purposes only and is not intended to be used as a complete source of information on any particular company. The above article is NOT a solicitation or recommendation to buy, sell or hold the stock of the company (or companies) under discussion. Kalkine does not in any way endorse or recommend individuals, products or services that may be discussed on this site.