During these uncertain times, it becomes very important to identify stocks having robust future potential. The past few months have been critical for investors as the outbreak of COVID-19 impacted broader financial markets. However, this stock has managed to increase ~49.72% in the span of 6 months while, in the time frame of 9 months, the stock rose by ~72.75%. This company has recently reported its FY20 results. Operating revenue increased by a strong 24.0% year-on-year to $105.6 million as there was a triple-digit (130%) growth in South-East Asia and at least double-digit growth across Australia and New Zealand.
The company's business model is to develop as well as in-license products for the sale by its dedicated sales teams in home markets of ANZ as well as in certain Southeast Asian markets, and to out-license products to local licensees and distributors to more than 125 countries throughout the world.
AFT Pharmaceuticals Limited (NZX: AFT)
Summary:
Net profit after tax for FY 2020 stood at $12.7 million, up from a loss of $2.4 million in the previous year, reflecting the presence of operating leverage.
As at March 31, 2020, the company managed to retain a cash balance of $6.1 million.
In FY 2020, the company utilised most of its $14.9 million operating cash flow to finance R&D and financing costs.
AFT Pharmaceuticals is a multinational pharmaceutical company that develops, markets, and distributes a broad portfolio of pharmaceutical products across a wide range of therapeutic categories. The company's portfolio of products consist of both proprietary and in-licensed products and includes patented, branded, and generic drugs.

The Company At A Glance (Source: Company's Website)
AFT Now Back to Profitability
The company witnessed operating losses from FY16 through FY18. The turnaround took place in FY19 when the company converted its $10.1 million operating loss into a profit of $6.1 million. Over the period of FY16 to FY20, the company has grown its revenue to $105.6 million from $64.0 million. During the same period, operating income increased to $21.2 million from -$9.0 million.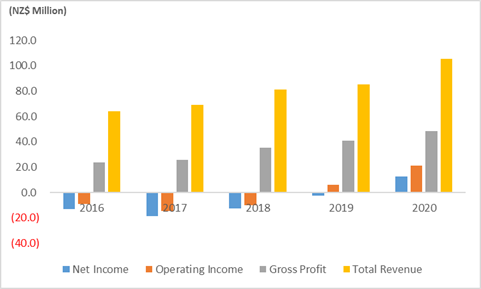 Financial Performance (Source: Refinitiv (Thomson Reuters))
The company registered CAGR of 13.34 per cent over the period of FY16 to FY20 in the top line and, during the same time, the company registered CAGR of 19.61 per cent in the gross profit.
Performance of Core Product
In the analgesics category, the company's patented pain-relief medicine Maxigesic occupies the number one position in the paracetamol/ibuprofen combination market on both sides of the Tasman. It happens to be a patented combination of paracetamol 500mg as well as ibuprofen 150mg in single tablet, proven to give effective and fast double-action relief from the wide range of pain.
NZ Sets Restriction for Codeine from November
All the codeine as well as codeine-containing medicines would be becoming prescription only from 5 November 2020. This decision is aimed at reducing codeine overdoses as well as poisonings, and it would also be increasing demand for alternative pain relief treatments including, the company's patented paracetamol and ibuprofen combination treatment Maxigesic.
Maxigesic IV® Gets A License In Six New European Nations
The company has signed an exclusive Maxigesic IV® licensing and supply agreement for Bulgaria, Cyprus, the Czech Republic, Hungary, Romania and Slovakia, countries with a combined population of over 53 million.
The agreement is with Medochemie, a Cyprus based multinational pharmaceutical company, which earlier this year signed a licensing agreement for Maxigesic IV® for Ukraine and the nine countries of the Commonwealth of Independent States.
AFT Reports Strong Growth in Revenue
For the full year ended 31st March 2020, the company reported operating revenue of $105.6 million, up by 24% led by strong growth in all markets and in all sales channels. Operating profit, which includes a $9.8 million non-recurring gain, stood at $21.2 million, the top end of guidance, from $6.1 million in the prior year.
As per the company's Founder and Managing Director, all of the company's divisions performed well. The company also has in-licensed a significant number of new products for its Australasian business, and it expects them to make a strong contribution over the next few years, complementing the expected growth from international business.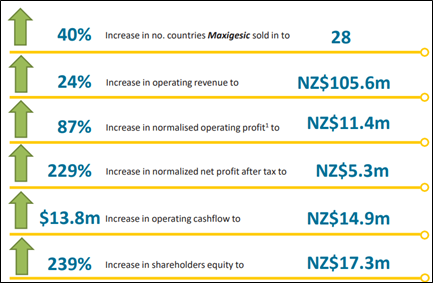 FY20 Highlights (Source: Company Reports)
Growth Supported By New Zealand And Australia
The total sales in Australia increased by 22% to $61.4 million from $50.3 million in the prior year, benefiting from strong growth in the three sales channels, over the counter, hospital, and prescription. Operating profits increased strongly from $5.3 million to $7.3 million. Maxigesic continued to gain market share in its combined paracetamol – ibuprofen category, extending its market share lead over its key competitor.
New Zealand revenue grew by 12% to $30.1 million from $26.8 million in the prior year, lifted by growth in the OTC channel and a small boost from the prescription channel, offset by the hospital channel. A key success in the second half of the year was the OTC Vitamin C Liposachets product. Operating profit, excluding head office costs, increased to $5.3 Mn from $5.1 Mn in the prior year. Including the head office costs, which are carried for the benefit of all territories, the segment witnessed an operating loss of $0.2 million.
Segmental Performance (Source: Company Reports)
Outlook
The company has significant potential for its products in global and local markets. The company is also witnessing good progress with strong local sales growth and accelerating momentum in international markets.
Despite all the present challenges, including the Covid-19 pandemic, the company is expecting to report positive cash flow and an operating profit of between $14.0 million to $18.0 million for FY21.
Key Risks
The company's activities expose it to various financial risks like market risk, foreign exchange risk and liquidity risk.
The company has been impacted by coronavirus pandemic. Pharmaceutical companies were classified as an essential service which enabled AFT to continue to operate through this situation.
The initial impact on the company has been favourable with an increase in demand for specific products such as Analgesics (e.g. Maxigesic), Vitamin C Liposachets, Cold and Flu products and Antibiotics.
The company also has several manufacturing sites for its main products such as Maxigesic and these also feature different geographies in order to lessen country risk. However, Covid-19 happens to be an evolving issue worldwide, and the company is monitoring the full economic as well as financial impacts.
On August 28, 2020, the stock of AFT ended the trading session at NZ$5.39 per share, reflecting a fall of 0.19% on an intraday basis.