Apart from technology sector, the market players need to look at some stocks from retirement space. It can be said that these stocks have been under the investors' radar. This company happens to be a leading retirement village operator as well as aged care provider in New Zealand. It can be said that this company has weathered the COVID-19 storm. As per the company's annual report for FY 2019, New Zealand population aged 75 and over is forecast to more than triple in the next 50 years.
Notably, the stock price of the company has witnessed an increase of ~68.26% in the span of past 6 months. However, in the time frame of 3 months, the stock rose by ~33.75%.
NZ Population 75+ (Source: Company Reports)
Summerset Group Holdings Limited (NZX: SUM)
Summary:
The company has reported positive 1H FY 2020 result under extraordinary operating environment of the global pandemic.
SUM has declared an unimputed interim dividend of NZ6.0 cents per share.
At the end of 1H FY 2020, SUM's total assets stood at $3.4 billion, reflecting a rise of 13% on 1H FY 2019.
In New Zealand, Summerset Group Holdings Limited (NZX: SUM) happens to be the leading developer as well as operator of retirement villages. Notably, the company offers living options and care services to more than 5,500 residents.
Over FY15 to FY19, the company has grown its net income to $175.3 million from $84.2 million. During the same period, operating income increased to $189 million from $91.1 million. The company registered CAGR of 20.12% in the net income over the time span of FY 2015- FY 2019. Notably, during the same time period, the company's operating income has witnessed a CAGR of 20.02%.
While improving its EBITDA margins from 16.6% in FY15 to 20.5% in FY19, the company has delivered sustainable growth and registered CAGR of 22.30 per cent in top-line over the period of FY 2015-FY 2019.
Financial Highlights (Source: Refinitiv (Thomson Reuters))
SUM Reported Results for Six Months to June 30, 2020
For the six months ended 30 June 2020, the company reported an underlying profit of $45.1 million, down by 6 per cent on 1HFY19. Total assets stood at $3.4 billion, up by 13% on 1H FY 2019, and net assets at NZ$1.1 billion.
The company has reported a development margin of 22.3%, in line with the previously expected range of 20% to 25%. It delivered 139 new homes in the half-year and expects to deliver 300 to 350 homes by year-end. The company has declared an unimputed interim dividend of NZ6.0 cents per share.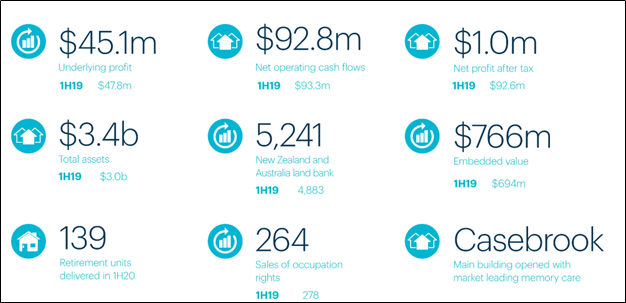 1HFY20 Results (Source: Company Reports)
Summerset Released Fixed Rate Retail Bond Offer
Summerset Group Holdings Limited is offering up to $100 Mn of 7-year fixed rate bonds maturing on September 21, 2027 to the country's retail and institutional investors.
The interest rate would be the sum of the issue margin plus the 7-year base rate;
The indicative issue margin range for the bonds is 2.00% to 2.20% p.a.
SUM Reported Q3 FY 2020 Metrics
For the third quarter ending 30th September 2020, the company reported 225 sales of occupation rights. Notably, this comprises 100 new sales as well as 125 resales.
The sales in Q3 were driven by demand for post-lockdown safety as well as security in retirement villages. The quarter ending September 2020 saw the first residents move into SUM's new villages in Papamoa Beach (Tauranga) as well as Te Awa (Napier). It was mentioned that earthworks also commenced at SUM's St Johns site in Auckland, which received resource consent in the month of December 2019. In the fourth quarter, the company is planning to open the main building at its Rototuna retirement village, offering village facilities, serviced apartments, a care centre, as well as memory care centre.
Sale of Occupational Rights (Source: Company Reports)
Launch of New Projects
The company launched 3 new retirement villages as well as opened the main building at Casebrook village in Christchurch over the span of six months. Notably, the villages are in Tauranga, Napier, as well as New Plymouth. Also, SUM lodged development approval for 1st Australian retirement village in Cranbourne North, Melbourne.
SUM Buys Land at Auckland's Half Moon Bay
Summerset Group Holdings Limited has purchased land to build 9th retirement village in Auckland as well as its first in the East Auckland area.
As per the release, planning of village is ongoing and is expected to include independent living apartments ranging from one to three bedrooms, serviced apartments and care suites providing rest home and hospital care. The village would also be including a memory care centre for people living with dementia, having an industry-leading design. Notably, the total investment estimated for the village is ~$300 million.
Key Challenges Faced by Aged Care Sector
The aged care sector of New Zealand is under a constant risk of COVID-19 pandemic as old people are likely to get more affected by this deadly disease. In normal course of the company's business, SUM is exposed to credit, market as well as liquidity risk.
On October 23, 2020, the stock price of SUM ended the session at NZ$10.500 per share.
Perception around gold has been undergoing a paradigm shift and is now seen as a crucial strategic asset, with changing macroeconomic conditions. A vibrant gold market has a positive impact on companies that are involved in the exploration and mining activities.
CLICK HERE FOR YOUR FREE REPORT!