When you buy a small-cap company, there are high chances that you can lose all your money in that particular stock. However, there are also high chances that you can make extraordinary returns. It can be said that this company has managed to dodge the uncertainty in the global equity markets brought by COVID-19. In the past five years, this stock has given a total return of ~290.48%. In the last six months only, the stock has increased by ~21.21%. However, the share price has appreciated by ~90.47% in the time period of nine months and ~70.21% in one year.
Blis Technology Limited (NZX: BLT)
Summary:
BLT has generated attractive growth opportunities by expanding into new geographies.
Expanding into new geographies like China and Canada will help in future growth.
Strong balance sheet and good ROE will provide further support in expanding in new markets.
Turnaround in the Last Three Years
Blis Technologies Limited (NZX: BLT) are the creators of the world's first advanced oral probiotics. The company currently markets two strains of probiotic bacteria- BLIS K12TM and BLIS M18TM. These are exclusively developed oral probiotics that help support natural immune defences by inhibiting and crowding out bad bacteria at the gateway to the body that is the mouth and the throat.
In the time period of three years, the company has changed itself from a loss-making company to a profitable one. In FY18, the company's net income stood at -$1.04 million, which has improved to $1.60 million in FY20. The company made its first profit in FY19 of $0.38 million, and it saw an extraordinary growth of 320% in FY20 to $1.6 million.
Net Income Growth (Source: Thomson Reuters/Refinitiv, Kalkine)
Now, let us have a look at the past financial performance of the company. Over FY16 to FY20, the company has grown its revenue to $10.64 million from $5.66 million. During the same period, operating income increased to $1.63 million from -$0.82 million.
Financial Performance (Source: Refinitiv (Thomson Reuters))
BLT Appoints Roolife to Expand its Reach in China
The company has concluded an agreement with ASX-listed Roolife Group Limited to provide marketing and online sales support for the BLIS PROBIOTICS™ product range in China. Roolife will offer digital marketing, eCommerce operations and logistics support in China and will execute the launch of BLIS PROBIOTICS™ on Alibaba's Tmall and Alipay platforms.
The company has a huge market in the Asia-Pacific region, and it represents about 19% of the revenue. The company's new venture into China will provide enough headroom for future growth as Chinese online shoppers are actively seeking health and well-being products from countries such as New Zealand.
Geographical Contribution (Source: Company Reports)
BLT Ready to Launch its Products in Canada
The company has finalised an agreement with Purity Life to distribute BLIS branded products into the pharmacy and health store retail channels in Canada. Purity Life will launch Canada-specific BLIS® branded products from the BLIS K12™ and BLIS M18™ range.
The launch will be backed through a comprehensive consumer and trade marketing programme that coincides with the build-up towards the busy winter season in Canada.
This is an important milestone for the company as it will open the gates for growth in the Canadian market. Purity Life has exceptional reach into the Canadian consumer health market, and currently, it supplies high-quality products to more than 7,000 stores throughout Canada.
Analysis of Working Capital
As we all know, working capital helps to measure the company's liquidity, operational efficiency, and its short-term financial health. Generally, if the company has substantial positive working capital, then it should have the potential to invest and grow.
In the time period of FY16 to FY20, the company has substantially improved its working capital position. The strong trading result for FY20 has contributed to an improved net working capital position of $4.1 million, up from $2.3 million in FY19. It has registered a CAGR of 20.8% over the time period of FY16 to FY20.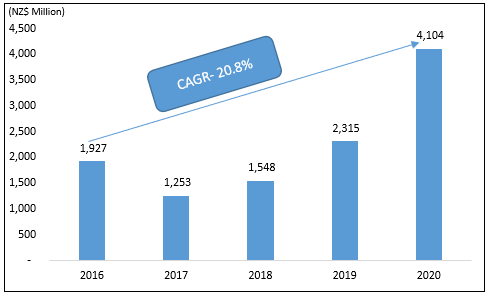 Working Capital (Source: Company Reports)
Strong Balance Sheet and Good ROE Provides Headroom for Future Growth
The company has a net debt of $0.128 million in FY20, with a gearing ratio of 2.5 per cent. Net debt has reduced substantially from $0.829 million in FY19. This states that the company is in a better position to withstand adverse economic changes and volatile interest rates.
The company's return on shareholders' equity also stood at 31.7 per cent in FY20 and has improved significantly from the levels of FY19. In FY19, the figure stood at 11.1 per cent. This clearly shows that the company has been providing better returns to its shareholders.
Key Ratios (Source: Company Reports)
Stellar Growth in Net Profit in FY20
For the 12 months ended 31 March 2020, the company reported total revenue of $10.6 million, up by 29% on FY19 and EBITDA of $2.1 million, up by 130% on last year. Following the maiden net profit in FY19, the company has delivered 320% growth in net profit to $1.6 million.
In February, the company launched UltraBLIS, a next-generation probiotic supplement targeted at those wanting to optimise their microbiome and strengthen the overall immunity. During FY20, the company further built strong foundations for its future growth, it has continued to build the BLIS® Probiotics brand, strengthened its Research & Development pipeline while enhancing IP position, delivered greater supply capacity as well as alternate sourcing, and overall the company's financial resilience has continued to build.
FY20 Financial Summary (Source: Company Reports)
Road Ahead
Using the on-line sales presence as well as capability built up over the span of previous few years, the company is well-positioned to respond to anticipated changes to consumer purchasing behaviours.
There are significant international growth opportunities for the company, and the company will also continue to pursue its profitable growth objective by developing its relationships with partners capable of driving international scale for the business.
Key new growth opportunities for the company in FY21 include Canada, China cross border e-commerce and Daigou markets.
Major Factors to Consider
The COVID-19 pandemic has shown various risks to the company which include disruptions to raw material supply, reduced freight capacity to and from overseas markets and a reduction in consumers' discretionary spend. The company has a constant risk of losing regulatory approval from certain markets.
Currency volatility can impact the earnings of the company. It is exposed to movements in foreign exchange rates, and it generates approximately 84% of the revenue from Asia Pacific, EMEA and North America.
On August 21, 2020, the stock price of BLT ended the session at NZ$0.080 per share. It has a market cap of around $88.612 million. It is trading at a P/E multiple of 55.310x.