Highlights

Fisher & Paykel Healthcare Corporation announces a payment of 17.0 cps as an interim dividend; witnesses a sound 1H22 performance.
TruScreen Group highlights further enhancement in its growth strategy by broadening its market access across Central and Eastern Europe.
Pacific Edge unveils a solid half-year result with a 66% jump in its total revenue.
The NZ government has announced a new national testing strategy as the country transits to the COVID-19 Protection Framework in a few days.
It will involve a wider use of rapid antigen testing from December onwards, along with increasing the testing capacity of labs.
It is noted that businesses can directly take rapid antigen tests from authorised suppliers within their workforce from 1 December, while the general public can get these tests at pharmacies from 15 December onwards.
Moreover, the Government has revealed training 400-plus investigators by November-end, thus adding more capacity to Public Health services.
That said, let us look at the five NZX healthcare stocks worth investing in in 2022.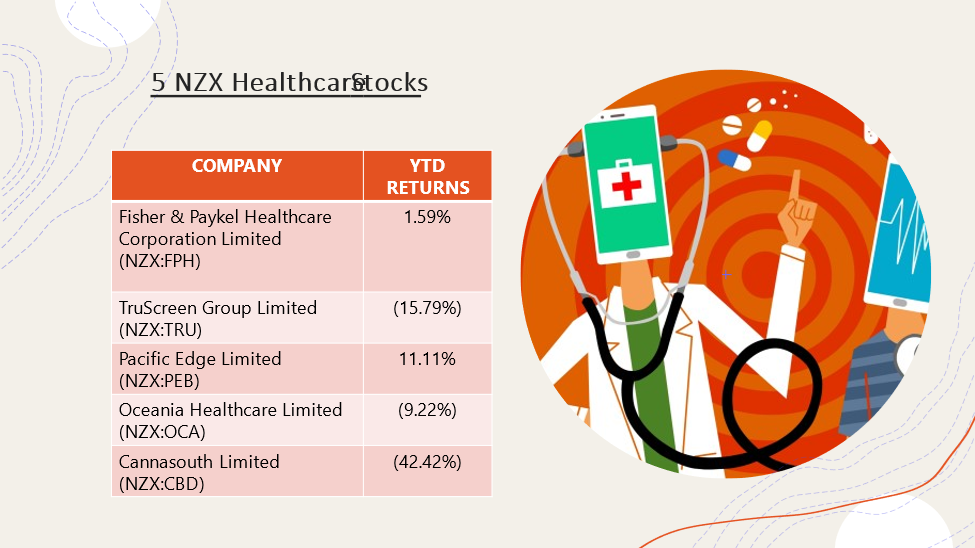 Image source: © 2021 Kalkine Media, data source- Refinitiv
Fisher & Paykel Healthcare Corporation Limited (NZX:FPH)
Fisher & Paykel Healthcare Corporation Limited is a globally acclaimed designer of respiratory care products. On 25 November, the Company released its first-half FY22 performance, reporting its operating revenue to be at NZ$900 million for the period ended 30 September 2021.
Also, its NPAT clocked NZ$221.8 million during the said period, owing to a huge demand for its surgical care and respiratory care products and equipment.
Related Read: Look at these 5 eye-catching NZX healthcare stocks
FPH would reward its shareholders by distributing a dividend of 17.0 cps on 15 December.
With the resurgence of COVID-19 infections, the Company anticipates its hospital hardware sales to be impacted.
FPH continues to work for the betterment of patients and focuses on delivering the best outcomes for the business.
At the time of writing, on 26 November, Fisher & Paykel Healthcare Corporation fell by 3.11% at NZ$32.730.
TruScreen Group Limited (NZX:TRU)
Specialising in the manufacturing of cervical cancer detection devices is TruScreen Group Limited. It has revealed its key achievements pertaining to women's health care technology and also its overseas growth strategy.
Do Read: One Medical Device Company With Long Trem Growth Potential
TRU has completed the verification of firmware upgrade, which would greatly enhance the cyber security framework of its device.
Also, the Group continues to expand in the Chinese market and has also broadened its market access throughout Central and Eastern Europe.
At the time of writing, on 26 November, TruScreen Group fell by 1.25% at NZ$0.079.
Pacific Edge Limited (NZX:PEB)
Pacific Edge Limited functions as a cancer diagnostics company. On 25 November, the Company published half-year results ended 30 September 2021, highlighting its robust revenue growth despite COVID-19-related uncertainties.
Its total revenue jumped by 66% and clocked NZ$6.7 million, underpinned by growth in test volumes and sales.
Also Read: Why to look at 4 NZX-listed pharma stocks in 2022?
Further, the Company has undertaken a capital raise of NZ$103.5 million in 1H22 and also got listed on the ASX.
PEB continues to make advancements towards its global growth strategy and maintains a positive outlook for FY22.
At the time of writing, on 26 November, Pacific Edge dipped by 6.92% at NZ$1.210.
Oceania Healthcare Limited (NZX:OCA)
Oceania Healthcare Limited is a leading name, offering aged care facilities and retirement villages. The Company has announced appointing a new Group General Manager, Property & Development, Andrew Buckingham.
He will take up the role next year, and OCA is looking forward to his astute leadership for identifying new growth opportunities and further adding to the Company's growth.
At the time of writing, on 26 November, Oceania Healthcare was up by 1.56% at NZ$1.300.
Related Read: Which are the top 10 NZX healthcare stocks?
Cannasouth Limited (NZX:CBD)
Providing medicinal cannabis for clinical research and patient treatment is Cannasouth Limited. A few days ago, it had announced the successful completion of the commissioning of its new Waikato-based greenhouse and processing facility.
A Quick Read: Are these 5 NZX healthcare stocks flourishing amid COVID-19?
This involved a rigorous programme comprising of testing and validations so as to ensure the high-tech cultivation facility becomes operational.
At the time of writing, on 26 November, Cannasouth declined by 1.32% at NZ$0.375.
Bottom Line
New Zealand's healthcare stocks have navigated successfully amid unchartered waters and maintain a positive outlook for the coming year.