Summary

Growth stocks, as the name suggests, are those that have the potential to beat the market with robust revenue growth and business development strategy. Further, these stocks usually reinvest their earnings and tend to do without dividend payment to speed up growth in the short term.
Lower interest rates and readily available capital are further injecting a large number of funds in the businesses to grow their product offerings and customer base.
Technological landscape is changing at a rapid pace, and cloud-based services and social media-based marketing are aiding enterprises to save cost and deploy the saved funds in the newly rolled out digital capabilities' areas.
NZX listed growth stocks like ATM experienced a solid revenue growth during Q3 period ended 31 March, while PPH released robust results for the period ended 31 March laying strong foundation for upcoming periods.
Whenever investors start eying growth stocks, many factors are taken into consideration, and numerous equities are scrutinised closely for key financial and quality indicators.
Growth investors concentrate on stocks that have above-mediocre financial growth that aids shares to garner market's attention and deliver robust returns.
Despite the fact that growth investments can reap some of the most significant rewards, they also pose some of the highest risks than the value-based stocks, with slow growth but more stable nature and high quality.
Did you read; S&P/NZX50 Encountered Marginal Fall; PEB Shoots Up 18.97%
Let us deep dive and acquaint ourselves with five major reasons to look for growth stocks on NZX.
Low-Interest Rates spurring business growth and consumer spending
Low interest rates can have an impact on the ability of a business to grow. Businesses prefer locking in a lower interest rate as it makes the cost of borrowing cheaper and helps them-
Take on more credit to finance greater spending and investment; and
Stabilise their debt load.
Moreover, when rates are low, individuals tend to save more by paying less on their respective loans, creating more disposable income.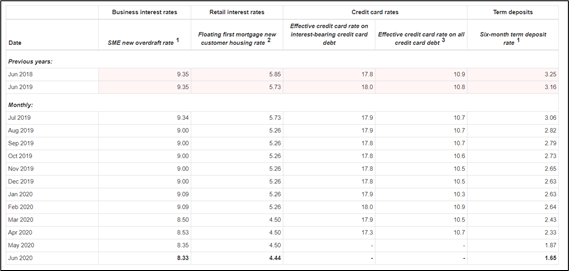 Retail interest rates on lending and deposits, Source: Reserve Bank of New Zealand
Injection of readily available capital for business expansion
Capital is available at a dirt-cheap price in the market as banks are floating money to combat the negative impact of the pandemic on the economy.
With the availability of a large amount of funds, and the annual inflation rate declining by 1.5% in June 2020 from 2.5% noted in March 2020, organisations are investing money in their businesses to grow product offerings and broaden their customer base.
Leveraging cloud-based technology to save overhead costs
Numerous businesses are utilising cloud-based services to handle their big data initiatives. Cloud-based technology offers an advantage of easy scalability (the ability to easily add or reduce the compute or storage resources), making it an ideal model for data storage. Moreover, cloud has also enabled firms to slash their total storage and overhead costs by offloading of storage from servers to the cloud.
The saved cost can further be deployed back in the business for Research & Development purposes, addition of new equipment and another location, merger/acquisition and many more.
Utilising the incredible power of social media
In modern times, social media holds astonishing power to propel change. Businesses are embracing social media by analysing the data gathered via social media platforms at a granular level to furnish personalised services, reach a global audience, product launch and more.
Furthermore, social media platforms are facilitating entities to save cost by reaching prospective customers with right products and services, build a customer base and loyalty.
Additionally, it helps entities to expand their businesses in general.
Technology has made it possible to take a leap and expand in new areas
The technological landscape is modifying and improving at a rapid pace. Thus, driving firms to move towards digital technologies in every budget cycle.
The world is witnessing new platforms and technologies such as blockchain, IoT, 5G, etc that are building a layer on technology. Numerous organisations are embracing the new developments by investing in the new digital capabilities area that is being rolled out at a faster scale.
Did you read; Dairy and Farm: A Glance at Fonterra and Synlait Milk
While investors are building their respective portfolios, eyeing for growth, let us look at the two of the NZX listed growth stocks.
The a2 Milk Company Limited (NZX:ATM)
A nutritional dairy entity in the infant formula industry, ATM has witnessed solid revenue growth in the quarter ending 31 March 2020 (Q3 FY20) in all its addressable markets, particularly with infant nutrition products sold in Chinese and Australian regions.
ATM is determined to expand across all regions and expects FY20 revenue to be between NZ$1,700 million and NZ$1,750 million. Additionally, the EBITDA margin is anticipated to be in the range of 31%- 32%.
On 24 July 2020, ATM last traded at NZ$20.84, down by 1.47% from its last close.
Did you read; Did You Miss These NZ Stocks In Your Portfolio- PPH, SKT, FBU??
Pushpay Holdings Limited (NZX:PPH)
PPH offers a donor management system, comprising finance tools, donor tools and a custom community app, to the faith sector, education providers and NPOs (non-profit organisations) located majorly in the US and other jurisdictions.
On 18 June 2020, the Company released an annual Meeting presentation wherein it provided highlights from the last year that witnessed boosted revenue growth, with soared operating margins and EBITDAF growth and operating cash flow enhancements.
Also, PPH released full year results for the period closed 31 March 2020 on 6 May 2020. During the period, total revenue noted an upsurge of 32% as compared to pcp and reached US$129.8 million. Net profit before tax and EBITDAF witnessed a whopping increase of 1,631% and 1,506%, respectively. The Company's customer count increased by 42% to 10,896 (as on 31 March).
PPH's cash and cash equivalents dwindled 48% to US$7.2 Million
Furthermore, PPH divulged that EBITDAF for the year ending 31 March 2021 is likely to be in the range of US$50 million and US$54 million.
Stock Performance
The stock of PPH closed the day's trading at NZ$7.790 per share on 24 July 2020, down by 1.14% from its previous close.