With economies becoming more concerned about greenhouse gases and climate change, 'Climate Finance' is appearing to be of prime importance for the sustainability of humanity.
It calls for both investment and expenditure, whether public, private, domestic, or transborder, which pave the way for a low-emissions transition, thereby enabling climate mitigation, adaptation, or a blend of both.
Without requisite finance and investment, it is quite impossible to change the present, heavy pollution-emitting industries to a cleaner and greener source of energy. Hence, with emissions all over the world on a steady rise, it is the need of the hour to invest in the low-emissions transitions.
Climate Summit Held In April 2021
Recently, US President, Joe Biden, hosted the Earth Day Climate Summit on 22 April 2021. Many countries, including the top 4 largest emitters (China, India, Russia, and Japan) took part in the summit.
NZ's Zero Carbon Emission Target
In 2019, NZ PM Jacinda Ardern passed a landmark legislation in the NZ parliament, which had set a target of reduction in the country's carbon emissions to zero by 2050.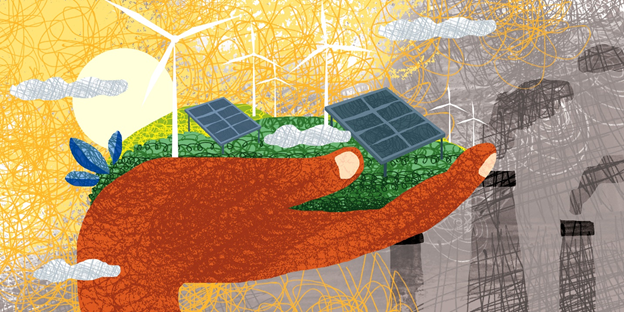 Source: Copyright © 2021 Kalkine Media Pty Ltd
Proposal To Assess Climate Finance Targets
Recently, Ardern urged the investment entities and the whole financial sector to make their business operations adapt to climate change and has proposed to set up a standard for assessing banks' climate-finance targets.
If the proposal is passed, it would become mandatory for nearly 200 big banks, insurers, money managers, etc., to divulge the details of their climate exposure programmes, failure to its adherence would invite a fine up to NZ$500,000 and also jail for 5 years.
Must Read: Climate Risks: CFIs Likely To Submit Report
Against the given backdrop, let us take a look at 5 NZX financial stocks.
Barramundi Limited
Barramundi Limited (NZX:BRM) reported a +2.5% gain due to its portfolio companies experiencing enhanced profits and improved business conditions for the quarter ended 31 March 2021.
The Company's major portfolio holdings along with its returns for the March quarter comprised PWR Holdings with +27%, Westpac Bank with +26%, ANZ Bank with +24% and AUB Group with +20%.
One of the portfolio holdings of BRM, Next DC, is making every effort to improve its efficiency of business operations, thereby increasing its sustainability. It lays emphasis on building environmentally sound data centres, which are reliable as well as energy-efficient.
Next DC aims to become 100% renewable energy-driven to support its future generations.
At the time of writing on May 11, Barramundi was trading flat at NZ$1.090.
Must Read: 5 NZX Gainers and Decliners of the day- BRM, CAV, PGW, SKL, CDI
Marlin Global Limited
Marlin Global Limited (NZX:MLN) declared a strong quarter growth with a gross performance return of 10.2%.
On 31 March 2021, MLN's share price was at NZ$1.30 and NAV at NZ$1.18.
The Company's top five portfolio holdings include Facebook (10.8%), Alphabet (7.0%), Signature Bank (6.6%), Alibaba Group (6.3%) and Mastercard with (5.1%) during the quarter.
Also, on 26 March 2021, MLN paid a quarterly dividend of 2.21 cps.
At the time of writing on May 11, Marlin Global was trading unchanged at NZ$1.590.
Good Spirits Hospitality Limited
NZ's leading hospitality operator, Good Spirits Hospitality Limited (NZX:GSH), has 9 venues across Auckland and Hamilton. In a recent announcement, the Company testified that it would not take up the acquisition of hospitality sites located in Wellington.
Nonetheless, the Company remains focused on its future growth strategies.
At the time of writing on May 11, Good Spirits Hospitality was trading flat at NZ$0.074.
Ascension Capital Limited
Ascension Capital Limited (NZX:ACE) issued 333,177,621 new shares worth NZ$83,295 during the half-year period ended 30 September 2021. It further raised an additional capital of $62,250, which will be utilised towards working capital requirements.
The Company reported a loss after taxation amounting to NZ$69,825 during the said period.
Also, HuaHan International Holdings, in a loan facility agreement of NZ$359,910 with ACE had assigned its interests to Excalibur Capital Partners Limited. However, Excalibur will not seek the repayment of the loan facility for the coming 12 months.
At the time of writing on May 11, Ascension Capital was trading flat at NZ$0.001.
General Capital Limited
General Capital Limited (NZX:GEN) revealed the continuous growth of the assets and a strong quarter profit of its subsidiary, General Finance Limited. The latter had uploaded its quarterly report ended 31 March 2021.
The Company is likely to release its consolidated results by 31 May 2021.
At the time of writing on May 11, General Capital was trading at NZ$0.058, 1.69% down.