Highlights

Investors are always drawn to stocks having a high-dividend yield.
Boasting a dividend yield of 7.33%, Spark New Zealand is to organise a virtual Annual Meeting next month.
Genesis Energy, with a dividend yield of 6.96%, appoints a new CFO.
Broadly speaking, dividend yield refers to the ratio depicting how much a company pays as a dividend every year with respect to its share price.
Typically, stocks with high dividend yields are known as high dividend-paying stocks and vice versa.
It is pointed out that high dividend yield stocks are consistent in paying dividends and are very popular among investors.
With this outline, let us take a look at the five NZ stocks possessing a high dividend yield this month.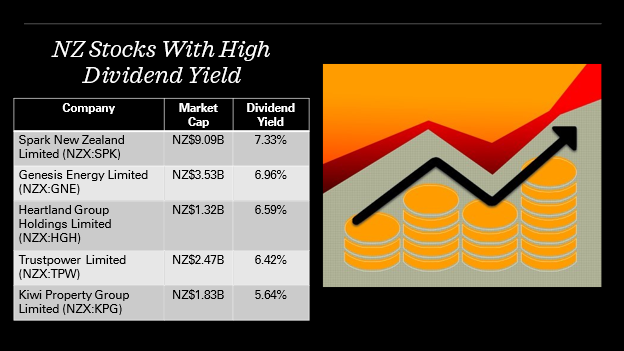 Image source: © 2021 Kalkine Media New Zealand Ltd, data source- Refinitiv
Spark New Zealand Limited (NZX:SPK)
Telecom jumbo, Spark New Zealand Limited, boasts a dividend yield of 7.33% as of 4 October 2021. SPK has announced to hold an online 2021 Annual Meeting on 5 November.
Apart from the re-election of its directors, the Company aims to also carry out a resolution to authorise its Board to determine the directors' remuneration.
On 4 October, at the closing bell, Spark New Zealand gained by 1.16% at NZ$4.795.
Related Read: 5 Popular NZX telcos to look at in October 2021
Genesis Energy Limited (NZX:GNE)
NZ's prominent electricity generator, Genesis Energy Limited, has a dividend yield of 6.96%. Recently, GNE appointed Emma Oettli as its new acting CFO.
Emma would take charge of her office from 1 November.
Shares of Genesis Energy traded flat at NZ$3.280at the closing bell on 4 October.
Interesting Read: Genesis Energy (NZX:GNE): How is the Company tapping into solar power?
Heartland Group Holdings Limited (NZX:HGH)
Functioning in the financial sector, Heartland Group Holdings Limited boasts a dividend yield of 6.59%.
Lately, the Company has notified all its stakeholders about the inclusion of Mike Grenfell as HGH's new Chief Operating Officer w.e.f. 8 November.
It is noted that Heartland Group Holdings' existing COO, Laura Byrne, would step down from the position by the year end.
At the market close, Heartland Group Holdings fell by 0.43% at NZ$2.310, on 4 October.
Related Read: Do these 5 NZX financial stocks have healthy YTD returns?
Trustpower Limited (NZX:TPW)
Another famous electricity generation company of the country is Trustpower Limited, which has a dividend yield of 6.42%.
The Company recently revealed the clearance of Commerce Commission to acquire its retail business by Mercury NZ Limited.
The deal would include the sale of TPW's current retail contracts, including electricity and gas supply as well as fixed, broadband, and mobile phone services. However, TPW's commercial or industrial electricity consumers are not included in the said sale.
On 4 October, Trustpower dipped by 0.14% at NZ$7.340, at the end of the closing session.
Must Read: Are these 5 NZX mid-cap aiming to become large-cap stocks?
Kiwi Property Group Limited (NZX:KPG)
Auckland-based retail estate giant, Kiwi Property Group, Limited has a dividend yield of 5.64%. The Company has announced to acquire Sylvia Park landholding, located in Auckland, for NZ$27.5 million.
In June 2022, the settlement for the same will take place.
This would enhance KPG's growth opportunities and help it in transforming the site into a world-class mixed-use centre.
At the end of the trading session, Kiwi Property Group dropped by 0.43% at NZ$1.150, on 4 October.
Also Read: Which are five prominent names in New Zealand's real estate sector?
Bottom Line
Stocks possessing high dividend yields are less susceptible to market-related uncertainties and volatility, thus being relatively consistent with their dividend declaration.