Summary

Investors love dividends as they are a steady and sustainable income stream for them.
Dividends are equally important to companies to keep their shareholders loyal to them.
The best companies for dividend payouts are mature, legacy companies.
Dividends are a way of sharing profits with shareholders. Paying dividends can be attractive to shareholders as they provide a sustainable income stream for them. Dividend payouts can also indicate that a company is profitable and in strong financial health. An investor must diversify his portfolio with some dividend stocks as they balance the risk and are a hedge against market fall.
However, a higher dividend doesn't necessarily make a company better as they indicate that a company has less money left to invest in future growth. A mature and legacy company with fewer growth opportunities pays most of its profits to the shareholders as dividends primarily to retain them. A growth company may or may not pay dividends, but the amount is small as it retains its profits for the growth.
Image Source: Copyright © 2021 Kalkine Media
In New Zealand after several companies slashed or stopped dividend payouts last year due to the coronavirus pandemic, dividends have bounced back in 2021. With interest rates at record lows, investors are searching for alternative places to multiply their cash. One way to earn sustainable income is via dividends paid out by the companies whose shares one has invested in.
Which NZ stocks pay dividends?
The NZ stocks that pay dividends belong to big and mature companies. Usually, companies in utilities, banking and financial services, oil and gas, healthcare and REITS pay dividends.
There are also many small-cap companies in New Zealand that pay dividends to their shareholders.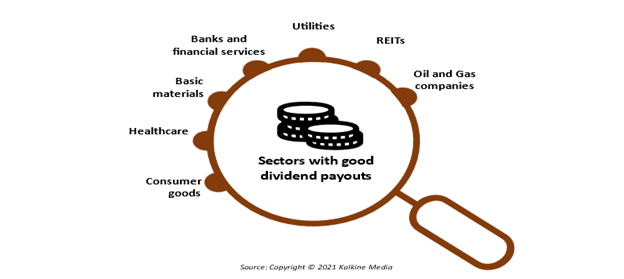 How often are dividends paid in NZ?
Generally, the companies in New Zealand pay dividends twice a year, in the form of an interim and a final dividend. They may or may not be in equal installments. For instance, an interim dividend is often bigger than the interim dividend. Some companies also choose to pay quarterly dividends of smaller payouts to spread out the payments.
Cash dividends are usually paid on the basis of number of shares one owns. So, if one owns 100 shares, they will receive 100 times more dividend as compared to someone who owns one share of the company. One must own the stocks before the ex-dividend date to receive the dividend.
Here are some dividend stocks for sustainable income stream
Spark New Zealand Limited (NZX:SPK)
Spark New Zealand Limited is a leading telecommunications company offering digital services as well. The company has provision for mobile, fixed-line pay television and cloud-computing services. Its services are provided under different segments, including retail, wholesale and digital segments. It declared an interim dividend of 12.5 cps on 18 March which was paid on April 9. The Company has been paying dividends even during the coronavirus COVID-19 pandemic and its dividend yield works out to about 7%.
Contact Energy Limited (NZX:CEN)
CEN is a green energy company, which is committed to creating value for its customers and communities by developing smart solutions. As a green energy company, it focusses on generating energy from renewable sources offering value and futuristic technologies to its customers. CEN last announced its interim dividend of 14 cps in March, which was paid on 30 March.
The dividend yield for the shareholders works out to around 5.75%.
Australia and New Zealand Banking Group (NZX:ANZ)
ANZ is a major bank of Australia and New Zealand. It is a major lender of NZ accounting with more than 30% of the home loans throughout the country. ANZ has several subsidiaries, and it is one of the biggest companies in New Zealand.
It declared an interim dividend of 70cps, payable on July 1, 2021. And the yield works out to be more than 5%
Telstra Corporation Limited (NZX:TLS)
TLS is a telecommunications company, which offers telecommunications, information services, including mobile, internet, and pay television, etc. TLS got listed on the NZX as early as 1997. It announced recently that it would delist from the NZX Main Board and would become a sole listing on the ASX from 21 June. However, the board of TLS had announced to pay an interim dividend of 8 cps to the stakeholders on 26 March 2021. The 8-cent dividend was fully franked at a tax rate of 30%. The dividend yield for its shareholders works out to be more than 4%.
This is NZ's leading infrastructure company, which runs a portfolio of businesses ranging from energy to communications services to more than a million homes and institutional users throughout NZ. Even though COVID-19 had an impact on its business for nine months , its overall growth reflected in increase in the number of gas distribution and electricity connections pcp.
VCT paid an interim dividend of 8 cps to its shareholders in April and the dividend yield works out to be more than 4%.
GOOD READ: Budget 2021 To Aid NZ's Goal Of Achieving Zero Carbon Emissions by 2050