Summary

Recent Canterbury floods have severely impacted the Kiwi farmers.
Synlait Milk published an update on the impact of the flooding on its Dunsandel facility.
Livestock Improvement recently held various roadshows to meet its shareholders, in which it laid out its refinement strategy for 2021.
The massive flood across the Canterbury region caused severe damages to New Zealand's infrastructure, be it property or road network.
However, the most affected were the farmers. A state of emergency has been declared by the NZ Government, which saw allocations worth NZ$500,000 announced for the recovery of the agriculture sector and its farmers.
All the major dairy companies have come up in support of their farmers and have announced assistance to those being impacted. However, the actual loss suffered and its impact on the farmers will be revealed in due course of time.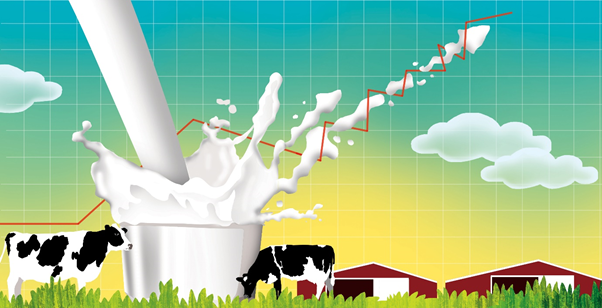 Source: Copyright © 2021 Kalkine Media
In light of the above, let us take a quick look at the NZX and ASX listed dairy stocks.
Synlait Milk Limited (NZX:SML; ASX:SML)
The company that offers a range of milk products to its customers across the globe is Synlait Milk Limited.
The Company has given an update of its operations and the impact on its Dunsandel based facility.
The recent floods have caused heavy damage to many of the Synlait's farms.
Regular onsite operations had commenced from 1 June, while the non-operational staff is working from home.
SML's prime focus is farmers' safety and helping those who have been severely impacted by the deluge.
Also Read: 6 New Zealand's Stock Market News One Should Not Miss
On 4 June, Synlait Milk closed the market session, increasing by 6.75 %, at NZ$3.48.
Livestock Improvement Corporation Limited (NZX:LIC; ASX:LIC)
Functioning as a cooperative, Livestock Improvement Corporation Limited provides high-quality genetics and technology to its livestock farmers.
The Company had recently held various roadshows to meet its shareholders across the 17 towns in New Zealand, in which it had laid out its refinement strategy for 2021.
It continues to focus on its 4 important pillars this year:
Farmers- by way of improving its operational excellence which benefits them.
Animal- aiding framer with superior genetics to produce the most efficient animals.
Data - continuous improvement of its animal data to deliver the highest quality results.
Innovation-focused research and development for increased sustainability.
A Quick Read: 6 Gainers and Decliners on the NZX Today - GXH, MEL, LIC, GEO, BLT, NZA
On 4 June, Livestock Improvement Corporation closed the market session flat at NZ$1.200.