Highlights

New Zealand is a leading exporter of food and beverages.
PGG Wrightson projected operating EBITDA to be nearly $53 million for FY22.
Comvita posted record sales during the 11:11 event.
All services and processes connected to the supply, usage, and preparation of food items are included in the food business.
New Zealand is a major exporter of food and beverages, accounting for 46% of all goods and services exports. Nearly an estimated 85%-90% of NZ's meat, dairy, fruit and vegetable production is exported.
The food industry remained resilient to the COVID-19 pandemic due to its essential nature of business.
Let's cast a glance at 2 NZX food stocks that can be explored as we head to the next year.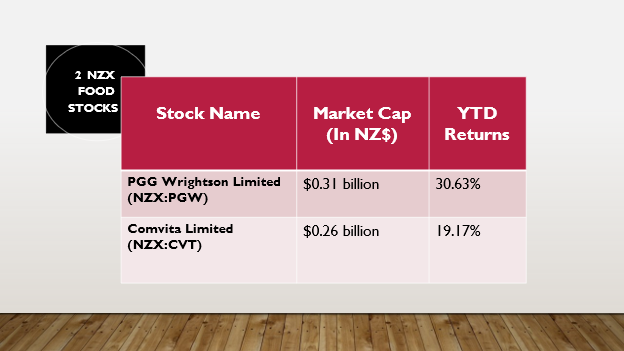 Image source: © 2021 Kalkine Media, Data source- Refinitiv
PGG Wrightson Limited (NZX:PGW)
PGG Wrightson delivered a solid trade performance in Q1 as it saw early indicators of favourable signs through optimism and high demand from farmers and growers owing to their production needs.
With the livestock business trading in H2 of FY22, PGW forecasts its operational EBITDA to be about $53 million in FY22. The Group's AGM will be held virtually on 6 December 2021, and its half-yearly results will be released in February 2022.
RELATED READ: Did 3 NZX food stocks feel the heat of highest inflation?
The Group will hold its ASM virtually on 6 December 2021 due to COVID-19 in-person meeting concerns.
On 18 November, PGW ended the trading session at $4.36, down 0.23% from its previous close.
Comvita Limited (NZX:CVT)
Popular honey producer, Comvita, notified about the biggest shopping event worldwide, the 11:11. It is a crucial event in CVT's focus growth market of China.
The Group posted record sales in line with its projections despite strong results in pcp and current pandemic challenges. The high growth via domestic trade was promising and aided by the quality of CVT's in-market execution.
RELATED READ: Top 4 NZX consumer stocks to consider in November 2021
Comvita was also the sole brand that made the list of Top 10 healthy foods on Tmail.
CVT's EBITDA increased by 10.6% in Q1 FY22 on pcp. It also expects EBITDA to be in the range of NZ$27 million to NZ$30 million for the entire year, owing to its streamlined business model and a long-term development strategy.
On 18 November, CVT ended the trading session flat at $3.6.
Bottom Line
Food stocks largely stayed resilient due to robust demand in COVID-19.
(NOTE: Currency is reported in NZ Dollar unless stated otherwise)