Highlights

Fonterra is an NZ dairy giant.
The Group reported lower milk production volumes in NZ in September 2021.
FCG plans to hold a vote on the potential of its capital structure review.
Fonterra plans to invest $1 billion in sustainability in the next 10 years.
Fonterra Cooperative Group Limited (NZX:FCG) is a major global dairy co-operative, which is owned by 10,000 farmers. It is a leading exporter of dairy products all across the world.
Fonterra reported lower volumes in New Zealand with milk production falling 4.3% on the litre basis in September 2021 compared to the same month in 2020.
Moreover, unsettled weather throughout September affected milk collections for September. Fonterra's NZ collections stood at 173 million kgMS in the month, down 3.8% on pcp.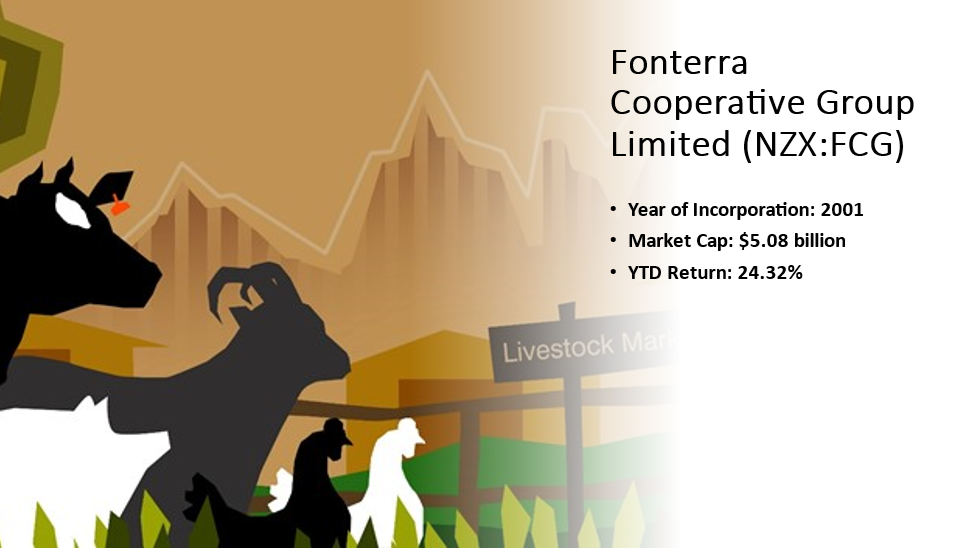 Image source: © 2021 Kalkine Media, Data source- Refinitiv
However, NZ's dairy exports picked up, increasing 0.6% in the month on pcp, majorly propelled by WMP, fluid milk products and cheese. Moreover, Fonterra' s foodservice business, Anchor Food Professionals (AFP), hit $3 billion in annualised revenue.
Do read: Fonterra (NZX:FCG): Is it an NZ company? Why is it a Co-operative?
Monthly exports continued to grow for Australia and the US, while monthly imports witnessed a drop in China, Latin America, the Middle East and the Africa region.
Capital Structure Review
Fonterra had declared in May 2020 that it would be revising its capital structure due to predictions of a sluggish or declining milk supply. Subsequently, it had been seeking consultation from farmers and contractors on possible alternatives to modify its capital structure.
Fonterra's board has been recommending modifications to its capital structure to put itself in the best place to deliver on its strategy.
ALSO READ: Which are 4 popular rural agri & dairy stocks?
FCG needs 50% support from the Co-operative Council followed by 75% support from eligible farmers at the annual meeting for the approval of the proposal.
The Co-operative council had voted 92% in favour this month. FCG has targeted 1 June 2022 as the date for changes to come into effect if the vote is successful.
Sustainability initiatives taken
Fonterra recently installed its first milk tap in a café based in Wellington. The milk tap is joined to a 10-litre recyclable milk bladder in a fridge that can replace 2-litre milk bottles. This would result in 65% less plastic.
RELATED READ: Which 2 NZX agriculture stocks have high YTD yield?
The Group is also aiming for a 30% emissions reduction at its manufacturing sites by making use of more renewable energy sources.
Fonterra plans to invest $1 billion in sustainable initiatives in next decade to become a sustainability leader.
Shares of Fonterra declined 0.32% in trading on Friday to close at $3.14.
Outlook
Fonterra reduced its forecast Farmgate Milk Price range to $7.90-$8.90 per kgMS for 2021/2022, from $7.2-$8.75 per kgMS. Subsequently, the mid-point of the range increased to $8.40 per kgMS, from $8.00 per kgMS. The increase came at the back of persistent demand for the NZ dairy relative to supply.
The Group aims at improving its financial performance, aligning its asset portfolio with FCG's strategy and seeking out more capital-light ways of doing business.
(NOTE: Currency is reported in NZ Dollar unless stated otherwise)