Summary

The NZ dairy sector is one of the largest contributors to the exports of the country.
Fonterra has hired 2 people for the newly created roles of Executive General Manager, International, and the same title for ANZ.
Synlait Milk provided an update on flood damage at its Dunsandel plant.
New Zealand's dairy business is one of the country's largest since it focuses on distributing almost 95% of its entire production. The sector dominates the country's agriculture sector.
The dairy industry presently contributes over NZ$10 billion to the NZ economy and is among the most important goods export sectors of the country. Dairy exports account for between 25 and 30% of NZ's overall exports.
According to the Ministry for Primary Industries (MPI), the dairy industry is New Zealand's largest export earner, earning over NZ$19 billion per year.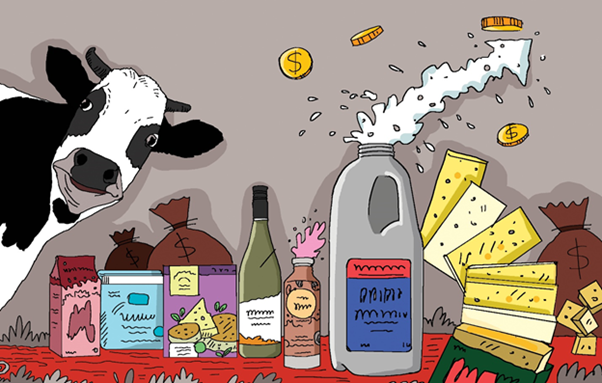 Source: Copyright © 2021 Kalkine Media
How did the sector fare in COVID-19?
New Zealand's dairy industry did exceptionally well in 2020 barring few hurdles. Despite COVID-19 and nationwide lockdowns, the industry has seen a rise in revenue this year. Milk sector sales were high even throughout the coronavirus pandemic, demonstrating the indisposability of milk as a commodity.
ALSO READ: How can one invest in farming? Which are the 5 popular NZX-listed agricultural stocks?
Given the current market conditions, dairy producers have exhibited respectable growth and have stayed accessible for exports throughout the year.
Which are the prominent names in NZ's dairy sector?
Fonterra Co-operative Group Limited (NZX:FCG)
Fonterra is NZ's largest dairy co-operative, handling nearly all of the country's milk output. It accounts for over 20% of New Zealand's total merchandise exports and 7% of the country's GDP.
The Group provided Global Dairy update on 30 June. Fonterra's New Zealand milk collection stood at 1,539 million kgMS for the season ended 31 May 2021, up 1.5% on prior season. While NZ's milk production rose 7.6% on per litre basis in May compared to the same month in 2020, the US and the EU production per month increased, while Australia's stayed flat.
ALSO READ: 10 NZX-listed penny stocks that have growth potential
The Group also observed a rise in monthly exports across all regions.
The a2 Milk Company Limited (NZX:ATM; ASX:A2M)
The a2 Milk Company is a New Zealand-based licensor and distributor of fresh milk, infant formula, and other dairy products that lack A1 beta-casein protein.
On 12 July, Yohan Senaratne was hired as Executive General Manager (international) and Kevin Bush as Executive General Manager (ANZ) after the company created 2 new roles for greater focus on ATM's business in China, international exports, and ANZ. While Yohan will begin his tenure on 15 July, Kevin has started his role on 12 July.
Source: Copyright © 2021 Kalkine Media
The Group also announced this month that the New Zealand Overseas Investment Office had approved a2MC's proposed acquisition of a 75% interest in Mataura Valley Milk. The transaction will now be completed from July end.
Synlait Milk Limited (NZX:SML; ASX:SM1)
Synlait Milk Limited, founded in 2000, is one of New Zealand's top dairy processing firms. It provides a comprehensive range of health and nutritious milk products in both local and international markets, thanks to specialised agricultural and high-end processing equipment.
The company has recently provided an update on its Dunsandel plant operations and farmer suppliers after Canterbury floods. It stated that regular onsite operations began in the Dunsandel facility on 1 June with non-operational employees continuing to work from home until the region recovers.
READ MORE: Would the dairy stocks keep afloat post Canterbury flood situation?
Numerous farms in the Synlait network have been flooded, causing considerable damage. The immediate priority of the Group is to assist impacted farmer suppliers in securely navigating this crisis. It will also help in a clean-up on farms that have been severely impacted.
Livestock Improvement Corporation Limited (NZX:LIC; ASX:LIC)
Livestock Improvement Corporation is a farmer-owned co-operative. It provides herd improvement services that encourage farmers through supply of superior genetics and technology.
LIC announced that it had given senior manager role of General Manager, Commercial, to Dr Emma Blott. She is the Head of Partnerships in the Commercial Group in LIC at present and will begin with the new role on 9 August.
DO READ: Do these top 10 NZX-listed stocks have retirement opportunities?
What are the prospects of dairy industry?
NZ's dairy sector indicators have stayed quite positive but prospects for the dairy industry of the country stay muted.
ALSO READ: New Zealand's Dairy Sector fuels the Country's Economic growth
As per a ANZ Research report, farmgate milk price forecasts for the next season are at record highs. Farmers are benefiting from a robust output season as well as high milk price. However, there is still a lot of work to be done to help farmers reduce emissions. NZ has pledged for climate change that needs lowering of GHG emissions where half of the emissions come from agriculture.
The outlook for the dairy sector is still bleak, as the emphasis is on reducing debt and establishing farms to decrease their carbon footprint.