Summary

ATM has made an indicative non-binding offer to acquire 75.1% stake in MVM.
ATM is a debt-free company and cash on hand figure stood at $854.2 million.
ATM Increased its stake in Synlait Milk to 19.84%.
The a2 Milk Company Limited (NZX: ATM) soared 1.76% on the closing day of 21st August 2020. This was mainly after the company announced news of the acquisition.
What Is The New Acquisition?
The company is in discussion with a New Zealand dairy nutrition business, Mataura Valley Milk (MVM), to discover new options for ATM to participate in the manufacturing at MVM's facility in Southland, NZ.
After the discussions, the company has made an indicative non-binding offer to purchase 75.1% stake in MVM, for a total price of about NZ$270 million, based on an enterprise value of about NZ$385 million.
The exclusivity arrangements are supported by China Animal Husbandry Group (CAHG), MVM's current majority shareholder. CAHG would retain a 24.9 per cent interest in MVM with ATM under the terms proposed.
Reason For The Acquisition
The infant nutrition business is a major contributor to the revenue of the company. In FY20 only, the business registered a growth of 33.8% to $1.42 billion. Considering the growth and scale of the business, the company was evaluating participation in manufacturing capacity and capability.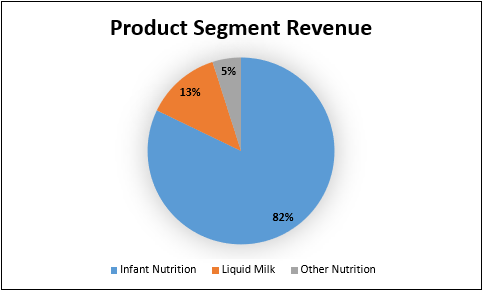 Key Data (Source: Company Reports)
The discussions with MVM are still ongoing and remain incomplete. However, it was mentioned that any transaction as a result from present discussions is anticipated to be settled towards the end of ATM's FY 2021. Notably, it would be financed from the present cash reserves.
Other Major Strategic Acquisition and Agreements by ATM
The a2 Milk Company Increased its Stake in Synlait Milk: The company has increased its stake in Synlait Milk Limited. It has acquired shares at a market price of NZ$4.95 per share, which is below the company's average entry price. This increases its interest in Synlait from 17.4 per cent to 19.84 per cent.
Because of the decline in Synlait's share price, the company saw it as an opportunity to complete strategic holding. The company has no plans of increasing its stake in Synlait Milk by more than 19.9%.
Expansion of The a2 Milk™ Brand Into Canadian Market: It was stated that the company has entered into an exclusive licensing agreement with Agrifoods Cooperative for the production, distribution, sale, as well as marketing of a2 Milk™ branded liquid milk for Canadian market.
This agreement will give the company a capability to leverage the brand development work it has previously undertaken in North America and grow into the Canadian market with a well-recognized partner.
The company would be offering Agrifoods with access to its IP as well as marketing assets and its proprietary systems and know-how relating to processing and sourcing of a2 Milk™, and it would also work with Agrifoods and local Canadian dairy farmers in order to source milk locally.
Agrifoods would be leveraging its significant resources in-market to create distribution across Canada and has a primary task for financing this venture. It is estimated that a variety of liquid milk products would be introduced later this calendar year.
Financial Position of the Company
It looks like the company is sitting on the pile of cash. At the end of the FY20, the company had $854.2 million of cash in hand. This will continue to be important in the execution of its growth strategy, including potential participation in manufacturing. It is also a debt-free company, so it has no obligation to pay the debt in the near term.
ATM Reports Double-Digit Growth in Revenue
For the full-year ended 30 June 2020, the company reported total revenue of $1.73 billion, up by 32.8% from the previous year. The company's overall result reflects continued growth in infant nutrition segment with sales totalling $1.42 billion for the period, an increase of 33.8% on the prior corresponding period.
The company's gross margin percentage increased to 56.0%, mainly led by an improved price yield and the positive effects of currency movements. Full-year EBITDA margin stood at 31.7%, which was in line with the guidance provided in April.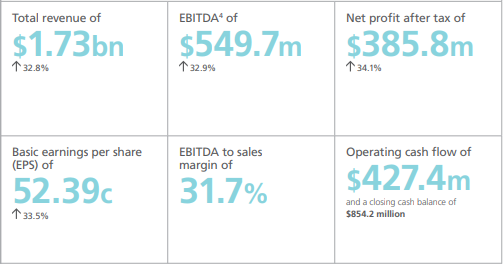 Result Highlights (Source: Company Reports)
Road Ahead
The outlook for both revenue and earnings is uncertain due to the current COVID-19 pandemic. However, for FY 2021, the company expects strong revenue growth support by regions supported by its continued investment in marketing and organisational capability.
The FY21 EBITDA margin is expected to be in between 30% to 31%, primarily indicating higher raw and packaging material costs partially offset by price increases and increase of marketing and investment.
Key Challenges for the Company
Considering the company's business, it is inherently exposed to potential product quality, food safety, and/or food integrity events that can hurt its consumers, and cause disruption to business activities, which could result in overall damage to brand and reputation.
The company has experienced significant growth in recent years, driven mainly by the success of liquid milk and infant formula businesses in Australia, China, and the US. As a result, it is exposed to increasing competitive intensity, which could lead to an erosion of market share positions in core markets.
On August 21, 2020, the stock of ATM ended the session at NZ$20.270 per share. It has a market cap of around $15.045 billion. It is trading at a P/E multiple of 38.020x.
The share price has appreciated by ~23.74% in the time period of six months and ~35.67% in the time period of 9 months.