Highlights

Dividend stocks can help investors in making a stable investment portfolio during retirement.
They provide retirees with good and regular income.
Spark, Heartland and Genesis are amongst the top 3 dividend-paying stocks.
Investors who are looking for stocks for a stable retirement are on the lookout for high-quality companies that have a good dividend-paying history. These stocks can help retirees in reducing volatility in their investment portfolios and are good options at the time of bad economic conditions.
Dividend stocks fare well even when a market crash pulls the price of a particular stock down as they provide their shareholders with a regular income regardless of the share price.
Let's have a look at 5 NZX dividend stocks that can be considered for retirement.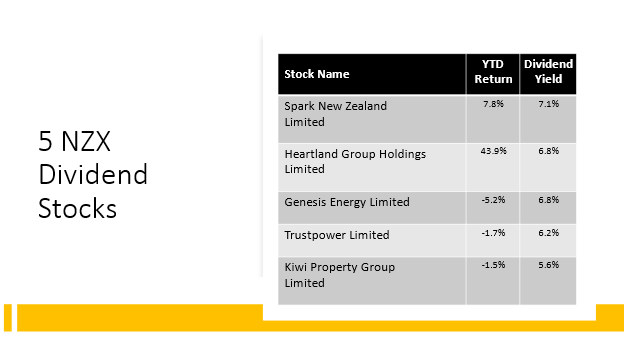 Image Source: Refinitiv
Copyright 2021 Kalkine Media
Spark New Zealand Limited (NZX:SPK; ASX:SPK)
Spark released its H2 FY21 results last month. The Group delivered mobile service revenue growth of 0.5% and cloud, security, and service management revenue growth of 5.5% due to continued digitisation in the period.
SPK declared an H2 FY21 dividend of 12.5cps, taking the total dividend of 25cps for FY21. This was enabled by buoyant customer demand in core services encouraging free cash flow.
Spark ended the day 0.31% in green to close at $4.92.
Heartland Group Holdings Limited (NZX:HGH; ASX:HGH)
Heartland Group delivered an NPAT of $87 million for FY21, up 20.9% on FY20. It expects its NPAT to be in the range of $93 million and $96 million.
RELATED ARTICLE: Which are 5 hot NZX dividend stocks to explore in September 2021?
The Group declared a final dividend of 7cps for FY21, an increase of 4.5cps on FY20 due to the easing of RBNZ restrictions on distribution by banks in NZ. The total dividend for FY21 stood at 11 cps.
Heartland ended the day 2.22% in green to close at $2.3.
Genesis Energy Limited (NZX:GNE; ASX:GNE)
Genesis declared a net profit of $33 million and EBITDAF of $358 million for FY21 after experiencing persistently low hydro inflows and declining gas supply in FY21.
DO READ: How do consumers make purchasing decisions?
The Group will pay a final dividend of 8.8cps on 8 October 2021, taking the total dividend to 17.4cps for FY21. It also confirmed a new dividend policy that promises to pay out between 70% and 90% of free cash flow.
Genesis ended the day 0.15% in green to close at $3.355.
Trustpower Limited (NZX:TPW)
Trustpower recently announced that it would hold an online Annual meeting due to the continued uncertainty around COVID-19-related restrictions and the 50 person-cap on gatherings.
ALSO READ: Look at the 5 popular NZX-listed technology stocks
The Group announced a final dividend of 18.5cps, taking the FY21 dividend to 35.5cps.
Trustpower ended the day 0.39% in red to close at $7.58.
Kiwi Property Group (NZX:KPG)
Kiwi Property's business was impacted by COVID-19-related disruptions in FY21 but as lockdowns became shorter, trading conditions became more stable across NZ leading to stronger results in the second half of FY21.
ALSO READ: Kiwis doubtful of a drop in house prices? A look at 5 NZX REITs
The Group paid a final dividend of 2.95cps for the 6 months ended 31 March 2021, taking the total cash dividend for FY21 to 5.15cps. KPG also announced that it expects the FY22 dividend to be not lower than 5.3cps.
Kiwi Property ended the day 0.43% in red to close at $1.165.
Bottom Line
Investors seek dividend stocks to hep them in getting regular payments. More companies may announce dividends in this reporting season.
(NOTE: Currency is reported in NZ Dollar unless stated otherwise)