Highlights

NZ is home to some of the most developed telecom companies worldwide.
Spark New Zealand conducts its annual meeting early this month.
Chorus unveils its investors' presentation for the UBS Australasia Conference.
New Zealand's telecom sector is marked with highly developed and competitive telecom companies which have network coverage to almost every nook and corner of the country.
Reports suggest that during 2020-25, the nation's mobile subscriptions will continue along with fixed broadband subscribers.
Also, w5G subscribers would grow rapidly and will represent about 52% of all subscriptions.
With this backdrop, let us skim through top NZX-listed telco stocks.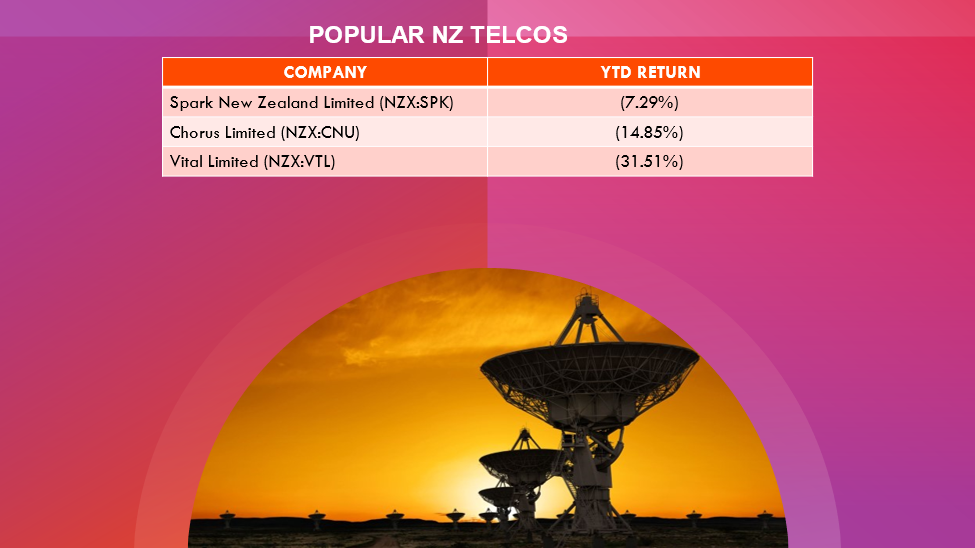 Image source: © 2021 Kalkine Media New Zealand Ltd, data source- Refinitiv
Spark New Zealand Limited (NZX:SPK)
Spark New Zealand Limited had conducted its Annual Meeting of Shareholders a few days ago. Resolutions were carried out for the re-election of its directors, David Havercroft and Alison Barrass.
Also, the directors were empowered to fix the Company auditor's remuneration.
On 26 November, at the end of the trading session, Spark New Zealand declined 23% at NZ$4.400.
Related Read: Why are NZX telcos turning heads in 2021?
Chorus Limited (NZX:CNU)
Chorus Limited had released an investor presentation for the UBS Australasia Conference some time back, wherein it highlighted its network infrastructure, customer base, and also its performance.
Do Read: Chorus & Spark: How are 2 NZX telcos faring?
The Company stated that 73% of its broadband connections were fibre-based, and hyperfibre connections with 8Gbps had newly been launched.
Further, it states that the initial four months of FY22 delivered positive monthly broadband connections and CNU focuses on achieving the one million fibre connections mark in 2022.
Also, it has forecasted an EBITDA guidance between NZ$640 million to NZ$660 million and dividend amounting to 26.0 cps for FY22.
At the end of the trading session, shares of Chorus rose by 0.30% at NZ$6.620, on 26 November.
Vital Limited (NZX:VTL)
Vital Limited has been operating in Kiwiland for over 20 years, delivering critical communications across the nation. Last month, it organised its Annual Meeting.
Must Read: Would these 5 NZX penny stocks take the market by storm in 2022?
Apart from voting in favour of the re-election of directors, VTL also carried out a resolution to authorise its directors to determine its auditor's fees and other related expenses for next year.
At the end of the market session, on 26 November, Vital was flat at NZ$0.500.
Bottom Line
Telecom companies are the prominent drivers of economic growth and investment in an advanced set-up and are sure to benefit the investors in the long run.