Summary

It is generally preferred by businesses and industries to work under tailwinds, as they perceive that it is always better for them when the winds are working in their favour.
The pandemic has created headwind for CNU as reflected in Q4FY'20 report, wherein constrained fibre growth and reduction in its fibre installations by ~15 thousand were noted amid physical distancing norms.
On the contrary, NZX players like SPK and TLS have noted pandemic as tailwind. They have capitalised on the substantial increment in their broadband usage, with an uptick in demand of video conferencing apps and virtual platforms.
Going out for a run or cycling during any time of the day sounds fun, isn't it?
Yes!
Did you experience headwind or tailwind?
Headwind means experiencing wind blowing directly on the face while running or riding requires one to work harder to sustain their advancing moves, on the contrary, tailwind is encountering the wind from behind, which often surges the pace resulting in decreased time to arrive to the targeted place.
Have you ever thought how the concept of headwind and tailwind applies to a business?
The existing 'winds' around a business, signifies huge amount of effort that it has to exercise to thrive in the competitive environment.
Subsequent to coronavirus, numerous countries closed their borders, restricted travel, introduced lockdown and social distancing measures, which critically restricted the movement of people; it was 'virtual connectivity' that rose to the occasion.
During the crisis period, people spent most of their time using technology either for work, education, or entertainment, consuming a humongous amount of data. And telecom companies have been constantly working to boost their network resilience and assessing the impact of pandemic on their investment plans, especially towards 5G.
Further, 5G created a tailwind for telecom operator like Telstra, who is using the advanced network to its advantage and providing low latency and high-speed internet to attract and retain consumers.
Telecom businesses are competing on value rather than price
Telecom firms are dealing efficiently with the pandemic by ensuring service continuity through skyrocketed traffic growth without much disruption.
Moreover, companies are emphasising on value creation by supporting the existing customers with innovative measures such as waiver of late payment fees and disconnections, along with providing unlimited data to their existing customers.
All these efforts are aiding the telecom firms to retain their customers and cement their loyalty.
Overall, the advent of COVID-19 when 5G in the telecom space is spreading its wings is being termed as a tailwind.
Did you read; Disruptive Impact of COVID-19 Pandemic on Energy and Technology Sector
Read on!
While a plentiful wind at the back does not ensure 100% success, however, it is usually preferred by companies when the winds are working on their side.
During this journey of digital transformation coming out of the pandemic, various businesses have felt the turbulence with significant hiccups. For one of the telecom firms, Chorus, headwinds have slowed down its growth whereas, for other telecom companies, the resistance of these headwinds bolstered them.
Join us as we take off for a ride to familiarise with the concept of tailwinds and headwinds concerning NZX listed telecom players:
Chorus Limited (NZX:CNU)
One of the largest fixed-line network operators in New Zealand had witnessed headwind with significant impact of lockdown on its operations.
On 10 July 2020, the Company had provided a business update for Q4FY'20 ending 30 June 2020 highlighting the constrained fibre growth during the period owing to COVID-19 outbreak.
Amid the restrictions on non-essential activity, CNU had noted plunged fibre installations by ~15 thousand, as well as halted UFB2 (Ultra-fast broadband) rollout. The rapid drop was apparently witnessed in April 2020.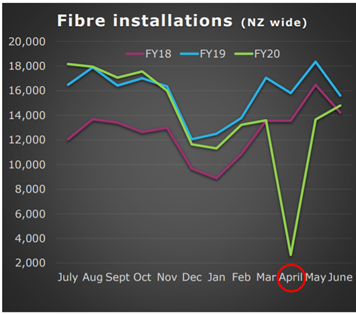 Source: NZX announcement


Fibre connection also dropped during Q4FY'20 to 27 thousand from 32 thousand in (Q3FY'20), largely with slashed fibre installations and restrictions on door to door marketing.
Total fixed line connections also witnessed a fall of 4 thousand to 1,415 thousand.
Broadband connections during the period noted a growth of 4 thousand with a return to second quarter FY'20's level of 1,206 thousand.
On 14 July 2020, at the time of writing, CNU's shares were trading at NZ$7.3 with an increase of 0.41%.
Did you read; Tring Tring! The new G has emerged in the telecom landscape
Spark New Zealand Limited (NZX:SPK)
Lately, SPK's streaming service, Spark Sport, hired the UK domiciled company Whisper, as its production partner for telecasting its live domestic cricket for kiwis. The UK company will cover the next six seasons.
In late June, SPK announced that it had boosted its rural wireless broadband capacity with enlarged data caps for broadband plans without any additional costs. The data caps were swelled to meet demand of the kiwis working, learning, and connecting in new ways following COVID-19 lockdown.
The Company unveiled these data plans with a perspective that this increment would fulfil the requirements of 90% of its current rural wireless consumers.
Furthermore, SPK launched its first 3D virtual store on 29 May 2020, in consultation with creative agency 99 to deliver a richer virtual shopping experience to its consumers. SPK's clients are enabled to browse 3D models of key products, product demos, plans, prices, and interact with a retail team member.
On 12 May 2020, Spark NZ had welcomed the 5G spectrum of 60 megahertz of 3.5 gigahertz (or C Band); which would facilitate SPK to progress rapidly with its planned 5G rollout.
On 14 July 2020, SPK's shares were trading at NZ$4.72, increasing by 0.21%, at the time of writing.
Rakon Limited (NZX:RAK)
The technology company, RAK is noted to have withstood impacts of the pandemic, with solid increase in revenue by 15% in FY'20 period ended 31 March 2020 as compared to pcp.
This soared revenue included 43% coming from 5G division. Moreover, the Company had witnessed an increase of 150% in revenue from the new products developed for 5G applications.
On 2 July 2020, the Company's board announced that Director Yin Tang (Tony)Tseng had withdrawn the hiring of Roger Yao as his Alternate Director.
RAK's shares were trading at NZ$0.28, decreasing by 1.72%, at the time of writing, as on 14 July 2020.
Telstra Corporation Limited (NZX:TLS)
In the first week of July 2020, TLS unveiled its strategies to develop its network infrastructure in the US with growing bandwidth capacity on its trans-Pacific subsea cables; by opening two new PoPs (points-of-presence) across the nation; upgrading its numerous in-country circuits to boost its network resiliency and range.
The Company had brought forward capex worth AU$500 million from the second half of FY'21 into calendar year 2020, to upgrade network capacity and accelerate 5G rollout.
In early May, TLS noted swollen demand for its fixed and mobile networks due to increased virtual platforms usage for video calls, team meetings, online learning, etc.
In Queensland, TLS noted increased peak traffic on its fixed network by ~ 66% and mobile network by ~9% as compared to the traffic in the pre-pandemic period.
On 14 July 2020, at the time of writing, TLS shares were trading flat at NZ$3.69.