The global economy received a huge setback just after the start of January when the COVID-19 pandemic outbroke provoking leaderships to resort to lockdown to contain the spread of virus. With these economic activities were brought to a standstill. Only operations of businesses of essential nature were allowed to be carried out while not so essential businesses were shut down. However, a sharp reduction in the reported cases of the COVID-19 resulted in a gradual lifting of restrictions which in turn, has been stimulating business activities. Now, there is no need to exercise social distancing, and restrictions on domestic and international traveling are being lifted. The approval granted to the COVID vaccine will further be bolstering investors' confidence.
The one industry that was negligibly impacted by the pandemic is the electricity utility industry as it continued to operate throughout lockdowns on being in essential business. Amongst the industry players, MEL has been resilient. The company that we are talking about is a bluechip company and operates in trading and retailing of electricity, and the sale of complementary products and services, through three segments i.e. Wholesale, Retail and International. Despite its share price trading close to at its life-time high levels, the dividend yield is still attractive at ~3.730%. This stock has delivered a return of ~33.47% in the period of 3 months. However, in the past one year, the stock has increased by ~36.67%.
Meridian Energy Limited
Summary:
The utility being the defensive sector, always finds its place in the investors' portfolios
Operating numbers for November month shows improvement in energy demand
FY20 EBITDAF improved by 2% due to growth both in New Zealand and Australia
MEL's share price on an uptrend on the daily and weekly timeframe chart
About the Company
Meridian Energy Limited (NZX: MEL)
Meridian Energy Limited is New Zealand's largest electricity company. Notably, the Government retains 51% ownership of Meridian. MEL is the only New Zealand electricity company with a customer and asset base diversified throughout different countries. The company generates 100% electricity through renewable sources. The market capitalisation of the company stood at ~$16.86 billion on December 18, 2020.
Operational Performance for November 2020:
National hydro storage from the start of November month till the date 7 December 2020, decreased from 111% to 95% of the historical average. North Island storage and South Island storage stood at 120% and 89% of average, respectively. Total inflows in the month stood at 80% of the historical average.
As per market data, national electricity demand in November was 0.2% lower than the same month last year. The month was wet and warm for much of New Zealand with above-average temperatures nearly everywhere. Aside from Southland, Fiordland and the West Coast, most of the country saw above-average rainfall.
Under New Zealand retail, MEL's customer connection numbers rose by 0.5% in the period. Retail sales volumes in the month were 11.0% higher than the same month last year. There were increase in sales across all segments: residential (+9.8%), small-medium business (+12.6%) agricultural (+3.3%), large business (+12.1%) and corporate (+15.1%).
Under Australia Retail, Powershop Australia electricity customer connection numbers rose by 0.9% in November month. Electricity sales volumes were 18.5% higher than the same month last year. Powershop Australia gas customer connection numbers rose by 2.1% in the month. Gas sales volumes were 18.0% lower than the same month last year.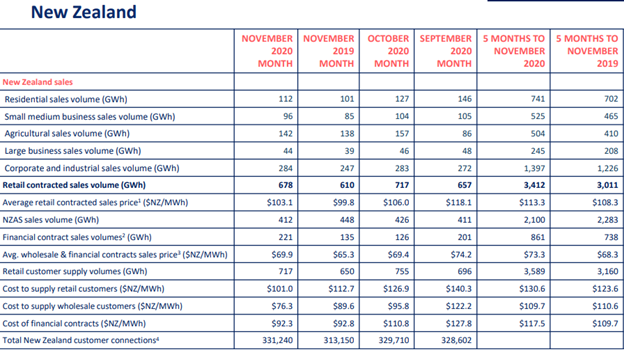 Key Data for New Zealand Market (Source: Company Reports)
Key Data for Australian Market (Source: Company Reports)
Results Performance (Year ended 30 June 2020)
Group's EBITDAF for the full year period, stood at $854 million, an increase of 2% on the previous year, mainly due to Increased retail performance in both New Zealand and Australia. On the back of improved wind farm availability and lake inflows that were 115% of average, MEL generated a record amount of electricity in New Zealand. There were an increase in the volume of electricity sold to customers by 18% in New Zealand and 24% in Australia. Net profit after tax for the period decreased by 48%, and underlying net profit after tax for the period declined by 5%.
There was an increase in ordinary dividends in FY20 by around 3%.
The period witnessed significant development with Powershop New Zealand being named as Energy Retailer of the Year at the Deloitte Energy Excellence Awards, and MEL came out on top of the major retailers in Consumer New Zealand's power satisfaction survey.
There were tough decisions taken such as deferment of the construction of its Harapaki wind farm in the Hawke's Bay, as Rio Tinto announced its exits plan from New Zealand.
FY20 Key Metrics (Source: Company Reports)
Outlook:
As per the release, with the exit announcement by Rio Tinto from New Zealand, MEL is forced to defer the construction of its Harapaki wind farm in Hawke's Bay. However, the company is committed towards the Harapaki wind farm project development. Its recently launched green finance program initiatives bolster its commitment towards 'zero' emission. Its financial year 2020 results demonstrate solid growth with robust power generation. Its current ratio suggests that it has enough liquidity to carry out its operations.
Stock Information
On December 18, 2020, the stock of MEL ended the trading in red as there was a decline of 1.79% on an intraday basis.