Summary

Bitcoin has sparked the interest of institutional investors who see it as a store of value.
Crossgate Capital eliminates challenges that arise while investing in this asset class and provides an early mover advantage to investors who are looking to invest in cryptocurrency.
Bitcoin supply is limited algorithmically, which differentiates it from fiat currencies.
Crossgate Capital helps investors build a diverse portfolio and manages risk by investing in individual crypto assets with a minimum NZD$500 million market capitalisation.
First-time investors, from the counter desk to the hedge fund managers, and investors are taking an active interest in cryptocurrencies amid the increased adoption of virtual currencies.
PayPal also added the ability for clients to buy Bitcoin and some other cryptocurrencies, which has opened up the market to millions of new buyers. PayPal has reportedly nearly 350 million users and well over 20 million active merchants who can now accept the currency. One only has to compare the size of PayPal's userbase to the number of current Bitcoin users to understand the significance of this development.
Crossgate Capital is a specialist investor in Bitcoin and cryptocurrencies, with a strong focus on investor returns. The Company invests based on fundamentals, driven by continual research, and monitoring not retail hype.
Clive Jimmieson of Crossgate Capital says crypto was born as a retail option first, as a significant portion of the early adopters was retail speculators and entrepreneurs.
With unprecedented levels of financial support and low or negative interest rates, digital money is becoming more attractive to some investors.
Finite supply of Bitcoin makes it even more attractive
Bitcoin was formed to preserve its value over the time. A series of basic principles has been programmed inside the Blockchain to make the cryptocurrency immune to inflation. 'Bitcoin Halving' is the tool to do this job.
The amount of Bitcoin created every 10 minutes gets slashed in half every 4 years. The recent Bitcoin halving in May 2020 reminded the market of Bitcoin's limited supply, which is capped at 21 million coins.
For some investors, the limited supply of Bitcoin makes it more attractive than fiat currencies, which can be printed by central banks at their preferences.
Image Source: ©Kalkine Group 2021
Bitcoin caught investors' attention in 2020 as it surfaced as a strong performing class worldwide. The digital currency breached USD $30,000-mark recently, extending its upside rally in the past few weeks.
Crossgate Capital helps investors build a diverse portfolio and eliminate risk by investing in individual crypto assets with a market capitalisation of at least NZD $500 million as at the purchase date. Crossgate Capital is a specialist investor in cryptocurrencies they do not invest in any other asset class. The Board engage specialist cryptocurrency experts to assist them when making investment decisions. The Board continually review the performance of each asset to determine the overall asset weighting.
The investment philosophy of Crossgate Capital
Crossgate Capital seeks to maximise returns while managing risks of investment. The investment philosophy of Crossgate Capital is that cryptocurrency now forms part of the financial landscape and has the potential to become an accepted asset class, beside equities and debt, in an investor's portfolio.
Let's have a look at the factors that underpin the investment philosophy of Crossgate Capital:
Removes pain points of investing individually and manages the ownership of a variety of crypto assets.
Eliminates the challenges related to storing the cryptocurrencies.
Provides early-mover advantages to the investors looking to invest in cryptocurrencies, which might offer strong returns.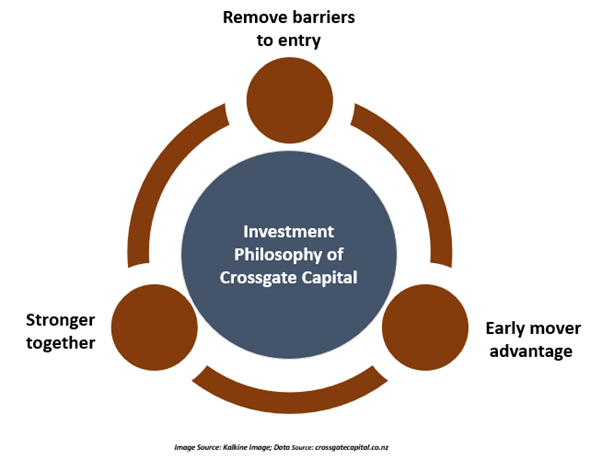 Crossgate Capital Limited is the issuer of the products. The PDS for the offer is available and can be obtained at www.crossgatecapital.co.nz