Highlights

Enprise's Datagate has recorded significant revenue growth, with a strong upward trend since the start of 2021.
Datagate is significantly ahead of its competitors and has progressed integrations with Datto AutoTask and QuickBooks Desktop.
Datagate has initiated the process to raise ~NZ$4 million to establish a platform for faster global growth.
Software and services investment company Enprise Group Limited (NZX:ENS) is invested in five businesses, one of them being Datagate Innovation Limited. ENS is invested in Datagate via Joint Venture and holds 33.02% of Datagate.
Datagate offers online reporting and billing portals under a Software as a Service (SaaS) model for resellers of Telco/Utility services and hosted service providers across New Zealand, Australia, Canada, the US, as well as Europe.
Datagate witnessing Strong revenue growth
ENS's Datagate has progressed globally, especially in its primary market of the US, with Total ARR reaching NZ$2 million at the end of October 2021 and the US contributing 63% to the total recurring revenue.
Source: ENS Announcement 24/11/2021
Datagate has been witnessing a strong upward trend in the revenue in the US since the start of 2021, with 117% year-on-year growth. This growth in the US is driving the international (non-NZ) year-on-year growth, which is tracking at 123%.
RELATED ARTICLE: Getting acquainted with cloud software company Enprise Group Limited
The setting up of the North American branch in Vancouver, Canada, helped to boost the revenue growth significantly in April 2019 and make the Company more American focused.
Over the years, Datagate has built a solid US in-market partnerships with wholesale VOIP/UCaaS providers, MSP industry software solution providers, and with telecom tax specialists.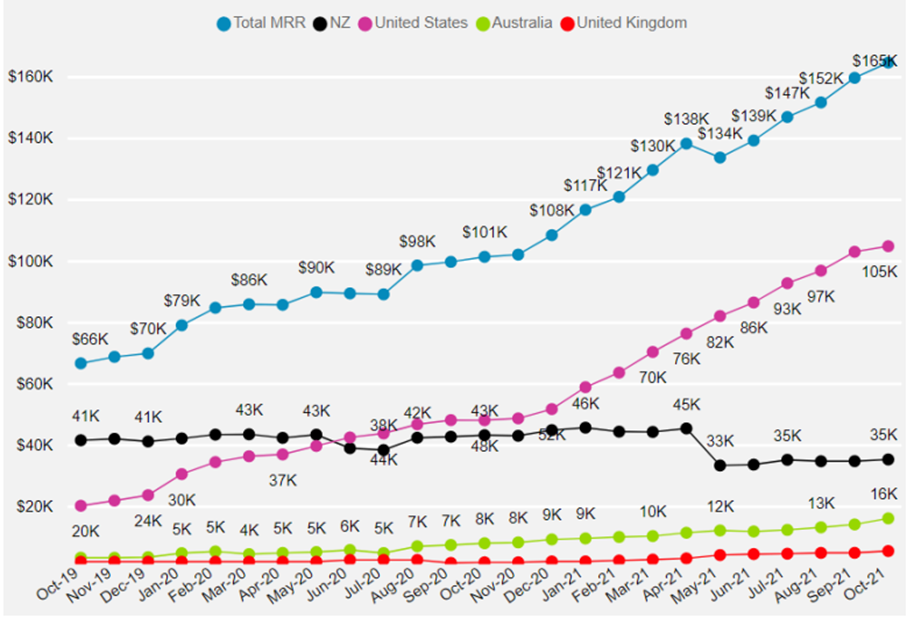 International revenue trend in NZ$ (Source: ENS Announcement 24/11/2021)
In 2022, Datagate intends to generate a significant contribution for its revenue growth from the UK and Europe while continuing to expedite growth in North America.
Progressive customer acquisition
Datagate has also witnessed progressive customer acquisition across six countries that it operates in, with the strongest growth coming in from the US. Datagate's customer count stood at 258 at the end of October, with more than 170 in North America alone.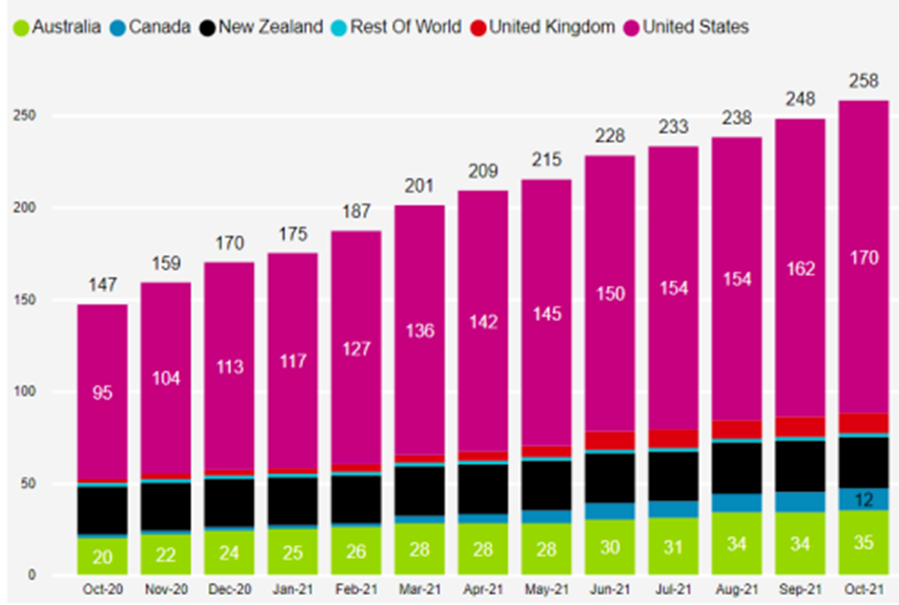 Source: ENS Announcement 24/11/2021
Datagate believes that placing key staff in proximity to its customers will help in the quick growth of the Company. In line with this, Datagate has transferred two sales and marketing staff members to Florida, with one senior salesperson in the process of being transferred to the UK to cover the UK and European region.
Staying ahead of competition
Datagate added two new major product integrations, which helped in improving the overall scalability, processing power and applicability for a broader range of sales opportunities. These include Datto AutoTask integration and QuickBooks Desktop integration.
Moreover, the Company has maintained its leadership in the market in new sales within the segment of MSPs selling telecom services, which is a market with 25% annual growth.
Datagate has noted that its competitors are copying Datagate by introducing integrations to ConnectWise. However, Datagate has the advantage of a substantial head-start over these competitors and have already transitioned on to integrations with Datto AutoTask and Kaseya, the competitors of ConnectWise.
One of the large competitors of Datagate has expressed its intention to acquire Datagate. However, Datagate believes that its business is now experiencing a high level of growth, and this is not the right time to sell the business.
RELATED ARTICLE: TIN Report ranks Enprise (NZX:ENS) among 2021's top ten Absolute IT Supreme Scale-Ups
Capital raising and anticipated milestones
Datagate has commenced the capital raising process in America and is engaging with investors to test their appetite for a high-growth global SaaS business in the MSP billing and telecom sector. Datagate has completed four key steps of the process.
Datagate aims to raise around NZ$4 million and pursue market feedback to determine the valuation. Moreover, the funds raised shall be used to establish a platform for expedited growth across the globe. Some of the actions include establishing a branch in the US and the UK each and a Global Support Centre.
The funds will also support the accelerated product development and growth of direct and indirect and sales channels.
By the end of 2023, Datagate expects to achieve the following milestones:
ENS stock was noted at NZ$1.750, on 25 November 2021.