COVID-19 pandemic has brought the world economy on the knees, with its impacts ranging from serious implications for people's health to businesses trying to adapt to this new world order. Meanwhile, major players in the health care industry are engaged in research & development of a treatment/vaccine to combat this deadly viral infection.
DO READ: Search for COVID-19 Vaccine; Top 10 Names Across the Globe
Let us gauge through NZX-listed health care sector company, AFT Pharmaceuticals, which registered strong growth in FY20, an outstanding year for the Company, even in the face of the challenges and disruptions caused by the COVID-19 pandemic.
About AFT Pharmaceuticals Limited
Dual listed on ASX and NZX, New Zealand-based specialty pharmaceutical company AFT Pharmaceuticals Limited (NZX:AFT) is engaged in the development, licensing and sales of pharmaceutical products across Australasia and worldwide. Its products are for cold, flu, allergy, eye care, pain management and laxatives.
The product portfolio includes both proprietary as well as in-licensed therapeutic products, with more than 125 prescription and non-prescription medicines. AFT has its offices in Kuala Lumpur, Auckland, Singapore, and Sydney.
Strong Growth in Sales Channels and Markets Drives FY20 Revenue by 24%
On 20 May 2020, AFT announced its results for the financial year 2020 (period ended 31 March 2020), highlighting a strong growth in revenue and earnings subsequent to sales growth and cost control in its diversified Australasian medicines business and growing international sales of its patented pain relief drug- Maxigesic.
Financial Highlights for FY2020-
Revenue in FY20 rose by 24% to $105.6 million with robust growth across all markets and in all sales networks. Moreover, revenue in Australia grew by 22%, while in New Zealand and Asian region, revenue went up by 12% and 130%, respectively.
AFT reported net profit after tax (NPAT) of approximately $12.7 million from a loss of $2.4 million in prior corresponding period.
The momentum continued to build in the Maxigesic pain relief portfolio with -

Licensing of Maxigesic in 125 territories and registration in 44 territories.
Maxigesic tablet sales increased to 28 nations, which were 20 last year. Notably, 10 new territories assured to commence sales in the current financial year.
As of 31 March 2020, intravenous formulation of Maxigesic is registered in 3 markets.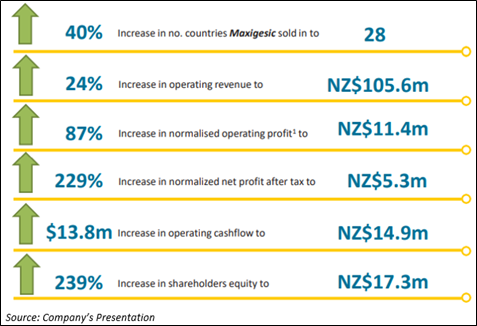 Commercialisation Milestones for Maxigesic (year to 31 March 2020)
AFT Pharmaceuticals revealed that Maxigesic continued to achieve key commercialisation milestones in markets across the world, with sales beginning in several new nations in the previous year.

Financial Performance by Region and Channe
In New Zealand-
New Zealand revenue grew by 12% to $30.1 million from $26.8 million in the prior year, lifted by growth in the over the counter (OTC) channel and a minor increase from the prescription channel, offset by the hospital channel.
Operating profit increased to $5.3 million from $5.1 million in the prior corresponding period.
The Company highlighted that a key success in H2 FY2020 was the over the counter sales of Vitamin C Liposachets product. Early in the year, AFT increased stocks in expectation of the COVID-19 pandemic, and as a direct outcome, it sold 21 times as compared to the previous March sales.
In Australia-
Sales across Australia climbed by 22% to $61.4 million from $50.3 million in the prior year, on the back of growth in three sales channels, over the counter, hospital, and prescription.
Operating profits in Australian market soared to $7.3 million from $5.3 million in pcp.
In Australia, Maxigesic continued to increase market share in combination of paracetamol-ibuprofen. The Company is focusing on building its market leadership position in the current year.
In Australia, prescription and hospital sales profited from new pharmaceutical products introduction.
In Southeast Asia-
In Southeast Asia, AFT recorded revenue growth of 130% to $4.9 million from $2.1 million in the prior corresponding period (pcp), backed by robust growth in its hospital channel. This highlighted modest growth in the prescription channel, as well as steady revenues in the over the counter channel, as the initial Maxigesic launch sales to distributors in Hong Kong and Malaysia occurred in the pcp.
Rest of the World (RoW)-
The Company has out-licensed Maxigesic in its various forms across more than 125 territories and added new territories for the tablet form of Maxigesic, including Switzerland, Germany, Canada and some territories in South America.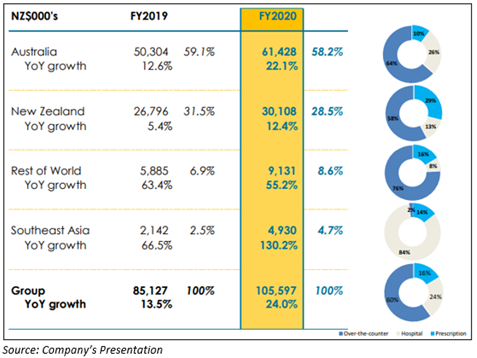 New Products Building Revenue Pipeline
New products that are building the revenue pipeline for the Company are-
Registrations of Intravenous Maxigesic completed in 21 nations including 18 European countries, Australia, New Zealand and the UAE
Oral Liquid registration of Maxigesic is underway in New Zealand, Europe, and Australia.
Maxigesic Hot Drink Sachets registration is ongoing.
AFT has completed Maxigesic Rapid formulation successfully, and first filing is expected in the 2020/21 calendar year.
First large global multicentre study for Pascomer underway in the United States, Australia, New Zealand and Europe.
Cold & Flu formulation of Maxigesic completed successfully and first filing to occur mid-2020.
COVID-19 Response
AFT Pharmaceuticals observed unprecedented changes to the business following the COVID-19 pandemic. During these tough times, a significant component in the accomplishment of the Company was foresight in increasing stock levels on several essential products. This anticipation has significantly helped AFT to navigate the initial economic impact of the crisis in its markets across New Zealand and Australia.
The Company observed a robust upsurge in sales for several products including pain killers (Maxigesic), cold & flu medications, Vitamin C products, and some hospital antibiotics.
Notably, AFT has also commenced rolling out some new products like hand sanitisers (Crystawash), intended to take advantage of changes observed in consumer behaviour due to the COVID-19 crisis.
Outlook - Despite all the challenges due to the COVID-19 pandemic, the Company expects to make further developments in remainder of the 2021 financial year and is targeting continuing positive cashflow and an operating profit of $14.0-$18.0 million, growth of around 23-58% over FY20. New over the counter drug launch is anticipated in Australia and New Zealand. AFT is also planning to launch new COVID-19 related products.
Stock performance - On 21 May 2020 (NZST 4:38 PM), AFT stock was trading at $4.690, inching upward by 0.64% from its previous close, with the Company boasting a market cap of $471.33 million.
AFT Pharmaceuticals Limited is planning to further drive international sales, extend international licensing, and drive increased upfront payments and local sales in the upcoming period. In addition to these plans, with the support of its committed, loyal, and diverse team across New Zealand, Australia and globally, the Company is targeting continuing positive cashflow and operating profit in FY21.
Currency reported in New Zealand Dollars unless otherwise indicated.