Highlights

Most traded stocks are those that have been traded the most on a given day.
Argosy property announced the strike price of its DRP plan.
Goodman NZ announced that Goodman Property Trust's interim financial results will include portfolio revaluation of $500 million.
Most traded stocks are the stocks that trade at the highest volumes on a given trading day. However, the most traded stocks are not necessarily a god news as the information behind the stock being traded in large volumes can be both positive or negative.
Let's skim through the most traded stocks on NZX.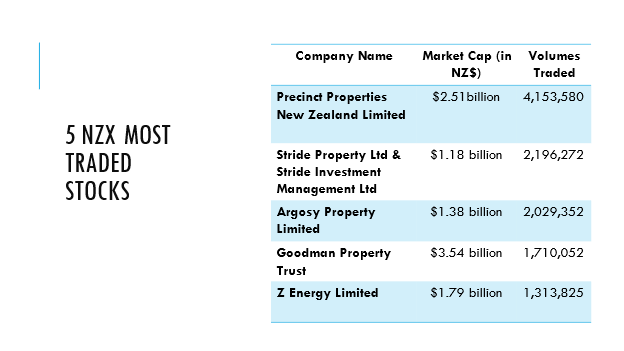 Image source: © 2021 Kalkine Media New Zealand Ltd, Data source- Company Announcements
Precinct Properties New Zealand Limited (NZX:PCT)
Precinct was the most traded stock of the day, trading highest volumes of 4,153,580 on Thursday. PCT ended the trading session flat at $1.7.
Precinct declared that the final conversion price of the subordinated convertible notes (PCTHA) stood at $1.4. The price is the lesser of the conversion price cap of $1.4 and a 2% discount to the market price being $1.66.
Agreement, allotment, and initiation of trading of newly converted PCT shares will occur on 27 September.
Stride Property Ltd & Stride Investment Management Ltd (NZX: SPG)
Stride was the second most traded stock of the day, recording trading volumes of 2,196,272. SPG ended the trading session flat at $2.5.
ALSO READ: Which are the 5 dividend-paying penny stocks on NZX?
Stride released its annual meeting results on Thursday. The Group fared well in FY21 given the COVID-19 impact. The profit after tax from continuing operations stood at $132 million in the period from the loss of $0.1 million in FY20. Total assets under management stood at $3.4 billion that includes acquisitions and all developments that are in progress.
The Group plans to grow its investment management business in FY22.
Argosy Property Limited (NZX:ARG)
Argosy was the third most traded stock of the day, seeing a trading volume of 2,029,352. ARG ended the trading session at $0.005, up 0.3% from its previous close.
Argosy announced that the strike price for its dividend reinvestment plan stands at $1.5979. The Group has announced a cash dividend of 1.6375cps for FY22, due to be paid on 22 September 2021.
A 2% discount has been employed in computing the strike price.
Goodman Property Trust (NZX:GMT)
Goodman was also amongst the most traded stocks of the day, trading high volumes of 1,710,052. GMT ended the trading session at $2.54, down 1.17% from its previous close.
Interesting Read: Which are the five popular NZX-listed material stocks?
GMT's Manager Goodman NZ Limited affirmed that its interim result will also have a revaluation of nearly $500 million. GMT's property portfolio is likely to be valued at roughly $4.3 billion as at 23 September 2021.
Z Energy Limited (NZX:ZEL; ASX:ZEL)
Z Energy also reported highly traded volumes of 1,313,825 for the day. ZEL ended the trading session at $3.45, up 1.77% from its previous close.
DO READ: Has Z Energy's (NZX:ZEL) fuel demand taken a hit?
Z Energy announced this month that it is experiencing lower demand for all fuels with NZ under COVID-19 Alert. The Group provided estimation of reduction in volumes in each alert level.
ZEL reaffirmed its RC EBITDAF guidance range to be between $270 million and $310 million for FY22 and dividends between 19cps to 23 cps.
Bottom Line
Most active stocks for the day can help investors in modifying their portfolio as per latest announcements and updates in the market.
(NOTE: Currency is reported in NZ Dollar unless stated otherwise)