Highlights

Monthly returns come handy in assessing the short-term performance of companies.
Summerset Group Holdings has a monthly return of 17.44% and would pay a dividend this month.
Pacific Edge, reflecting a monthly return of 15.70%, says it is progressing well with its intended ASX listing.
Seasoned investors know that amid frequent market fluctuations, it is important to closely monitor a company's performance. So, monthly returns are significant and come into the picture as they provide valuable insights to know if the company is performing better or is experiencing a slump when compared to the overall financial market.
Investors can take cues from these monthly returns and can take appropriate steps for managing their portfolios and making better investing strategies.
Now, let us take a look at the five NZX-listed stocks with the highest monthly returns.
Summerset Group Holdings Limited (NZX:SUM)
Founded in 1997, Summerset Group Holdings Limited operates retirement villages across the country and boasts a monthly return of 17.44%. For its dividend distribution on 20 September, the Company has provided the foreign exchange rate for its Australian investors to be at AUD$0.9587.
Also, SUM has set the strike price for its dividend reinvestment plan at NZ$14.7566 per share.
At the time of writing, Summerset Group Holdings was up by 0.54% at NZ$14.860, on 16 September.
Related Read: Which are 5 hot NZX dividend stocks to explore in September 2021?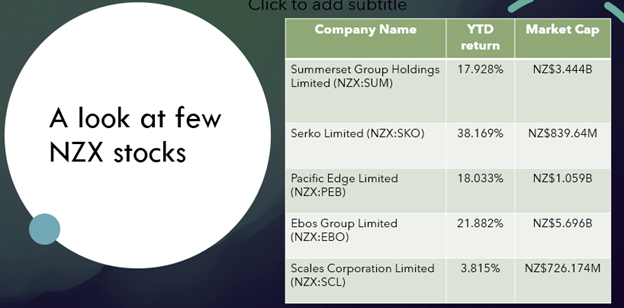 Image source: © 2021 Kalkine Media New Zealand Ltd, data source- Refinitiv
Serko Limited (NZX:SKO)
Technology-driven company Serko Limited, which has a monthly return of 16.55% had recently released the results of its ASM, which was held last month.
A resolution was passed for authorising the Company's directors to fix Deloitte, its auditor's remuneration for the ensuing year.
The shareholders also passed resolutions for the re-election of a director as well as increasing the non-executive director remuneration.
At the time of writing, on 16 September, Serko declined by 1.75% at NZ$7.86.
Pacific Edge Limited (NZX:PEB)
Pacific Edge Limited, a cancer diagnostic company, boasts a monthly return of 15.70%. Recently, the Company gave an update that its approval process for getting listed as a Foreign Exempt Entity on the ASX is on track.
Moreover, it is aware of the speculation regarding a possible capital raise, which was inadvertently released by the ASX and was later withdrawn by the exchange.
PEB has affirmed that no such capital raising had been approved by its Board.
Shares of Pacific Edge gained 0.70% at NZ$1.440 on 16 September, at the time of writing.
Interesting Read: Five NZX travel stocks to look at amid border closure and paused travel bubble
Ebos Group Limited (NZX:EBO)
Ebos Group Limited is a famous marketer and supplier of medical, healthcare as well as pharmaceutical products across Australasia and has a monthly return of 15.42%.
Recently, EBO has revealed finishing off with the takeover of Sentry Medical, designer and distributor of varied medical consumable products.
The said acquisition would strengthen EBO's growing presence in the institutional healthcare market.
At the time of writing, Ebos Group climbed 0.54% at NZ$35.210, on 16 September.
Related Read: Earnings Season: Which 5 NZX stocks are declaring dividends?
Scales Corporation Limited (NZX:SCL)
Headquartered in Christchurch, Scales Corporation Limited is a diversified agribusiness company focusing on essential supply chain services and boasts a monthly return of 12.72%.
The Company has revealed the appointment of a non-executive director, Sun Qiang (Alex). He would assume office from 13 September onwards.
It is noted that Mr Sun is holding a senior-level position in the Asset Management Department of China Resources Enterprise, Limited. Its subsidiary has almost 15% interest in SCL.
Also, he would retire in the next Annual Shareholders' Meeting of the Company and would seek re-election.
On 16 September, at the time of writing, Scales Corporation was flat at NZ$5.17.
Also Read: What does above-5% dividend yield of these 5 NZX stocks indicate?
Bottom Line
Monthly returns are instrumental in indicating the financial well-being of a company and play a significant role in providing valuable information to the investors and other stakeholders.