Highlights

Most traded stocks offer high liquidity to their investors.
New Talisman Gold Mines will meet on 11 October to discuss on the election of its new Chair.
Promisia Healthcare welcomes its new CEO.
Most traded stocks are those stocks that record the highest trading volumes during a specific day. These provide meaningful insights about the market as well as investors' sentiments about a particular stock or security.
Having said that, let us quickly take a look at the three most traded NZX stocks as of today.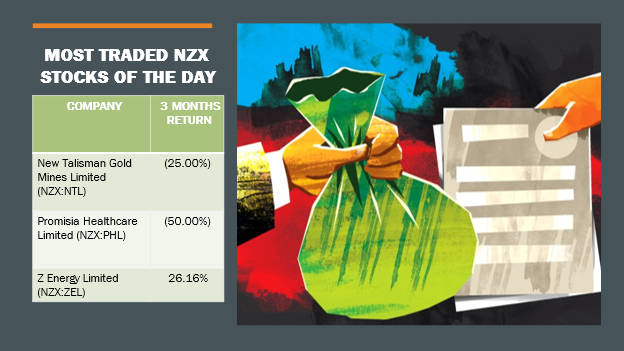 Image source: © 2021 Kalkine Media New Zealand Ltd, data source- Refinitiv
New Talisman Gold Mines Limited (NZX:NTL)
The mining company, New Talisman Gold Mines Limited was one of the highest traded stocks on Friday, with a trading volume of 8,374,854.
Recently, the Company has revealed the departure of its director, Mr Charbel Nader, with immediate effect. The Board will meet on 11 October to deliberate on the election of a new Chair.
On 8 October, New Talisman Gold Mines traded flat at NZ$0.003, at the market close.
Related Read: New Talisman Gold (NZX:NTL) releases activities report for the June quarter
Promisia Healthcare Limited (NZX:PHL)
Another highly traded stock was Promisia Healthcare Limited, with a trading volume of 5,000,000. The Company has recently witnessed the appointment of its new CEO, Chris Brown.
It is noted that Mr Brown was working on a contract basis since February 2021 to support PHL's management.
At the end of the trading session, Promisia Healthcare remained unchanged at NZ$0.001, on 8 October.
Interesting Read: How to diversify portfolio with NZX small-cap stocks?
Z Energy Limited (NZX:ZEL)
Topping off the list was the country's famous fuel distribution company, Z Energy Limited, with a trading volume of 2,261,300.
In the wake of Ampol's (an Australian-based company engaged in retail fuel distribution) proposal to acquire ZEL, the latter has announced the extension of its exclusivity period, which originally was for four weeks by another two weeks to address the key issues pertaining to the proposed transaction.
ZEL has assured to keep its shareholders about any developments by 11 October, in this regard.
The shares of Z Energy dipped by 1.17% at NZ$3.380, on 8 October, at the closing bell.
Bottom Line
Investors can always keep a track of the most traded stocks on the NZX Board and can thereafter make informed decisions while trading in them.