Highlights

Synlait announces plans to change organisational structure
Proposed cuts in jobs could mean a saving of NZ$10 million to NZ$12 million per year.
Aims to streamline the process in order to help the Company move towards future goals.
Synlait Milk Limited (NZX:SML) announced on Wednesday that it was in the process of organisational changes and was in consultation with the staff over it . This dairy Company from Canterbury has its presence throughout New Zealand. John Penno, the CEO, was of the view that the company had undergone several changes in the past year, while some areas are under resourced, others are over. This is the reason why there is a need for resetting priorities in order to align the Company with its business goals perfectly.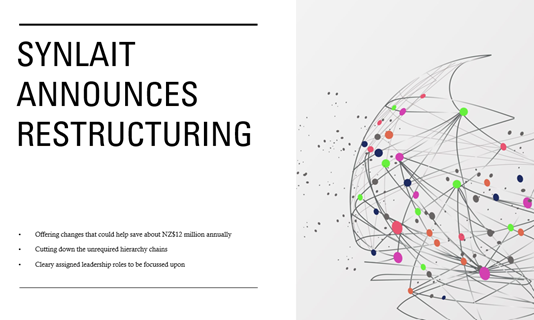 Image source: © 2021 Kalkine Media New Zealand Ltd
Image Description: Restructure propositions of the Company
Uncomplicating the business
The changes being spoken about are with regard to resourcing and leadership and aligning them to business units such as liquids, ingredients and nutritionals. The proposed changes are also meant to eliminate unrequired hierarchy levels in the Company to make sure that the employees have the freedom to make independent decisions and not have to depend upon complex chains of management.
Read more: Synlait Milk gives a nod to new funding arrangements
Who was further of the view?? Penno was further of the view that the company is also its way to better work culture. Aiming at building teams that work harmoniously with clearly assigned roles as well as appropriately designed systems for achieving future growth. This exercise shall not only focus on cost cutting but will be an attempt to reset the functioning of the business.
Also read: Look at the 5 popular NZX-listed dairy stocks
Saving that could be attained
According to the newly proposed structure, there shall be about 15% reduction in the total headcount of the organisation, which would mean a saving of about NZ$10 million to NZ$12 million.
Discussions regarding the same are currently underway with the union representatives and impacted team members, and the process of consultation shall continue to take place over the course of the next two months. Further updates on the matter shall be provided together with the full-year results of the Company, which are due to be released on 27 September 2021.
According to another recent update, the Company announced Nigel MacDonald as the Director of operations. Having been in the business for years with ample experience in the dairy industry, Nigel has previously contributed towards leading teams in areas such as consumer goods, infant nutrition and so on.
Don't miss: Selling in Consumer and Material Stocks Weighed Over Broader Market
Bottom Line
The business is in a transitional state and hopes to build a more structured form of functioning to benefit staff and customers alike.
On 8 September 2021, the Company traded at NZ$3.240, up by 2.21%, at the time of writing.