Summary

After attracting the praise for successful combating Covid-19, New Zealand is once again in the grip of the relentless virus.
The Alert Levels would now be reviewed on September 14, 2020. If there would be any change, it would be happening at 11:59pm on September 16, 2020.

CGF stated that acquisition of Triple Two Coffee would be positive moving forward.
On September 5, 2020, The Ministry of Health has confirmed that former Prime Minister of Cook Islands Dr Joseph Williams QSO passed away in Auckland City Hospital. The Government has made an announcement that NZ would remain at Alert Level 2. It was also added that extra restrictions would be in place in Auckland region for funerals, gatherings as well as tangihanga. Earlier, New Zealand received praise on its expert handling of the virus spread.
The country was so successful in controlling the spread of the virus that most of the restrictions were lifted. The government even encouraged domestic tourism to uplift the economy as it is a crucial part of NZ's economy.
While the government has no choice but to implement restrictions to safeguard people's health, the businesses are hugely impacted due to the prolonged global crisis. In this scenario, let's discuss a few companies with their annual reports.
ikeGPS Group Limited (ASX: IKE)
ikeGPS Group Limited (ASX: IKE) is listed on NZX and ASX under the symbol of IKE. The company seeks to be the standard for collecting, managing, as well as analyzing pole and overhead asset information for electric utilities, communications companies, as well as their engineering service providers.
IKE has released its annual report for the period of 12 months to March 2020. The key highlights are:
Revenue from ordinary activities was NZ$9.83 Mn up by 23.0% on pcp.
Net loss attributable to security holders stood at NZ$5.70 Mn.
Looking to FY 2021, the company stated that its plan is consistent with that over the previous 24+ months. The company focused towards building as well as selling a poles platform into North American Communications & Electric Utility sector which speeds up the network development. In FY 2020, the company continued crucial work establishing the brand as well as customer experience within Communications and Utility segment.
Allied Farmers Limited (NZX: ALF)
Allied Farmers Limited released its 2020 Annual Report for 12 months to 30 June 2020. Here are the key highlights:
Revenue from continuing operations was down by 2.5 per cent as it stood at NZD 20.061 Mn.
Net profit from continuing operations stood at NZ$1.21 Mn.
Net tangible assets per Quoted Equity Security was NZ$0.304.
The company stated that it has a well-established finance operation offering short term seasonal livestock financing. The finance business managed to operate profitably and has given the company significant experience with respect to rural financing. It has become apparent that food producers in NZ are looking for sources of finance from other than traditional banks. Resultantly, the company has decided to invest towards expansion of financing operation.
Cooks Global Foods Limited (NZX:CGF)
On 31 March 2020, Cooks Global Foods Limited released its annual report 2020. Some highlights include:
Group revenue from continuing activities grew by 4.3 per cent to NZD 4.2 million.
Operating loss from continuing operations before depreciation, amortisation & finance charges improved to NZ$35k as compared to the previous year loss of NZ$2.4 million.
Borrowings declined to NZ$5.5 million from NZ$5.7 million during the previous corresponding period. CGF continues to seek other funding options to better reflect the proper mix of equity and debt requirements. Lease receivables of NZ$18.3 million and right-of-use assets of NZ$2.5 million, lease liabilities of NZ$20.9 million have been recognised in 2020, following the adoption of NZ IFRS 16 Leases from 1 April 2019.
Cash flow from continuing operations was positive and stood at NZ$193k after deducting interest of NZ$1,414k compared to a prior-year loss of NZ$2,404k after subtracting interest of NZ$289k as restructuring actions are implemented.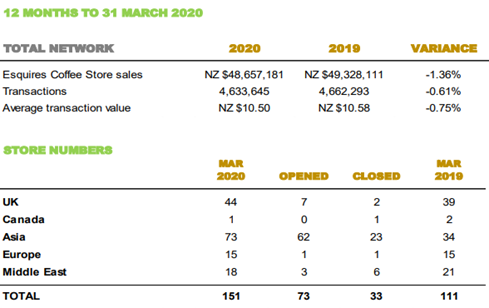 Key Data (Source: Company Reports)
Covid-19 impact on the business
From mid-March, there was an impact of pandemic in all markets, and consequently, the revenue began to decline. However, the full impact was mitigated due to the various government support packages.
Performance for July and two weeks of August
Average sales across the major markets of the UK and Ireland were 100 per cent and 82 per cent, respectively for open stores compared to the PCP. Central city stores have been the worst impacted due to Covid-19 as employees were working from home and tourism sector was severely hit in main cities.
Business outlook:
Cooks Global Foods generated significant momentum in 2H FY 2020 and this had begun to show benefits with respect to scale as well as profitability with the robust pipeline of new stores coming on stream in the core markets in 2H. The first stages of these benefits were witnessed in the result for FY 2020 year.
The company also stated that acquisition of Triple Two Coffee would be positive in FY 2021 and beyond.