Summary

NZX emerged as a rescuer in keeping businesses afloat during coronavirus pandemic.
Secondary capital raisings observed a remarkable rise of 61.6 per cent Y-o-Y in HY 2020, as per NZX Limited's recent half year shareholder metrics.
Equity raising activities empowered the surge in total capital raisings.
Business rush to shore up finances, splendid performance of S&P/NZX 50 and NZX's move to ease capital raising norms appear to have driven capital raisings.
Some of the most-discussed capital raisings were conducted by Kathmandu Holdings, Auckland Airport, Z Energy, Infratil and SkyCity in the COVID-19 era.
At the time when COVID-19 pandemic intensified the risk of insolvency in NZ businesses amidst widespread liquidity crunch, New Zealand Exchange (NZX) emerged as a saviour in keeping businesses afloat, offering key platform for capital raisings. To address the unprecedented impacts of coronavirus outbreak and navigate through cash crisis, multiple NZX-listed firms reached out to capital market over the last few months to get back on their feet.
As per recent half year shareholder metrics revealed by NZX Limited, ~NZD 8.2 billion worth of capital raised on NZX during the half year ended 30th June 2020, marking a rise of 6.5 per cent on prior corresponding period (pcp).
While new capital listed by all issuers plummeted by 43.2 per cent on pcp, secondary capital raisings witnessed a tremendous rise of 61.6 per cent on pcp to ~NZD 5.9 billion.
Moreover, equity raising activities empowered the surge in total capital raisings in secondary market during the period, with NZ issuers raising over NZD 3.1 billion in equity capital. In HY 2020, NZX observed a massive Y-o-Y increase of 217.3 per cent in equity transactions, while a modest Y-o-Y rise of 31.2 per cent in debt transactions.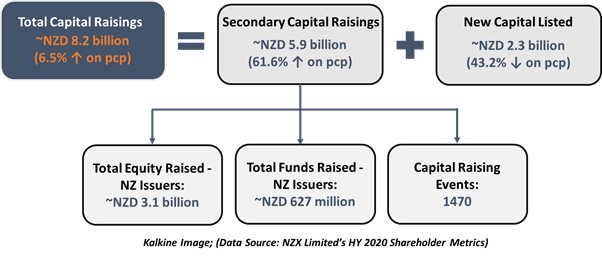 Key Drivers of HY 2020 Capital Raisings
A rush by NZ businesses to shore up their finances in coronavirus storm majorly induced capital raising activities in HY 2020, as over NZD 5 billion worth of capital was raised on NZX in March and April 2020.
Besides, the spectacular performance of NZ benchmark index in reviving from March 2020 crash seems to have bolstered investors' confidence in capital markets. The S&P/NZX 50 index has delivered a substantial return of about 38 per cent since 23rd March 2020 (up till 31st July 2020) on hopes of speedier economic recovery, optimism around COVID-19 vaccine development and effective containment of virus spread in Kiwi Land.
In addition to these factors, NZX's move to lift capital raising capacity in March 2020 appears to have lent a helping hand to NZX-listed players. NZX made some temporary changes in its capital raising norms during March to ease constraints on issuers' working capital positions.
Popular Capital Raisings of COVID-19 Era
While numerous companies embraced capital raising as a weapon to foster their capital buffers and strengthen balance sheets during COVID-19, some of them deserve closer attention.
NZ retailer Kathmandu Holdings Limited (NZX:KMD) rode the wave of capital raising, garnering considerable attention for being the first one to cuddle equity raising in response to the pandemic. The Company raised NZD 207 million via Placement and Entitlement Offer to fortify its balance sheet and strengthen its position in emerging from the pandemic.
Picking up the trail, Auckland International Airport Limited (NZX:AIA) made a noise in the market with its largest ever secondary capital raising of up to NZD 1,200 million in April this year. The Company's equity raise aimed at bolstering balance sheet and staying well capitalised during the period of strict border controls and substantially reduced passenger numbers.
Some of the other prominent capital raisings were undertaken by Z Energy Limited (NZX:ZEL) in May 2020, followed by Infratil Limited (NZX:IFT) and SkyCity Entertainment Group Limited (NZX:SKC) in June this year.
Z Energy launched an equity raise of up to NZD 350 million in May this year to deliver a robust capital structure that could enable it to navigate through challenging market conditions, while favourably positioning the business to seize opportunities as the NZ economy starts to recover from COVID-19.
Subsequently, Infratil and SkyCity announced NZD 300 million and NZD 230 million equity raising, respectively, in June 2020. While Infratil's equity raising was focused at providing additional balance sheet flexibility to fund growth investments across its existing portfolio companies, SkyCity's capital raising intended to secure further liquidity and foster balance sheet.
While NZ market experienced a gradual revival from March dip with exceptional level of equity raising activities over the past few months, investors need to gain a better insight on capital raise reasons before drawing an over-optimistic view. It's all about taking balanced and prudent decisions while embracing a mix of technical and fundamental analysis.
Must Read! NZ Capital Markets & 3 E's Facilitating the Trends