Highlights

NZ health authorities extend the isolation period of COVID-19-affected cases.
Bluff Oyster Festival is being axed this year owing to COVID-19 uncertainty.
Ebos Group seeks Commerce Commission's clearance for acquiring the NZ LifeHealthcare business.
As another week draws to the closure, let us make a quick scan of some of the latest updates attracting interests of New Zealanders.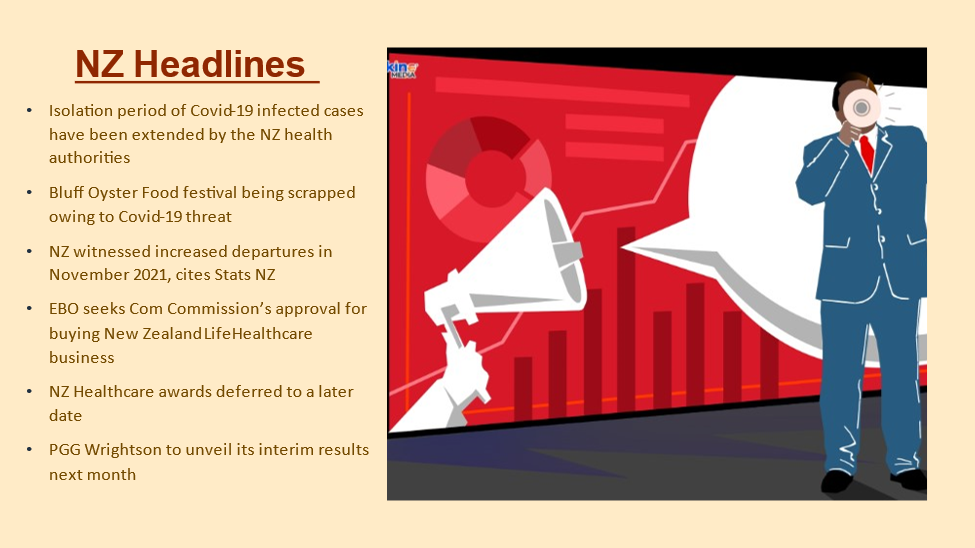 Source: © 2022 Kalkine Media®
NZ stretches COVID-19 cases' isolation period
Owing to Omicron's infectiousness, NZ health authorities have extended the isolation period.
Instead of 10 days, now, the cases must isolate, be at home or in MIQ, for 14 days. Also, close contacts are now required to isolate for 10 days instead of the earlier practice of isolation for a week.
The said changes would come into effect from today onwards.
Related Read: New Zealand rules out lockdown, other major updates
Food festival being scrapped owing to COVID-19 threat
The Bluff Oyster and Food Festival, which was scheduled to happen on 21 May, has been axed, owing to Omicron risks and changes in the country's traffic light settings.
In 2020 also, the festival was called off when the entire country went into lockdown.
Interesting Read: Northern Bass cancelled due to COVID-19 threat, plus other major NZ updates
NZ witnessed increased departures in November
Stats NZ has revealed that the number of people crossing the NZ shores in November 2021 rose, bolstered by increased departures.
In the said month, the country witnessed 28,700 border crossings as compared to just 6,600 pertaining to previous month.
It is noted that the departures in November 2021 corresponded to the opening of quarantine-free travel from Kiwiland to Kangaroo land on 1 November last year.
EBO seeks Com Commission's approval for buying New Zealand LifeHealthcare business
Ebos Group Limited (NZX:EBO) has applied to Commerce Commission for clearance to acquire New Zealand LifeHealthcare business.
Must Read: EBOS Group (NZX:EBO): Why is it buying LifeHealthcare?
It must be noted that the Commission would give the green signal if it is satisfied that the proposed merger will not impact the market competition.
NZ Healthcare awards deferred to a later date
New Zealand Primary Healthcare Awards 2022 have been postponed to a later date over COVID-19 concerns.
The entries and nominations have been suspended as of now, and the awards gala, which was scheduled for 7 May, has been deferred.
It is pointed out that the said awards are hosted by The Health Media Ltd and the Pharmacy Guild of New Zealand.
PGW to unveil its interim results next month
PGG Wrightson Limited (NZX:PGW), a famous agricultural supply company, revealed today that it would announce its six-monthly performance on 22 February.
Also Read: Which are 5 prominent NZX agriculture stocks to follow in 2022?
The announcement will be followed by an audio conference.