Highlights

The NZ govt rules out lockdowns in case Omicron spreads more in the community.
Cathay Pacific airlines announce new flexi fares for NZ flights.
The cost of medicinal cannabis in the country to drop, following a major commercial deal.
Let us take a quick gaze at some of the newest developments happening across the Kiwi nation.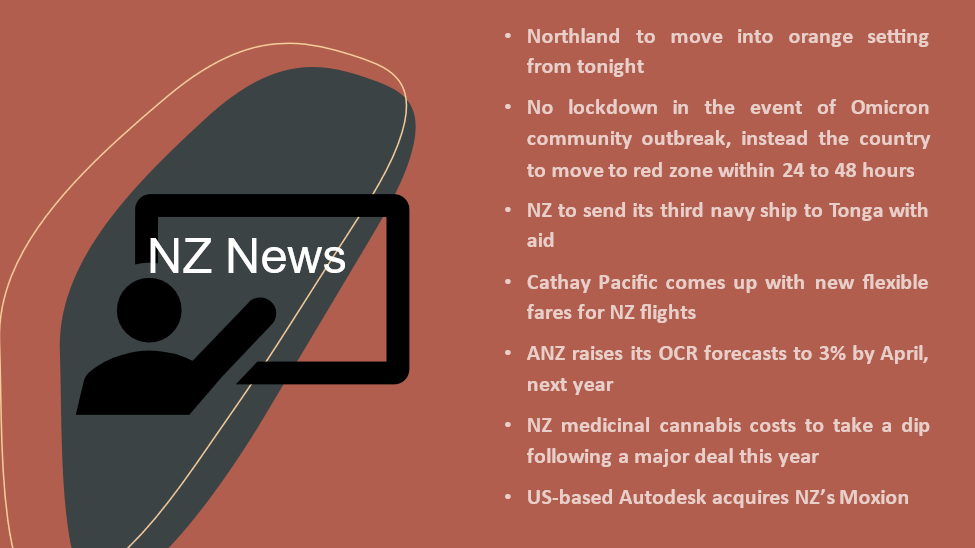 Source: © 2022 Kalkine Media®
No lockdown in the event of Omicron community outbreak
The NZ Government has announced the transition of Northland to orange setting from tonight, while the rest of the nation will continue to remain at orange.
In case there is an Omicron community outbreak, the whole of the country would move to the red zone within 24 to 48 hours instead of imposing lockdowns.
Related Read: NZ Government discloses new traffic light system and business support package
NZ to send its third navy ship to Tonga with aid
Following the weekend eruption of the volcano in Tongan islands, New Zealand will be sending a third navy ship to aid relief efforts of the devastated country.
Must Read: How is Tonga coping with the underwater volcano?
NZ has been sending humanitarian aid and disaster relief supplies, such as water containers, generators, temporary shelters, communications equipment, hygiene, family kits, etc.
Cathay Pacific comes up with new flexible fares for NZ flights
Cathay Pacific Airways Ltd., the flag carrier of Hong Kong, has launched new flexible fares on NZ flights. It has introduced three new booking levels for its economy class, namely Lite fares, Essential fares and Flex fares.
Moreover, the airline will offer various luggage allowances and flexibility levels to the flyers travelling in the economy class.
ANZ raises its OCR forecasts for next year
On Wednesday, Australia and New Zealand Banking Group Limited (NZX:ANZ) lifted its OCR forecasts, indicating it to touch 3% by April 2023, owing to labour market constraints.
Further, it signalled that the RBNZ too would be prompted to raise the OCR further when the latest figures pertaining to the December quarter on inflation and unemployment would be released in the coming weeks.
NZ medicinal cannabis costs to take a dip following a new deal this year
Costs of medicinal cannabis in the country are likely to decline this year following a significant deal between Auckland-based Helius Therapeutics and Puro from South Island.
Interesting Read: Medicinal cannabis industry in NZ is set to boom despite hurdles
The said deal would be the first commercial bulk deal in Kiwiland and would see more affordable prescription products being available in the country.
US-based Autodesk acquires NZ's Moxion
Autodesk, the US-based giant, focusing on Postproduction software development, has announced its acquisition of Auckland start-up, Moxion, a cloud-based company specialising in the Media and Entertainment industry.
The deal is said to be worth tens of millions of dollars and will help in expanding Autodesk's cloud platform for media and entertainment upstream.