Summary

Tourism New Zealand suggests that local tourists footfall peaked outside their home region at 550,000 on 11th July.
64% of Kiwis intend to take a domestic holiday within the next one year.
Trans-Tasman bubble between New Zealand and Australia is closely eyed amid rising virus cases in Australia.
A cautious approach is needed while taking exposure to travel stocks.
Countries are ravaged by novel coronavirus (COVID-19) pandemic. The economies are suffering, and the tourism industry is on its knees. However, demand for domestic tourism in New Zealand is taking off the charts.
Covid-19 Alert Level 1 is allowing the local tourists to venture out and explore their backyard. While New Zealand still has restrictions for international travellers to enter the country, the tourism industry sees this as an opportunity to divert the New Zealanders to domestic tourism.
A recent data released by Tourism New Zealand suggests that local tourists footfall outside of their home region peaked at 550,000 on 11th July. This number is the highest since March this year after the coronavirus hit the industry.
Notably, all the regions witnessed an uptick in domestic tourism compared to last year's winter school holidays, representing the highest level since lockdown began in March.
On the first and last Sunday of the holiday break, smaller peaks were recorded - 440,000 and 420,000 respectively. Kaik?ura saw a whopping 56.2% visitors increase compared to the previous year. It is the highest among all regions.
The increase in travel provided a kick start to the businesses who were shut for many months, giving a boost to communities who are dependent on the tourism industry. Businesses such as restaurants & cafes, accommodation and transport providers are likely to benefit the most with the emerging trend in the market.
ALSO READ: 3 Things that can boost the New Zealand domestic air travel
Kiwis are Out and About
New research conducted by Tourism New Zealand shows that 64% of Kiwis plan to take a local holiday within the next one year.
Tourism New Zealand's General Manager for Domestic tourism, Bjoern Spreitzer stated that many of the New Zealanders are planning to spend more than they have last year and that too on the domestic travel. The local tourism industry welcomes this encouraging news.
This research was conducted to understand New Zealanders' attitudes towards holidaying within New Zealand. It also uncovered motivating reasons and potential barriers for travellers. The numbers are quite bright.
72% of those who took the survey believe that domestic holiday is worth the expenditure, whereas only 28% believe domestic travel to be very expensive and lack value for money.
Tourism New Zealand plans to offer innovative packages to attract more local tourists by showcasing a range of tourism experiences.
The data shows that most of the New Zealanders take short but multiple weekend holidays due to time constraints. 40% of the New Zealanders, mainly singles or couple without children, tend to travel on non-school holiday days. By tapping them into domestic travel on outside peak times, Tourism New Zealand plans to provide a much-needed boost to the industry.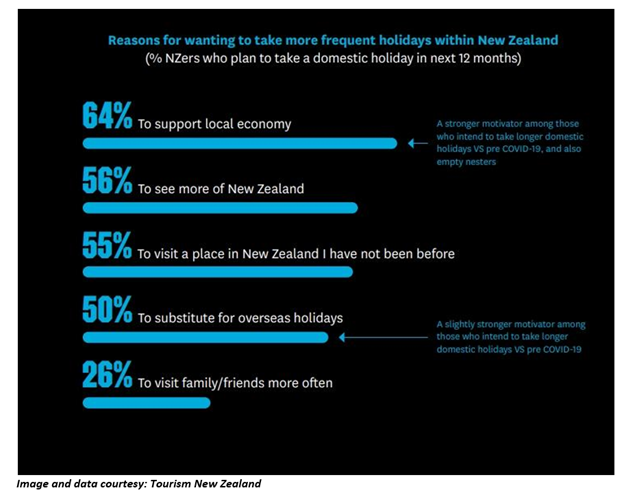 With an impressive number of 82%, New Zealanders believe it is essential to travel locally to support local businesses. 71% of them feel post-COVID is a great time to visit their own country as international tourists do. The research shows that Kiwis are looking to heading somewhere to relax and escape the daily routine. While, 90% of them need to travel outside their region to feel it like a holiday.
New Zealanders are also aware that the country offers the experiences one can get anywhere else. They are keen on exploring new places, food and visit iconic landmarks.
Tourism Stats and Travel Bubble Prospects
According to Tourism Satellite Account, the tourism industry generated a direct contribution to GDP of ~NZ$16 bn, or 5.8% of GDP. While, the tourism dependent segments contributed an additional ~NZ$11 bn, or 4 % of GDP. Around 229,566 people were employed in the tourism industry, which is 8.4% of the total NZ employed.
In other words, tourism plays a crucial role in the New Zealand economy in terms of contribution to the economy, related industries and employment opportunities.
Fiji and the Cook Island are trying to get their economy going with a Pacific bubble with New Zealand and Australia. But due to the ill-effects of COVID-19 pandemic, the countries are currently focusing on the virus containment strategies.
Trans-Tasman bubble between New Zealand and Australia is still on the hold as well. Though a few days back, both the countries Prime Ministers met but couldn't reach an agreement yet, amidst rising coronavirus cases in Australia and state border restrictions.
The Pacific Islands experienced a 6.6% rise in tourist footfall in 2019 with ~ 2.2m visitors by the end of the year. A boom was predicted for 2020 before COVID struck.
With elections on the cards, politicians are giving special attention to boost tourism businesses post-COVID-19 crisis.
Tourism Industry Aotearoa (TIA) has drafted a plan to make bold changes. TIA demands the upcoming Government to fix longstanding issues in the system which have compromised the industry's desire to build sustainable tourism in future.
Interesting Read: COVID-19 Travel Restrictions: Why NZ Passport Ranking is Still Among the Bright Spots
Given the revival prospects in NZ tourism industry, with domestic travel to begin with, let us now look at the players in the equity space:
Tourism Holdings Limited (NZX:THL)
A premier global tourism company, Tourism Holdings provides RVs for rent and sale across AU, NZ and NA. While vehicle sale numbers were low in March and April amid COVID-19 restrictions, some recovery was noted across all three regions in May and early June. Meanwhile, THL has entered into a binding term sheet with its banking partners reflecting new funding arrangements of ~NZ$225 million.
THL is expecting to report an underlying net profit after tax of NZ$17.5 – NZ$19m for FY20, while no offer of the final dividend.
The stock of THL traded at NZ$1.760 on 24 July 2020.
Air New Zealand Limited (NZX:AIR)
Air New Zealand, recently on the request from the Government to limit the burden on quarantine centres, has put a pause on its international flight services for the next three weeks. The airline will also align daily arrivals with capacity available at managed Covid-19 quarantine facilities.
As domestic travel is on the rise, the company plans to re-launch its successful campaign Mystery Break for local travellers. The airline has a strong domestic base, which seems to be aiding them during pandemic days.
AIR expects NZ$120 million underlying loss for FY20.
The stock of AIR traded at NZ$1.325 on 24 July 2020.
Also read: Gear up travellers! Air New Zealand's new digital tool for credit redemption just went live
Auckland International Airport Limited (NZX:AIA)
According to the latest monthly traffic update, Auckland Airport's total passenger volumes decreased by 94.7% in May 2020 versus last year amidst travel restrictions imposed by the New Zealand Government in response to COVID-19. International passenger footfall was down by 98.0%, transit passengers were as low as 98.3%, and domestic passengers were down by 91.1%.
Auckland Airport announced that its FY19 annual results will be declared in August 2020, along with a webcast by AIA CEO and CFO.
The stock of AIA traded at NZ$6.340 on 24 July 2020.
---
Disclaimer
The website has been prepared for informational purposes only and is not intended to be used as a complete source of information on any particular company. The above article is NOT a solicitation or recommendation to buy, sell or hold the stock of the company (or companies) under discussion. Kalkine does not in any way endorse or recommend individuals, products or services that may be discussed on this site.