Investors get an opportunity to profit when an asset price is on a rising trend. In an uptrend, stock price trends in upward direction by making a string of higher highs and higher lows.
Higher highs imply higher consecutive peaks than the previous peaks, while higher lows imply bottoms higher than the previous low.
Every day, the stock price touches a new high and falls lower than it did previously in an uptrend.
An uptrend is created when the fundamentals are improving and can last from few weeks to as long as few years, contingent on the source and length of the driving factor.
Let's have a look at these 3 NZX-listed stocks that are on an uptrend.
ArborGen Holdings Limited
ArborGen Holdings Limited (NZX:ARB), a global seedling supplier and provider of advanced genetics, reported a strong Y-O-Y performance for 6 months ended 30 September 2020. The Group also posted operating earnings, over 200%, and operating cash flow, up $5.7 million, for the period.
On 13 January, the Group declared that the confirmed sales orders at present represented about 92% of forecast US seedling revenues for 2020 in the US, one of its largest markets.
However, ARB stated that confirmed sales orders were much slower than previous years. This was majorly related to coronavirus-affecting harvest levels in 2020. Further, ARB's delayed plant activities and site preparation due to the restrictions on migrant labour into the US from Central America was another reason.
The cone harvesting activities now show a material rise in US MCP seed production over 2019 levels.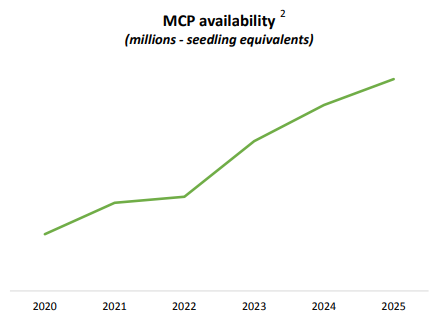 Source: ARB Interim Results Presentation 2020, dated: 25 November 2020
The Group expects to achieve ~95% of USD 40 million sales revenue in the US, as forecasted earlier. Subsequently, US GAAP EBITDA, inclusive of COVID-19-related government grant income of US$2.6 million is projected to be between US$10 million-$11 million for FY ending March 2021.
The Group had earlier forecasted US-GAAP EBITDA adjusted for abnormal items, and before NZ public company costs for FY ending March 2021 to be higher than $9.3 million reported for the previous fiscal year of March 2020. This was subject to any unmanageable factors, including any impact from COVID-19.
ALSO READ: ArborGen Holdings (NZX:ARB) updates earnings guidance amid COVID-19
ARB also expects an increase in seedling sales in 2021 in Australasia and a rise in confirmed orders in Brazil.
On 4 February, ARB ended the trading session at $0.183, up 2.23% from its previous close.
Cavalier Corporation Limited
Cavalier Corporation Limited (NZX:CAV) reported softened trading conditions in FY20 amid COVID-19 impact and re-setting of the Company as it commenced its transformation.
The Group's revenue was down by 13% in FY20 on pcp with significant reduction in sales during April and May.
As per its latest trading update dated 23 December, the Group witnessed stronger-than-expected sales volumes for 6 months ended 31 December 2020 (HY21). The Group's demand increased partly with increased sales of wool and higher-value products post coronavirus.
Woollen carpet sales volumes in NZ rose 10% while associated sales revenue rose 24% for 5 months ended November 2020 as compared to 2019.
Woollen carpet sales volumes were down 10% in Australia due to stock shortages caused due to shipping delays and port strikes.
Cavalier expects to report a normalised EBITDA in the range of $4 million-$5 million for HY21. However, total sales volumes for FY21 are expected to be less than last year due to the exit from non-wool.
ALSO READ: Cavalier Corporation (NZX:CAV) posts stronger sales than anticipated in HY21, stock up by 4%
On 4 February, CAV ended the trading session at $0.38, up 5.56% from its previous close.
Smartpay Holdings Limited
Smartpay Holdings Limited (NZX:SPY) reported a strong overall performance in H1 of FY20. Both Australian and New Zealand operations showed strong resilience to COVID-19-induced lockdowns.
On 20 January 2021, Smartpay provided a trading update after the completion of Q3 to 31 December 2020. The update revealed strong growth in Australian acquiring revenue, up 75% on pcp for the December quarter, and up by 35% on the previous quarter.
Further, transacting terminals stood at 5,775 at the end of Q3FY21, a rise of 1,164 from the previous quarters.
Source: SPY half-year Presentation, dated: 27 November 2020
The upward trend in Australian acquiring margin reflected a combination of increased transaction volumes across the current fleet, high-quality merchant additions and a continued rise in the mix of higher-margin product.
The Group's NZ operations stayed stable with the rise in revenue contribution through the quarter. Overall, SPY expects a positive outlook for the rest of FY21 and beyond.
Smartpay came through COVID-19 well capitalised with the business growing strongly. The Group expects to generate a record revenue in the second half given the current growth levels and underlying performance.
On 4 February, SPY ended the trading session at $0.975, up 4.28% from its previous close.
(NOTE: Currency is reported in NZ Dollar unless stated otherwise)