On July 21, 2020, S&P/NZX50 ended the session in green as the index witnessed a rise of 1.59% to 11,737 and S&P/NZX20 rose by 1.72% to 7,844. On the same day, S&P/NZX10 encountered an increase of 2.07% to 12,477.
S&P/NZX All Consumer Discretionary ended the session in green as there was a rise of 3.19% and S&P/NZX All Consumer Staples rose by 2.67%.
On July 21, 2020, the stock price of Blackwell Global Holdings Limited (NZX: BGI) rose by 25.00% on an intraday basis to NZ$0.070 per share. On the same day, the share price of Geneva Finance Limited (NZX: GFL) encountered an increase of 6.17% to NZ$0.430 per share.
The following image gives a broad idea as to how the share price of GFL has trended in the span of past one year: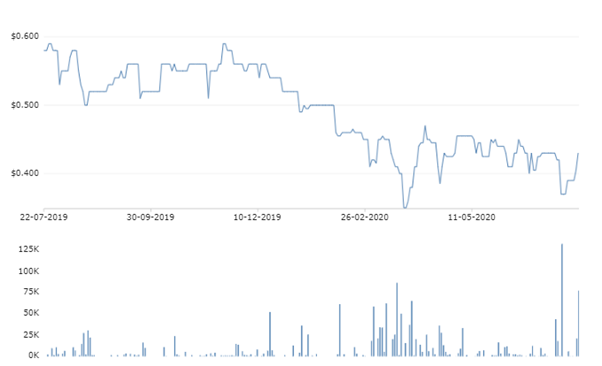 Stock Performance (Source: NZX)
CBD Ended the Session in Green: What Investors Should Know
With the help of joint venture subsidiary, Cannasouth Cultivation Limited (CCL), Cannasouth Limited (NZX: CBD) entered into the service agreement with EAH Enterprises LLC, trading as Vera Cultivation in Colorado, USA.
As per the release, Vera Cultivation happens to be the US market leader with respect to the production of high-quality cannabis product utilising world class as well as proprietary growing systems. The agreement is for supply of services to finalise the design of CCL's cultivation facility, develop (licensed) operating systems and procedures, and offer support for successful as well as rapid implementation of the state-of-the art growing facilities of CCL.
On July 21, 2020, Cannasouth Limited made an announcement that it has appointed John Sanders as Chief Commercial Officer. As per the release, he would be officially taking up this role in the month of August 2020.
A Recent Update on ERD
On July 21, 2020, EROAD Limited (NZX: ERD) came forward and made an announcement that Candace Kinser would be retiring from the position of Independent Director, effective 24 July 2020. Earlier, the company released its financial results for FY 2020 (year ended March 31, 2020). Its revenue witnessed a rise of 32% to $81.2 Mn and it encountered contributions from New Zealand as well as North American markets.