On July 10, 2020, S&P/NZX50 ended the session in red as the index witnessed a fall of 0.40% to 11,395 while S&P/NZX20 fell by 0.62% to 7,577. On the same day, S&P/NZX10 encountered a decline of 0.32% to 12,038.
S&P/NZX All Communications Services ended the session in red as there was a fall of 2.37% and S&P/NZX All Utilities fell by 1.88%.
The stock price of New Talisman Gold Mines Limited (NZX: NTL) witnessed a rise of 16.67% on an intraday basis to NZ$0.007 per share. Also, the share price of Michael Hill International Ltd (NZX: MHJ) rose by 6.25% to NZ$0.340 per share.
The following image provides a broad idea as to how the share price of MHJ has trended in the span of 90 days: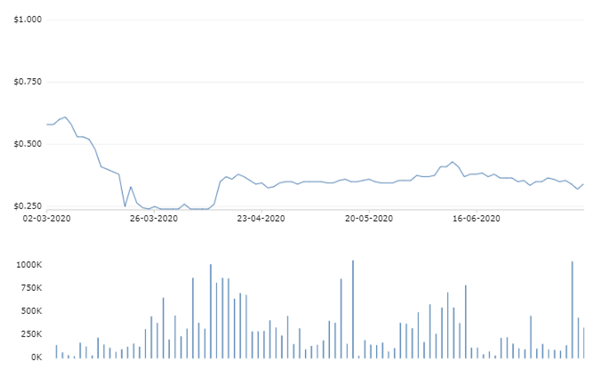 Stock Performance (Source: NZX)
Me Today Ended in Red
Me Today Limited (NZX: MEE) came forward and made an announcement that it has wrapped up retail offer as was announced on July 8, 2020. As per the release, offer was well supported by the investors, attracting bids for over two times the $3 million sought. The company has elected to accept $1 Mn of oversubscriptions. This means that the total amount of capital raised under the retail offer is $4 Mn at an issue price of 9.5 cps.
Notably, the share price of MEE witnessed a fall of 19.38% on an intraday basis to NZ$0.104 per share.
A Recent Update on CNU
Chorus Limited (NZX: CNU) has released connections update for Q4 FY 2020 and it was stated that lockdown period had significant impact on Q4 fibre activity and uptake. As per the release, restrictions imposed on non-essential activity reduced fibre installations by approximately 15k as well as halted UFB2 rollout. It was mentioned that total fixed line connections fell by 4k to 1,415,000.
The stock price of CNU encountered a fall of 8.06% to NZ$7.070 per share.
---
Disclaimer
The website has been prepared for informational purposes only and is not intended to be used as a complete source of information on any particular company. The above article is NOT a solicitation or recommendation to buy, sell or hold the stock of the company (or companies) under discussion. Kalkine does not in any way endorse or recommend individuals, products or services that may be discussed on this site.