On 22nd June 2021, broader NZ market ended the session in green, mainly driven by buying in Health Care and IT stocks. Notably, NZX 50 rose by 0.28% to 12,534.80 and NZX 20 increased by 0.20% to 7,935.75. On 22nd June 2021, NZX All Health Care rose by 1.31%.
Data Source: NZX, Table Source: Copyright © 2021 Kalkine Media
MidCap and SmallCap Outperformed Broader Market:
NZX 50 Index closed at 12,534.80, which implies ~12.33% increase in the time span of the previous 1 year. Also, MidCap Index and SmallCap Index managed to claim 6,303.69 and 22,070.73 points, respectively.
S&P/NZX 50 Index vs SmallCap Index vs MidCap Index – One Year Return
Source: REFINITIV
Gainers and Losers:
In the release dated 21st June 2021, Trustpower Limited (NZX: TPW) made an announcement about the conditional sale of the gas, telecommunications, as well as retail electricity supply business (which excludes the supply of electricity to industrial as well as commercial customers) to Mercury NZ Limited for the consideration of $441 Mn, subject to the post-completion adjustments.
On 22nd June 2021, Arvida Group Limited (NZX: ARV) rose by 4.08% to NZ$2.040 per share.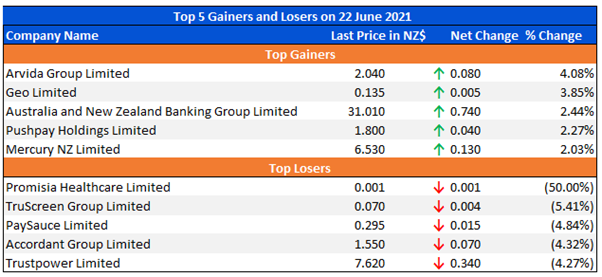 Data Source: NZX, Table Source: Copyright © 2021 Kalkine Media
Movement on Wall Street:
On 21st June 2021, NASDAQ Composite increased by 0.79% to 14,141.48. Notably, Dow Jones Industrials Average rose by 1.76% to 33,876.97.
Note: The reference data in this article has been partly sourced from REFINITIV