On 11th June 2021, the broader markets in NZ were supported by the buying of defensive stocks. Notably, NZX 50 rose by 0.26% and NZX 20 increased by 0.29%. Also, NZX All Consumer Staples sector and NZX All Health Care sector rose by 1.29% and 1.25%, respectively.
Data Source: NZX, Table Source: Copyright © 2021 Kalkine Media
MidCap and SmallCap Outperformed Broader Market:
NZX 50 Index closed at 12,550.39, which implies ~12.51% growth in the time span of 1 year. Also, MidCap Index and SmallCap Index claimed 6,323.02 and 22,055.15 points, respectively.
S&P/NZX 50 Index vs SmallCap Index vs MidCap Index – One Year Return

Source: REFINITIV
Gainers and Losers:
In the release dated 4th June 2021, DGL Group Limited (NZX: DGC) made an announcement that the Board has approved the plans with regards to the development of the new chemicals storage warehouse at DGC's existing Mount Wellington Warehousing and Distribution facility, in Auckland, NZ.
In the release dated 20th May 2021, it was mentioned that Scott Technology Limited (NZX: SCT) has been witnessing increasing international interest as well as contract wins. This is because the COVID-19 restrictions have been eased in the markets around the world and the demand for automation has been increasing because of labour supply pressures throughout numerous sectors.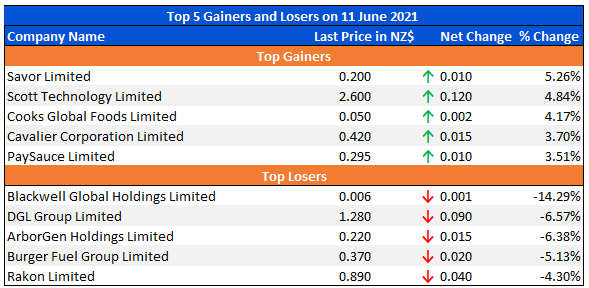 Data Source: NZX, Table Source: Copyright © 2021 Kalkine Media
Movements on Wall Street:
On 10th June 2021, NASDAQ Composite rose by 0.78% to 14,020.33. Notably, Dow Jones Industrial Average increased by 0.06% to 34,466.24.
Note: The reference data in this article has been partly sourced from REFINITIV