On July 29, 2020, S&P/NZX50 ended the session in green as the index witnessed a rise of 0.18% to 11,599. On the same day, S&P/NZX20 rose by 0.18% to 7,739 while S&P/NZX10 rose by 0.32% to 12,243.
S&P/NZX All Energy ended the session in red as there was a fall of 2.91% while S&P/NZX All Real Estate rose by 1.42%.
On July 29, 2020, the share price of New Talisman Gold Mines Limited (NZX: NTL) ended the session in green as there was a rise of 14.29% to NZ$0.008 per share. Also, the stock price of TruScreen Limited (NZX: TRU) rose by 8.11% to NZ$0.080 per share.
The following image provides a broad overview as to how the share price of TRU has performed in the span of past one year: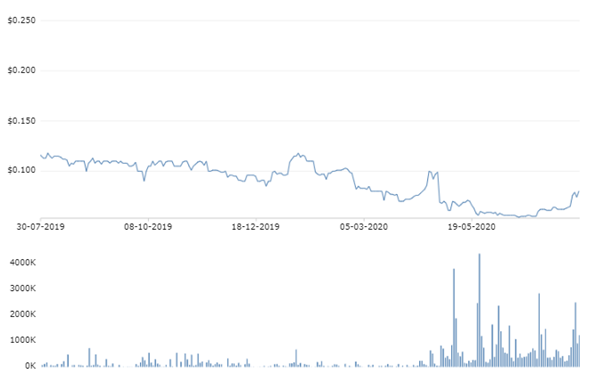 Stock Performance (Source: NZX)
PLX Investigating ASX Listing: What Investors Should Know
Plexure Group Limited (NZX: PLX) came forward and made an announcement that it intends to investigate undertaking an IPO as well as applying for admission to official list of Australian Securities Exchange (or ASX).
As per the release, this may involve PLX moving its primary listing from NZX to ASX as well as re-classifying its current NZX listing as NZX Foreign Exempt listing, which would allow shares to continue to be quoted on NZX.
As Plexure needs significant capital for the next phase of growth, investigations into a move to ASX are based on capital availability as well as support for technology companies like PLX.
On July 29, 2020, the stock price of PLX rose by 9.09% to NZ$1.320 per share.
A Recent Update on RBD
Restaurant Brands NZ Limited (NZX: RBD) stated that second quarter sales were significantly impacted by Government-mandated trading restrictions implemented in response to coronavirus crisis.
As per the release, all stores in NZ were closed between March 25 and April 28, and then only open for delivery as well as drive through until May 14.
The company stated that Australian stores operated without dine-in for the quarter as well as 10 mall stores were closed for half of the quarter.
Also, Hawaiian stores carried out operations without dine-in for the full quarter. The company's total sales for Q2 of financial year (three months to June 30, 2020) were $183.3 Mn, reflecting a fall of $22.6 Mn or 11.0% as compared to equivalent period last year mainly because of full closure of NZ stores for most of April.