On July 27, 2020, S&P/NZX50 ended the session in red as the index witnessed a fall of 0.44% to 11,586 while S&P/NZX20 encountered a fall of 0.36% to 7,738. On the same day, S&P/NZX10 witnessed a fall of 0.35% to 12,237.
S&P/NZX SmallCap Index witnessed a rise of 0.80% while S&P/NZX All Consumer Staples witnessed a fall of 0.64%.
The stock price of Pacific Edge Limited (NZX: PEB) rose by 11.59% on an intraday basis to NZ$0.770 per share. Also, on the same day, the share price of Metro Performance Glass Limited (NZX: MPG) encountered a rise of 10% to NZ$0.220 per share.
The following image provides a broad overview as to how the share price of MPG has trended in the span of 90 days: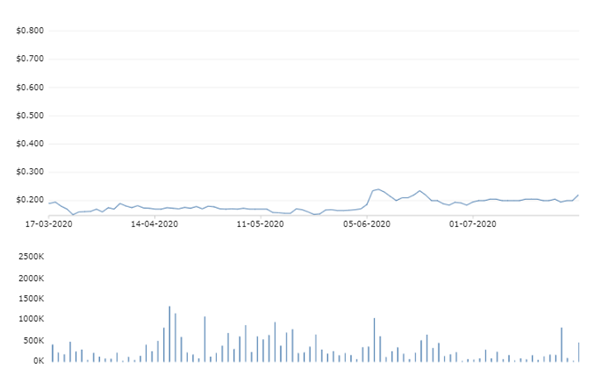 Stock Performance (Source: NZX)
SPY Releases Trading Update: A Brief Look
Smartpay Holdings Limited (NZX: SPY) came forward and provided a trading update after completion of the first quarter ended June 30, 2020 of FY 2021.
As per the release, quarterly Australian acquiring revenue reflected 59% rise on same quarter last year (Q1 FY 2021 vs Q1 FY 2020); as well as an 11% fall on the prior quarter (Q1 FY 2021 vs Q4 FY 2020). The quarterly decrease implies the effects of coronavirus during April and May in Q1 period.
The company stated that quarterly consolidated revenue was similarly impacted by coronavirus compared to prior quarter (Q1 FY21 vs Q4 FY20). YoY (Q1 FY 2021 vs Q1 FY 2020) consolidated revenue is level on prior year comparable period. However, it was mentioned that the prior year period consisted large single sale of terminals which was not repeated this quarter. Excluding the item, like-for-like consolidated revenue witnessed a rise of 9 percent on same quarter last year (Q1 FY 2021 vs Q1 FY 2020).
A Recent Update on ERD
EROAD Limited (NZX: ERD) announced that its CTO, Jarred Clayton, has been approached by marine technology company Navico to join as global CTO. He would be moving on from EROAD after around 12 years.
The company stated that Jarred has been instrumental with respect to many product as well as technology achievements during the span of last 12 years with the relentless focus towards innovation and execution. Notably, Jarred would be leaving the company on 11th September 2020.