On June 19, 2020, S&P/NZX50 ended at 11,255, which implies a rise of 0.26% while S&P/NZX20 rose by 0.23% to 7,521. On the other hand, S&P/NZX10 witnessed a fall of 0.12% to 11,675.
On June 19, 2020, S&P/NZX All Consumer Discretionary witnessed a rise of 2.87% while S&P/NZX All Consumer Staples witnessed a fall of 2.02%.
The stock of Port of Tauranga Ltd (NZX: POT) ended the session in green as it witnessed a rise of 9.92% on an intraday basis to NZ$8.090 per share. On the other hand, share price of Me Today Limited (NZX: MEE) ended in red as there was a decline of 9.35%.
The below image gives a broad idea as to how the share price of POT has trended in the span of 90 days: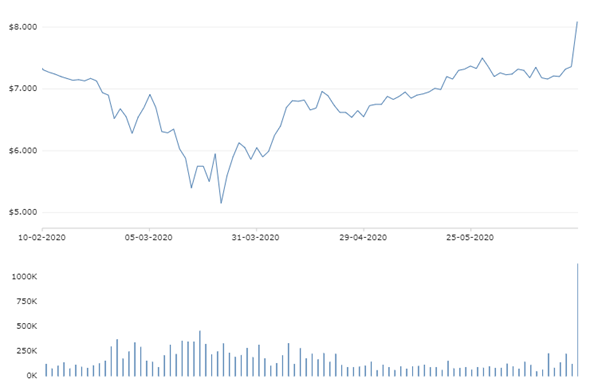 Stock Performance (Source: NZX)
Share Price of SPY Rose 7.14% on June 19, 2020
Smartpay Holdings Limited (NZX: SPY) made an announcement that A$2,000,000 non-underwritten share purchase plan which was announced on 2nd June 2020 has closed oversubscribed. SPP witnessed robust support from shareholders in both NZ and Australia and applications totalled around A$11.95 Mn.
Applications would be scaled back, and this would be done on proportionate basis in accordance with the number of SPY shares held by the applicants on record Date (which was 28th May 2020).
Refunds of the surplus application amounts paid would be made to applicants on July 1, 2020. The company stated that settlement of SPP is anticipated to take place on 23rd June 2020 and 24th June 2020 for ASX and NZX respectively, and allotment of all shares would be on 25th June 2020. Notably, trading of those shares is anticipated to start on NZX on June 25, 2020 and on that ASX on June 26, 2020.
Stock of ERD Ended the Session in Green: A Quick Look
EROAD Limited (NZX: ERD) released its financial results for the year ended March 31, 2020. The company's revenue rose 32% to $81.2 Mn and there were strong contributions from New Zealand as well as North American markets. ERD's EBITDA margin rose from 25% to 33%, implying improvement in the operating leverage.
The company posted profit before tax amounting to $1.4 Mn, reflecting a rise from the loss of $5.1 Mn in the prior year. Notably, ERD remains in robust financial position and the company continues to focus towards anticipated organic as well as inorganic growth.