On November 9, 2020, S&P/NZX50 ended the session in green as there was a rise of 1.82% to 12,562.20 and S&P/NZX20 increased by 1.97% to 8,272.66. On the same day, S&P/NZX10 increased by 2.04% to 2,210.06. Consumer non-cyclicals sector rose by 3.39% and utilties sector increased by 2.69%. On the flip side, financials sector declined by 0.71%.

Sector Summary (Source: Refinitiv (Thomson Reuters))
Top Movers: Synlait Milk Ltd (NZX: SML) (up by 7.82%) and The a2 Milk Company Limited (NZX: ATM) (up by 4.32%). On the other hand, Fonterra Shareholders' Fund (NZX: FSF) witnessed a fall of 2.27%.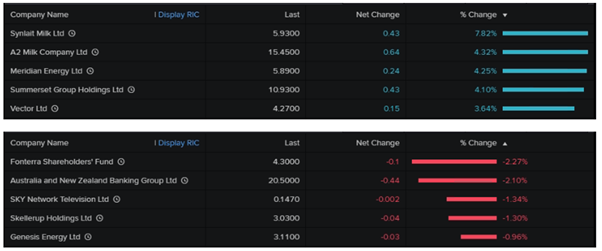 Top Movers (Source: Refinitiv (Thomson Reuters))
Movements on Wall Street: On November 6, 2020, Dow Jones Industrial Average witnessed a fall of 0.24% to 28,323.40. Notably, NASDAQ Composite rose by 0.036% to 11,895.23.