On June 9, 2020, S&P/NZX50 ended the session at 11,299, which implies a fall of 1.97% while S&P/NZX20 fell by 2.31% to 7,531. Also, on the same day, S&P/NZX10 witnessed a decline of 2.95% to 11,574.
S&P/NZX All Consumer Staples witnessed a fall of 3.22%, while S&P/NZX All Consumer Discretionary rose by 2.97%.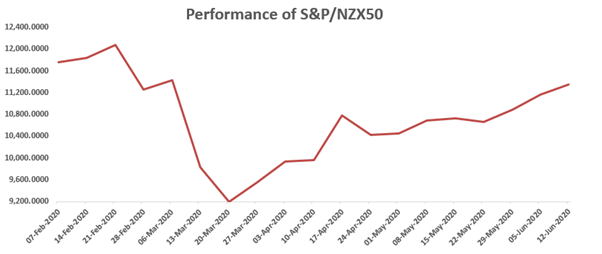 Performance of S&P/NZX50 (Source: Thomson Reuters)
The above image shows how the index has shown improvement from the month of March 2020. It looks like the improvement was supported by the ease in the restrictions which were initially imposed to combat the spread of COVID-19. On a related note, New Zealand has now moved to Alert Level-1.
On June 9, 2020, the stock of Cannasouth Limited (NZX: CBD) rose by 10.42% on an intraday basis to NZ$0.530 per share. However, the share price of Abano Healthcare Group Limited (NZX: ABA) was up by 8.92%. The below image provides an idea as to how the stock price of CBD has trended in the span of 90 days:
Movement of CBD's Share Price (Source: NZX)
IFT Announces Equity Raising: What You Should Know
Infratil Limited (NZX: IFT) has made an announcement of NZ$300 Mn equity raising, which comprises a fully underwritten NZ$250 Mn institutional placement as well as around NZ$50 Mn non-underwritten share purchase plan. IFT stated that the proceeds from the equity raising would be providing additional balance sheet flexibility in order to finance growth investments throughout Infratil's existing portfolio companies.
The company possesses a long track record of delivering robust returns to shareholders, Notably, it maintains a 10-year total shareholder return target of 11-15% p.a.
IFT is maintaining an attractive pipeline of growth opportunities throughout its portfolio and is continuing to assess additional opportunities in key growth sectors as well as new geographies. The company mentioned that it would continue to apply a disciplined approach towards allocating capital when it comes to evaluating potential investments.
EVO Announces Date For The Release of Results
Evolve Education Group Limited (NSX: EVO) has made an announcement that the audited results for financial year to 31st March 2020 would be released on June 26, 2020.
On May 20, 2020, the company announced that it intended to release the audited results on June 15. However, the external auditors of the company have requested additional time to complete the audit because of delays and disruptions caused by coronavirus.
---
Disclaimer
The website has been prepared for informational purposes only and is not intended to be used as a complete source of information on any particular company. The above article is NOT a solicitation or recommendation to buy, sell or hold the stock of the company (or companies) under discussion. Kalkine does not in any way endorse or recommend individuals, products or services that may be discussed on this site.