On 6th December 2021, the broader NZ market closed in red after significant selling was witnessed in the utilities sector. On the same day, NZX 50 Index has witnessed a fall of 0.62% and NZX 20 Index has declined by 0.73%. Also, NZX All Utilities has encountered a decline of 2.25% and NZX All Information Technology fell by 0.82%.
Data Source: NZX, Table Source: Copyright © 2021 Kalkine Media
Performance of Indices:
NZX 50 Index closed at 12,597.81, implying ~0.46% decline in the time frame of the past 1 year. MidCap Index and SmallCap Index ended at 6,243.10 and 23,087.88 points, respectively.
S&P/NZX 50 Index vs SmallCap Index vs MidCap Index – Performance Over One Year

Source: REFINITIV
Gainers and Losers:
Vulcan Steel Limited (NZX: VSL) released the trading update which relates to the financial year ending 30th June 2022 (or FY 2022). The company's overall revenue rose by 35% YoY for the five months ended 30th November 2021.
Metro Performance Glass Limited (NZX: MPG) increased by 2.78% to $0.370 per share. PGG Wrightson Limited (NZX: PGW) rose 2.53% to $4.460 per share.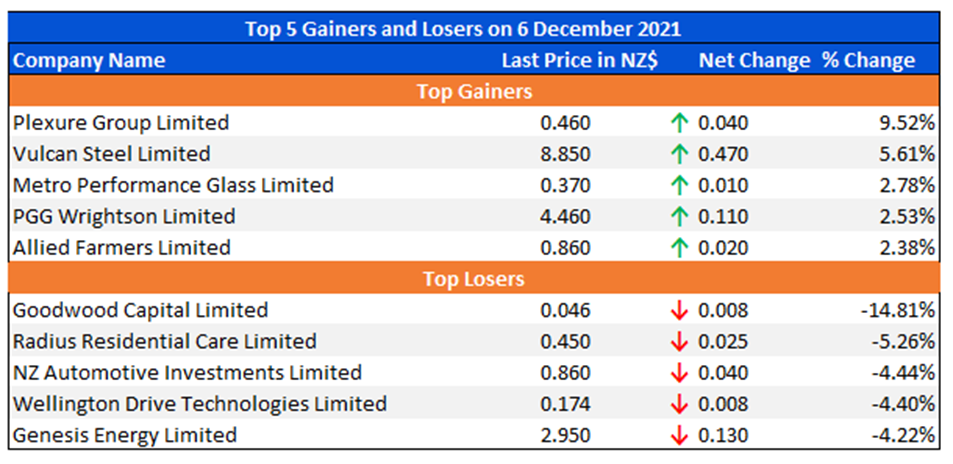 Data Source: NZX, Table Source: Copyright © 2021 Kalkine Media
Movement on Wall Street:
On 3rd December 2021, NASDAQ Composite declined by 1.92% to 15,085.47. Also, Dow Jones Industrials Average fell by 0.17% to 34,580.08.
Note: The reference data in this article has been partly sourced from REFINITIV