On 11th January 2022, the equity market in New Zealand closed the session in red after robust selling was encountered in the technology stocks. On the same day, NZX 50 Index and NZX 20 Index declined by 0.47% and 0.45%, respectively. Also, NZX All Information Technology witnessed a fall of 1.63%.
Data Source: NZX, Table Source: Copyright © 2021 Kalkine Media
Performance of Indices:
NZX 50 Index closed at 12,831.73 which reflects ~3.45% decline in the time frame of the previous 1 year. MidCap Index and SmallCap Index ended at 6,456.99 and 23,807.15 points, respectively.
S&P/NZX 50 Index vs SmallCap Index vs MidCap Index – Performance Over One Year

Gainers and Losers:
Recently, ArborGen Holdings Limited (NZX: ARB) stated that after the completion of the sale of ArborGen's New Zealand and Australian businesses for the consideration amounting to NZ$22.25 Mn, it has repaid the US$2.88 Mn of the sub-ordinated debt garnered in 2019 from some directors / major shareholders as well as senior management required to finance the US$14.4 Mn acquisition of ARB's headquarters located in Ridgeville, South Carolina.
Blis Technologies Limited (NZX: BLT) rose by 4.44% to $0.047 per share.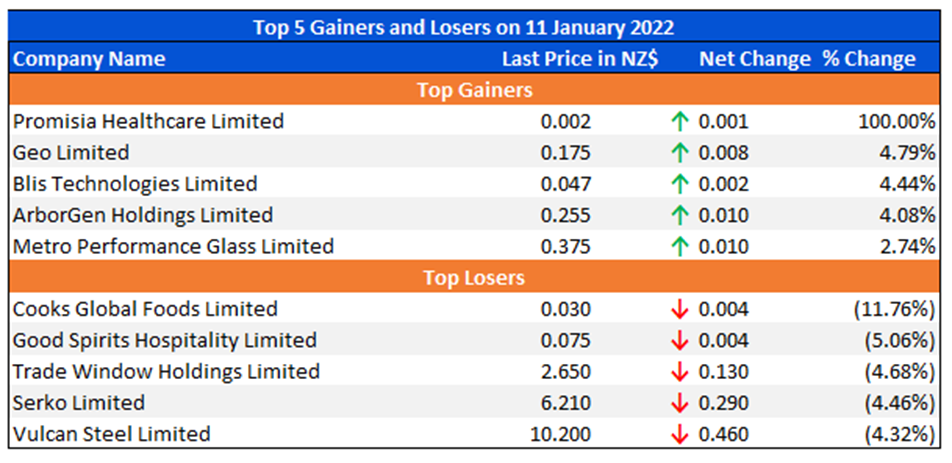 Data Source: NZX, Table Source: Copyright © 2021 Kalkine Media
Movement on Wall Street:
On 10th January 2022, NASDAQ Composite rose by 0.05% to 14,942.83. Notably, Dow Jones Industrials Average fell by 0.45% to 36,068.87.
Note: The reference data in this article has been partly sourced from REFINITIV