On 3rd June 2021, it looks like the broader market was impacted by the selling pressure on the Consumer Discretionary stocks. However, buying was encountered in Materials and Industrials stocks. Notably, NZX 50 declined by 0.13% and NZX 20 fell by 0.19%. Also, NZX 10 witnessed a decline of 0.23%.

Data Source: NZX, Table Source: Copyright © 2021 Kalkine Media
MidCap and SmallCap Outperformed Broader Market:
NZX 50 Index ended at 12,429.98, which implies ~11.80% growth in the time frame of 1 year. Also, MidCap Index and SmallCap Index claimed 6,361.96 and 21,995.89 points, respectively.
S&P/NZX 50 Index vs SmallCap Index vs MidCap Index – One Year Return

Source: REFINITIV
Gainers and Losers:
In the release dated 3rd June 2021, New Zealand King Salmon (NZX: NZK) stated that trading in the H1 FY 2022 (February to July 21) was problematic. It needs to be noted that King Salmon is the difficult species to farm as well as there were issues with the fish in the warmer Pelorus Sound over the summer months which impacted growth in that region, post the changes which were made to the farming model.
In the release dated 31st May 2021, Burger Fuel Group Ltd (NZX: BFG) released preliminary full-year results for the 12 months ended 31st March 2021. It was mentioned that FY 2021 year brought several challenges that, overall, it navigated well. Its net profit after tax stood at $712,985, implying a rise of 41.1% YoY.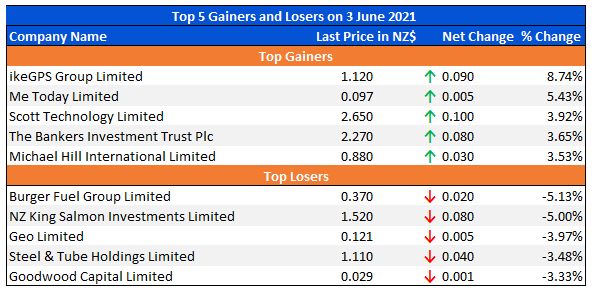 Data Source: NZX, Table Source: Copyright © 2021 Kalkine Media
Movements on Wall Street:
On 2nd June 2021, NASDAQ Composite increased by 0.14% to 13,756.33. However, Dow Jones Industrial Average increased by 0.07% to 34,600.38.