On 5th May 2021, NZX 50 closed the trading session in red, halted its 2-day of winning streak. Notably, huge selling in healthcare and energy stocks, among others, dragged the benchmark Index lower. NZX 50 declined by 0.49% to 12,848.31 and NZX 20 fell by 0.60% 8,256.29. However, NZX 10 declined by 0.66% to 12,747.06.
Data Source: NZX, Table Source: Kalkine Media Pty Ltd
MidCap and SmallCap Outperformed Broader Market:
NZX 50 Index managed to close at 12,848.31, reflecting an increase of ~22.47% in the time span of 1 year. Also, MidCap Index and SmallCap Index managed to claim 6,336.02 and 21,968.83 points, respectively. Resultantly, it can be said that the small cap and mid cap stocks have depicted their resilient nature.
S&P/NZX 50 Index vs SmallCap Index vs MidCap Index – One Year Return
Source: Refinitiv (Thomson Reuters)
Gainers and Losers: On 5th May 2021, Rua Bioscience Limited (NZX: RUA) witnessed a significant rise of 7.50% to NZ$0.430. However, JPMorgan Global Growth & Income plc (NZX: JPG) fell by 6.94%.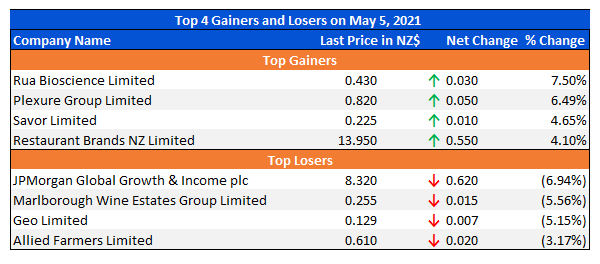 Data Source: NZX, Table Source: Kalkine Media Pty Ltd
Movements on Wall Street:
On 4th May 2021, NASDAQ Composite declined by 1.88% to 13,633.50. Notably, Dow Jones Industrial Average rose by 0.06% to 34,133.03.