On December 1, 2021, the equity market in New Zealand closed the session on a mixed note. On the same day, NZX 50 Index rose by 0.02% and NZX 20 Index declined by 0.21%. Also, NZX All Financials witnessed a rise of 2.67%. However, some selling was witnessed in the materials sector.
Data Source: NZX, Table Source: Copyright © 2021 Kalkine Media
Performance of Indices:
NZX 50 Index closed at 12,724.29, reflecting ~0.04% decline in the time span of the past 1 year. MidCap Index and SmallCap Index ended at 6,279.93 and 23,154.15 points, respectively.
S&P/NZX 50 Index vs SmallCap Index vs MidCap Index – Performance Over One Year
Source: REFINITIV
Gainers and Losers:
Synlait Milk Limited (NZX: SML) has released Annual Meeting presentation and the company has stated that its NPAT result would be returning to robust profitability in FY 2022. Notably, FY 2022 would also be including the one-off gain on the sale of ~$17 Mn from the sale as well as leaseback of the land and building at Synlait Auckland.
Restaurant Brands NZ Limited (NZX: RBD) rose by 4.12% to NZ$15.150 per share.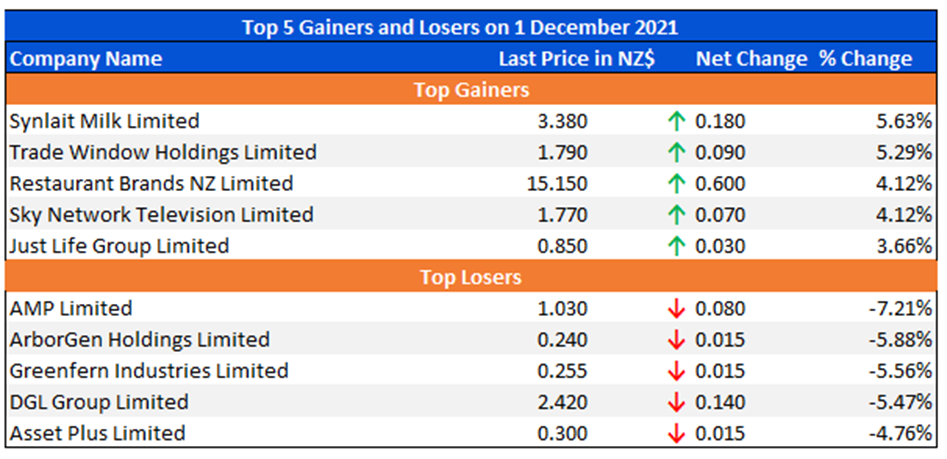 Data Source: NZX, Table Source: Copyright © 2021 Kalkine Media
Movement on Wall Street:
On 30th November 2021, NASDAQ Composite declined by 1.55% to 15,537.69. Notably, Dow Jones Industrials Average fell by 1.86% to 34,483.72.
Note: The reference data in this article has been partly sourced from REFINITIV