On June 25, 2020, S&P/NZX50 ended the session in red as the index witnessed a fall of 1.24% to 11,124 and S&P/NZX20 declined by 1.21% to 7,408. Also, on the same day, S&P/NZX10 encountered a decline of 1.20% to 11,585.
S&P/NZX All Materials ended the session in red as there was a fall of 6.87% and S&P/NZX All Industrials fell by 1.37%. We would now have a look at the performance of individual stocks.
On June 25, 2020, the share price of Pacific Edge Limited (NZX: PEB) witnessed an increase of 5.77% on an intraday basis to NZ$0.275 per share. On the other hand, the stock of SeaDragon Limited (NZX: SEA) fell by 20% to NZ$0.032 per share.
The below image tells how the stock price of BGI has trended in the span of past one year: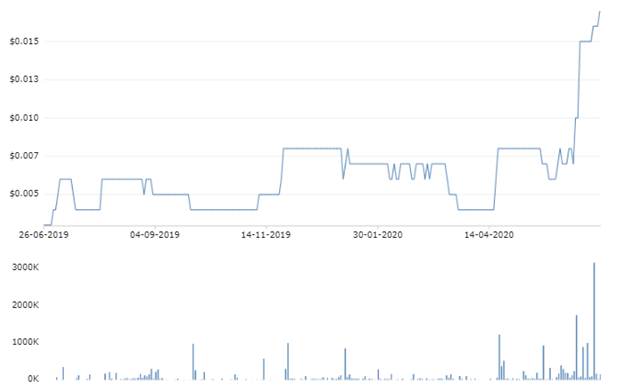 Stock Performance (Source: NZX)
A Look at Recent Update by Tourism Holdings
As Tourism Holdings Limited (NZX: THL) advised on June 11, 2020, the company has been in discussions with the banking partners with regards to the ongoing funding arrangements. As per the release, the discussions have now concluded, and the company has entered into a binding term sheet. This has been entered with the banking partners which reflects new arrangements.
The company stated that there are expectations to post underlying NPAT in the range of $17.5 Mn – $19 Mn for FY20. It is important to note that guidance does not include the impact of partial Togo exit which was undertaken in the month of March 2020, or any potential impairments or other non-ordinary items.
BGI Released Full-year Update (Unaudited) for 12 Months to March 31, 2020
Blackwell Global Holdings Limited (NZX: BGI) came forward and released an update for the 12 months to March 31, 2020, wherein, it posted revenue from ordinary activities of NZ$0.436 Mn which implies a fall of 47% on the YoY basis. It is important to note that the company's revenue consists interest as well as fee income from mortgage lending activities. The loan book was $1.57 Mn as at March 31, 2020. Notably, all the loans were secured by first mortgages over residential properties.
The stock price of BGI rose by 6.25% on an intraday basis to NZ$0.017 per share.