On August 11, 2020, S&P/NZX50 ended the session in red as there was a fall of 0.33% to 11,645 while S&P/NZX20 encountered a decline of 0.35% to 7,773. On the same day, S&P/NZX10 fell by 0.69% to 12,271.
S&P/NZX All Industrials witnessed a rise of 1.27% while S&P/NZX All Health Care encountered a decline of 1.37%. We will now have a look at the performance of some individual stocks.
On August 11, 2020, the stock price of New Talisman Gold Mines Limited (NZX: NTL) witnessed a rise of 16.67% on an intraday basis to NZ$0.007 per share. The share price of Cannasouth Limited (NZX: CBD) rose by 9.09% to NZ$0.600 per share.
The following image provides a broad overview as to how the share price of CBD has trended in the span of past one year: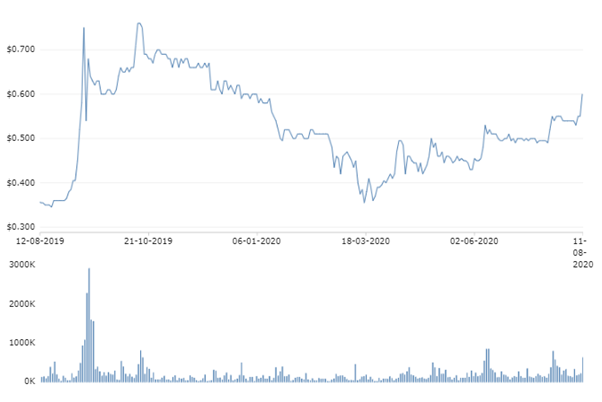 Stock Performance (Source: NZX)
A Recent Update on HGH
Heartland Group Holdings (NZX: HGH) came forward and made an announcement that it would be announcing the full-year results for the year to June 30, 2020 (or FY 2020) on September 17, 2020. Notably, the company plans to release its annual report for FY 2020 on October 30, 2020.
On April 2, 2020, Reserve Bank of New Zealand amended standard Conditions of Registration, prohibiting payment of distributions by all New Zealand registered banks to the shareholders.
The company stated that prohibition does not prevent Heartland from paying the dividends to its own shareholders. Heartland has been considering whether it would pay any final FY 2020 dividend. As per the release, decision would be announced during announcement of FY 2020 results.
FBU Anticipates Operating Cash Flows to Increase
Fletcher Building Limited (NZX: FBU) made an announcement about key aspects of its expected FY 2020 annual results. The results would be released in full on August 19, 2020. As per the release, the result is anticipated to be a net earnings loss for the year to June 30, 2020 of $196 Mn, mainly due to impacts of coronavirus.
The impacts include significant lost revenues, especially during NZ lockdown as well as start-up period; lower productivity resulting in additional provisioning on legacy construction projects; and one-off restructuring costs as FBU prepares for the reduced market activity.
However, operating cash flows are anticipated to rise in FY 2020 to $410 Mn, driven mainly by effective management of working capital through coronavirus disruptions.
---
Disclaimer
The website https://kalkinemedia..com/nz is a service of Kalkine Media New Zealand Limited (Company Number 8107196).The article has been prepared for informational purposes only and is not intended to be used as a complete source of information on any particular company. The above article is NOT a solicitation or recommendation to buy, sell or hold the stock of the company (or companies) or engage in any investment activity under discussion.Kalkine Media does not in any way endorse or recommend individuals, products or services that may be discussed on this site. We are neither licensed nor qualified to provide investment advice through this platform.
The sole motive of an investor is to grow his/her capital over a period to meet financial goals. In pursuit of this, investors are in a constant hunt for stocks that have capital appreciation potential and those that pay dividends, which one can reinvest to further increase the rate of return. Dividends can also be seen as an incentive for an investor to hold the stock for a longer duration of time, especially when the overall market enters a bear phase, or the underlying invested company goes through business troughs and peaks.
Stocks that have high dividend yield are considered to be a safe bet, but to take a blanket call just on dividend yield would be naive, as there is more to be analyzed to make a sound judgment on the ability of the business to keep paying a dividend over long periods.
Companies over time, increase dividend payout, and in the long term, an astute investor can reap high rewards by picking good dividend stocks, across sectors, thus diversifying and reducing the volatility of one's portfolio. Investors in New Zealand can reap the benefit of dividend imputation credit and further increase their overall return on investment.
So, how should one pick a dividend stock? How to invest in stocks that have the wherewithal to not only pay a dividend but also increase dividend payout over the years?
With Kalkine, you will find answers to these questions, as we conduct a detailed analysis of companies based on quantitative and qualitative parameters.
Sound dividend stocks are investors' delight. They provide the benefits of capital appreciation and the joy of constant income despite the market volatility.
CLICK HERE FOR YOUR FREE REPORT!